Found June 18, 2013 on Boston's Bettah:
The NHL is one of the few sports that rewards an entire playoff MVP at the end of the Finals. If the Boston Bruins were to win the Stanley Cup, it would likely be awarded to their goalie Tuukka Rask who has been incredible throughout the entire post-season. Without him, the Boston Bruins are not two wins away from capturing their second Stanley Cup in three years. If the NHL were to give away a just an MVP for the Stanley Cup Final – call it the Gretzky award or something – the winner of such an award this year might currently be controlled by one Danny Paille. It is strange the evolution that Paille has gone through in the 2013 season, mostly because Paille never seemed to be a player that would do anything more than being an efficient penalty killer and hard-working fourth line player. Paille always had wheels and innate toughness which helped him as a fourth line player, but he never had skill enough to finish. His nickname among Bruins' fans was "Stonehands" which was a shame because over the years that speed led to many breakaways that he would ultimately bumble away. A rash on injuries in addition to the compressed schedule of 2013 gave Paille his first real chance to do something more than simply be a fourth line forward and Paille did not disappoint. He grew hands and finished with ten goals, tied for the most he had scored in any season in a Bruins uniform. Mostly playing on the fourth line, but hopping around to wherever he was needed, Paille should have won the seventh player award for the Boston Bruins. If only the award was not simply a popularity contest. In these playoffs, the biggest move that Bruins coach Claude Julien has made, besides the move of Jagr to the line centered by Bergeron, was to switch Paille to the third line in the Stanley Cup Finals. In game two of the Finals, the switch was made and Paille's speed gave that line a boost it hadn't had all post-season long. He scored the game-winning-goal in both games two and three and his speed up and down the wings resulted in numerous chances for the Boston Bruins. He also provides the third line another hard-working player which has allowed them to win more pucks deep and get better opportunities. Both the game-winning goals happened because of such plays. As the series continues, expect Danny Paille to continue to play with the third line guys. For someone who was destined as a career fourth line player, his play has sparked the Bruins and continued to highlight him as one of the Bruins most pleasant surprises in 2013.
Original Story:
http://www.bostonsbettah.com/?p=6127
THE BACKYARD
BEST OF MAXIM
RELATED ARTICLES
(MEME: Reddit) This brilliant & BAD ASS MEME of Bruins goaltender Tuukka Rask says it all…..almost. He is also….. Pretty sure Tuukka means "I bleed icebergs" in Finnish.
The Boston Bruins decided to put an end to the Stanley Cup Finals' perfect run of overtime games last night with a 2-0 win over the Chicago Blackhawks in Game 3. If you were hoping for a third OT experience in as many games, then you have Bruins goalie Tuukka Rask to thank for that with his 28 saves on 28 shots. Come on, Rask, nobody likes a perfect goalie.But Rask was far from...
The box score will credit Tuukka Rask with a shutout of the Blackhawks in Game Three of the Stanley Cup Final, but the dominance by Boston was complete. Chicago was supposed to have only one lineup change for Game Three; … Continue reading →The post Stanley Cup Final: Tuukka Rask, Bruins Blank Blackhawks appeared first on Committed Indians.
Brent Bailey 06/16/2013   The Year of the Unsung Hero               When it comes to sports during the playoffs, there will always be a player(s) that will step up in big moments. Most teams have one or two players who are the superstars of the team, and always seem to be the hero. This year for the Bruins, there have been plenty of players that have stepped up in desperate...
Boston Bruins goalie Tuukka Rask gave us a no-filter interview on live TV after posting a 2-0 shutout win over the Chicago Blackhawks in the Stanley Cup Finals.
Tuukka Rask shut out the Chicago Blackhawks in Game 3 of the Stanley Cup finals on Monday night and got enough help from the Bruins' offense to do it without another exhausting overtime. After playing four extra periods in the first two games, the Bruins made an early night of it with second-period goals by Daniel Paille and Patrice Bergeron to win 2-0 and take a 2-1 lead in...
from Rick Morrissey of the Chicago Sun-Times, Neither team wants you to feel sorry for it. In fact, both teams would prefer not to discuss it. Getting an NHL player to talk about his physical state is like getting a rogue state to talk about labor camps. Part of the code is to not complain about aches and pains, especially this time of year, when the rallying cry is to play...
For the first time in the 2013 Stanley Cup Finals, a game was decided in regulation. After dropping the first game in three overtimes, the Boston Bruins have rallied to take a 2-1 series lead following a 2-0 shutout of the Chicago Blackhawks in Game 3 on Monday. Tuukka Rask stopped all 28 shot attempts [...]
Since the beginning of June, Boston goaltender Tuukka Rask had only allowed seven goals over a seven game stretch and was running hot with a save percentage of .960-.980. He has done more than enough to prove that is a top-tier goaltender, but any goaltender sustaining those kind of numbers over any period of time is unrealistic and Rask was going to come back down to Earth sooner...
Watching the ineptness of the Chicago Blackhawks in Game 3 of the Stanley Cup Final was eerily and scarily familiar to the flaccid performance by the Pittsburgh Penguins in the Eastern Conference Finals. No sustained offensive zone time, physically outworked, inability to get to the net, seasoned stars making uncharacteristic mistakes and a completely impotent power play – sound...
       The Bruins did an excellent job of controlling the Chicago Blackhawks on Monday night, skating to a 2-0 victory in the third game of the Stanley Cup Finals. Goals for the Bruins came from the sticks of Daniel Paille and Patrice Bergeron, backed by a once again solid Tuukka Rask, who stopped all 28 shots he faced. Here's your highlights below, via NHLVideo on Youtube...
For the first time during the 2013 Stanley Cup Finals, one team finally took control of a game -- and won in convincing fashion.The Bruins, behind a stifling defense, beat the Blackhawks 2-0 in Game 3 Monday night in Boston. The Bruins now own a 2-1 series lead and loads of momentum heading into Game 4. It also marked Boston's 7th straight home victory in the 2013 NHL playoffs...
Bruins News

Delivered to your inbox

You'll also receive Yardbarker's daily Top 10, featuring the best sports stories from around the web. Customize your newsletter to get articles on your favorite sports and teams. And the best part? It's free!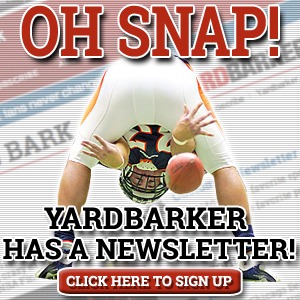 Latest Rumors
The Backyard

Today's Best Stuff

For Bloggers

Join the Yardbarker Network for more promotion, traffic, and money.

Company Info

Help

What is Yardbarker?

Yardbarker is the largest network of sports blogs and pro athlete blogs on the web. This site is the hub of the Yardbarker Network, where our editors and algorithms curate the best sports content from our network and beyond.