Found April 26, 2012 on NorthWest Sports Beat:
PLAYERS:
Henrik Sedin
,
Daniel Sedin
,
Zack Kassian
,
Cody Hodgson
,
Rick Nash
,
Daniel Briere
,
Claude Giroux
,
Ryan Kesler
,
Alain Vigneault
,
Mason Raymond
,
Cory Schneider
,
Roberto Luongo
TEAMS:
Vancouver Canucks
,
Buffalo Sabres
,
Columbus Blue Jackets
,
Philadelphia Flyers
,
Nashville Predators
Just Get It Right!
After a shocking and unexpected loss in the opening round of the Stanley Cup Playoffs, the Vancouver Canucks find themselves packing up their lockers in April, unable to push through to a second round of summer hockey.
As a pivotal off-season approaches, the Canucks and their fans can feel the winds of change blow through Vancouver, but who will be in a different uniform next season?
President and General Manager Mike Gillis has a myriad of options heading into a long off-season and must find a way to improve his team once again after another disappointing exit from the Stanley Cup Playoffs.
What 3 areas concern you the most with respect to gameplay with the Canucks in 2011/12?
Scoring
Mike Gillis was adamant in his end-of-season meetings with the media that scoring would be a big part of the Canucks' game plan in the future.
Twice the Canucks have been eliminated from the Stanley Cup Playoffs unable to generate enough offence to turn the team around, and the President seems determined to provide additional support for Henrik Sedin & Daniel Sedin with another scoring presence heading into next season.
Size
Gillis already acquired Zack Kassian at the trade deadline in order to receive a proper return for Cody Hodgson, but the Canucks remain in need of some size and strength heading into next season. The aggressive, physical play of both the Bruins and Kings has been a key to victory over Vancouver during the last two playoff runs.
Mike Gillis - "Scoring will be a big part of the Canucks' game plan in the future"... Things that make me go hmmm!
"Clutch" Performers
While stat-heads will roll their eyes at the term "clutch," I firmly believe there is something to be said for players that manage to elevate their performance during the playoffs.
Think Daniel Briere, or more recently Claude Giroux, for easy examples.  This isn't necessarily a knock on the current corps of Canucks skaters, but when was the last time you saw an individual player on the Canucks completely take over a game or series?
Probably Ryan Kesler's performance against the Nashville Predators. Yes, the same guy who went without a goal throughout his last 17 games to close the season.
What do you do with Coach AV and his staff and why?
Only in a hockey-mad market like Vancouver would the coach of back-to-back Presidents' Trophy Winners be concerned about his future. Alain Vigneault has done a magnificent job managing this team into a top contender, winning back-to-back league titles during the regular season in addition to an appearance in the Stanley Cup Final.
After a disappointing end to this season, criticism of AV's ability to motivate his players has emerged as a convenient scapegoat, however the Presidents' trophy winners would be hard-pressed to upgrade at the coaching position this summer.
Over the off-season Vigneault and his stuff must seriously address Vancouver's problems on the power play. After struggling to convert against the Kings it is clear that special teams will play a big part in any future Stanley Cup Playoff run.
Vigneault will be in Vancouver for a few more years of playoff hockey as long as his team continues to address their weaknesses and optimize their strengths.
What players on this team don't deserve to be back next year based on their 2011/12 play?
Mason Raymond must go. After a tough off-season in which the speedy center was forced to rehabilitate a brutal vertebrae compression fracture, Raymond was unable to ratchet up his game down the stretch, becoming a concern for his coach after it became clear his performance was not worthy of the top three lines.
Bottom Line! Plain & Simple! Enough is Enough! Mason Raymond must go.
Unless Raymond can convince his hands to catch up with his skates I can see the speedster being sent elsewhere over the off-season.
If you would trade a goalie, which goalie would you trade and why?
Despite the signs pointing towards the contrary (and the Luongo list of teams he'd potentially go to), I would trade Cory Schneider and keep Roberto Luongo heading into next season. Luongo is a proven competitor and has won at the highest level.
Besides hype and a comfortable backup position, what exactly has Cory Schneider honestly proved at this point of his NHL career?
If you are the GM what moves do you make? What 3 things do the Nucks need to get right for another cup run?
Mike Gillis has done a superb job as the President and General Manager of the Vancouver Canucks.
The loss of the team's leading scorer and the emergence of a strong, defensively disciplined Kings team spelt doom for his team in 2012, however the future remains bright for Gillis and his organization.
With a surplus of assets at his disposal, Gillis is minimally restricted in the moves he can make this off-season.
Under the assumption Gillis will choose either Cory Schneider or Roberto Luongo over the off-season, the potential return for a goaltender of such a high calibre would allow Gillis to declare a true starter and acquire size and scoring in the process.
With all the pieces in place to form a Stanley Cup contender Mike Gillis is undoubtedly the right man for the job heading into a difficult and complicated off season for the Vancouver Canucks.
CLICK HERE CHECK OUT THE VANCOUVER CANUCKS CLUBHOUSE TODAY ON NWSB!
© Kevin Vanstone for North West Sports Beat, 2012. | Permalink | No comment |
Follow NWSB on Twitter or join US on Facebook for real-time updates OR... | Share This on Twitter | Share NWSportsBeat.com on Facebook
Post tags:
2012 Off Season
,
Alain Vigneault
,
Canucks analysis
,
Canucks blogs
,
Claude Giroux
,
Cory Schneider
,
Daniel Briere
,
Daniel Sedin
,
Henrik Sedin
,
Mason Raymond
,
Mike Gillis
,
NHL News
,
Rick Nash
,
Roberto Luongo
,
Ryan Kesler
,
Vancouver Canucks
,
Zack Kassian
Original Story:
http://www.nwsportsbeat.com/canucks/2...
THE BACKYARD
BEST OF MAXIM
RELATED ARTICLES
Luongo, Roberto (Sweet Lu) Born: April 26th, 2012 The Obituary reads… 1979-2012, Peacefully, in the Canucks dressing room, surrounded by the love and support of pretty much noone. (Except maybe my colleague Josh…here) The Roberto Luongo era is over in Vancouver, or at least the writing is on the wall in the Canucks locker room. The team's season-closing interviews shed some...
From Port Alberni To The Canucks Professional sports in the Northwest has a long illustrious history, and part of that history includes the story telling that the announcing crew brings to life. For fans that are unable to attend the game in person, these gentlemen (and ladies) make you feel as if you were sitting front row. "He'll play, you know he'll play, he'll play on...
Vancouver Canucks 2012 off-season Richard Hodges answers five key post-season questions… This is Part 3 in the series of 4 offseason analysis articles that our Vancouver Canucks writing team will be adding to NWSB in the coming days. It's the postmortem part of the season for the Vancouver Canucks and it seems fitting because how did we get here? How did 15 playoff wins become...
Canucks goaltender Robert Luongo sounds resigned from moving on from scenic Vancouver this summer."I don't want to be one of those guys who is going to stand in the way of anything," Luongo told reporters. "I always want to put the team ahead of me first and I don't want to be one of those selfish guys."He has 10 years left on his epic 12-year, $64-million contract...
On a scale of 1 to 10, how difficult will it be to trade Roberto Luongo for proper value? I'm not expecting the moon out of a trade, but now that the league knows he's on the block, I feel like it could become very difficult to move him for a fair return.
Rear-guard reaches career tipping point We have all been guilty of fantasizing about it for a long time. I'm not talking about landing millions of dollars in an unexpected lottery jackpot, scoring a date with Sofia Vergara, or even squeezing a straight answer out of coach Alain Vigneault. What we have all been dreaming of is seeing Alex Edler confidently assume the role of the...
The Vancouver Province's Tony Gallagher offers up quite the conspiracy theory this morning, and while you and I might not agree that the NHL is actively conspiring against the Vancouver Canucks and/or any and all teams which do not espouse Boston Bruins-style pugnaciousness and an ability to keep up with clutch-and-grab style hockey, but Gallagher makes a very astute point in suggesting...
Vincent is a mysterious friend of Rob The Hockey Guy. He fights crime by night, so we won't reveal his last name. He is @stuff99 on Twitter. Hi everyone, I am writing this blog as I listen to the Game of Thrones theme song in a circular loop. This makes blog writing sound even more epic than it already is. This is my first blog entry so go easy on me. Just pretend you're AV...
PER TSN.ca on Wednesday sources say goaltender Roberto Luongo will submit a short list of teams to the Canucks next week that could pave the way for a trade out of Vancouver and the Toronto Maple Leafs will be one of the teams on that list. Now we're hearing via Dan Murphy the Canucks beat guy from Sportsnet.ca... Via Twitter. Quote: Toronto is indeed...
Those two topics are the highlights of Coach's Corner tonight.
[SCENE: The Sedins sit on a bridge holding fishing poles]Daniel: It is a sad day, Henrik. No more hockey for us.Henrik: I am confused, Daniel. We are the best. We had 4 Swedes, and only 1 Finn. Daniel: Salo....Henrik: Efterbliven! [Daniel and Henrik sit in silence, holding their poles, which are, in truth, only sticks with rope tied to the end][Ryan Kesler lurks in the back ground...
NHL News

Delivered to your inbox

You'll also receive Yardbarker's daily Top 10, featuring the best sports stories from around the web. Customize your newsletter to get articles on your favorite sports and teams. And the best part? It's free!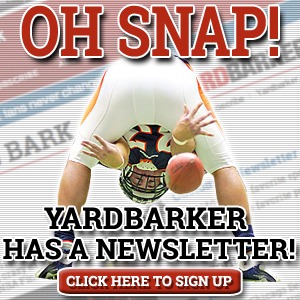 Latest Rumors
Best of Yardbarker

Today's Best Stuff

For Bloggers

Join the Yardbarker Network for more promotion, traffic, and money.

Company Info

Help

What is Yardbarker?

Yardbarker is the largest network of sports blogs and pro athlete blogs on the web. This site is the hub of the Yardbarker Network, where our editors and algorithms curate the best sports content from our network and beyond.