Found October 03, 2011 on The Sport Sofa:
It's what you've all been waiting for! The start of the 2011/2012 NHL season is less than a week away and many of you are anxious to see the Toronto Maple Leafs in action against the Canadiens this Thursday October 6th.
Leaf Nation has seen it's ups and downs this preseason with Nazem Kadri, Tyler Bozak and Tim Conolly going down due to minor injuries. Furthermore, we saw Clarke Macarthur receiving a 4-game Drenden Shanaban for his controversial head shot on Wings forward Justin Abdelkader. Are things really looking good for their opener against Le Canadiens du Montreal?
Let's break it down starting with the final roster. Yes, the Leafs coaching staff making their final cuts this morning! Take a look below:
Goaltenders: James Reimer, Jonas Gustavsson
Defence: Cody Franson, Jake Gardiner, Carl Gunnarsson, Mike Komisarek, John-Michael Liles, Dion Phaneuf, Luke Schenn
Forwards: Colby Armstrong, Tyler Bozak, Mike Brown, Tim Connolly, Philippe Dupuis, Matt Frattin, Mikhail Grabovski, Nazem Kadri, Phil Kessel, Matthew Lombardi, Joffrey Lupul, Clarke MacArthur, Colton Orr, Jay Rosehill
So let's start with the most important question. Can James Reimer live up to his expectations after his performance last year? Many of you judged his preseason performance which we can all agree was mediocre at best. However, the situation is different; Reimer has earned his number 1 goal tending job. He must now prepare for an 82 game season (whether he will play all 82 games which is obviously unlikely), he must still be ready for the long haul.
Ayaz's Angle: Should I be worried about James Reimer? Of course I should. He is an unproven goalie until he hits 50-60 odd games and shows his worth. Though, I believe in the kid because of his veteran style poise, his ability to stay focused even when times are tough and his uncanny vision that a lot of goalies coming into the NHL lack. *Cough* Raycroft *Cough*   — Don't worry about the preseason performance wait until the games really matter.
The second most important factor for the Leafs being successful this year is their defense. Throughout the past 10 years they were too used to playing Efense' because they had no D. This year seems different, and yes I know Leaf fans say that every year. The defense was the biggest competition of all coming into training camp. 6 spots and a total of 9 defenseman tried to squeeze their way in to the deep line up. After all the practices, drills and preseason games we finally have a verdict. Keith "Mohammed" Aulie was sent down to work on his game with Dallas Eakins while the surprise addition to the Leafs D-core Jake Gardiner will look to start the season playing alongside Mike Komiserak. Gardiner showed quick speed, excellent vision and a knack of making things happen on the ice. In his 6 appearances, Gardiner amassed 1 goal, 5 assists and had 13 shots on goal. This was a decision that the coaching staff just had to make.
Ayaz's Angle: I really wanted Mike Komiserak to be bought out so the money we get back could be re-purposed to help out our front line. However, he did play fairly well in the preseason and Keith Aulie was definitely showing signs of a sophomore slump. I feel great about the defensive line going in. To be a playoff team, the Defense needs to contribute with some goals. Leafs were in the bottom 5 of the league in that respect. I think John Michael Liles, Cody Franson and Jake Gardiner will change that!
Finally, the forwards! What forwards? Oh you mean the ones in the infirmary? Ron Wilson will have to play Tetris to get the perfect fit together and have them ready for those pesky Habs. On a positive note, Matthew Lombardi is healthy and looking good on the ice! Who woulda' thunk' Brett Lebda was so valuable? Mikhail Grabovski, Nik Kulemin and Macarthur looked very dominant in preseason similar to their dominance in the previous season. Not a lot of line combinations can keep the flame going but these guys have found a way. Grabovski accumulated 7 points in the preseason even after possibly having 5-billion minor concussions. Some say he's the toughest guy in the league! Say your goodbyes' to Darryl Boyce and Joey Crabb as they were both put on waivers. They did a great service to the team and we bid them good luck in their futures!
Ayaz's Angle: The main concerns here are if Phil Kessel can avoid 14-game goal droughts, if Tim Conolly is the man to feed him the puck, if the Leafs can muster a better special teams (especially the powerplay) and if they can stay healthy (something that has already plagued them and the season hasn't even started).
My Leafs Eastern Conference prediction was a mediocre 9th. I'm a die hard so I really hope they prove me wrong!

Happy Beginning of the 2011/2012 season! Also check out Faizal Khamisas article on the Leafs.
"No Signs of Re-Leaf" here
Original Story:
http://www.thesportsofa.com/?p=1936
THE BACKYARD
BEST OF MAXIM
NHL News

Delivered to your inbox

You'll also receive Yardbarker's daily Top 10, featuring the best sports stories from around the web. Customize your newsletter to get articles on your favorite sports and teams. And the best part? It's free!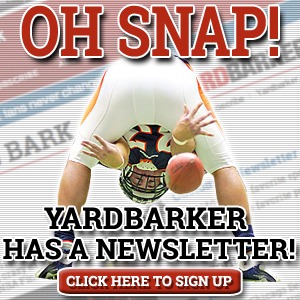 Latest Rumors
The Backyard

Today's Best Stuff

For Bloggers

Join the Yardbarker Network for more promotion, traffic, and money.

Company Info

Help

What is Yardbarker?

Yardbarker is the largest network of sports blogs and pro athlete blogs on the web. This site is the hub of the Yardbarker Network, where our editors and algorithms curate the best sports content from our network and beyond.