Found August 01, 2012 on Blue Seat Blogs:
PLAYERS:
Rick Nash
,
Radek Dvorak
,
Mark Messier
,
Martin Straka
,
Michael Nylander
,
Jaromir Jagr
,
Alexei Kovalev
,
Petr Nedved
,
Henrik Lundqvist
,
Marian Gaborik
TEAMS:
New York Rangers
,
Dallas Stars
,
Pittsburgh Penguins
After all the Rick Nash hullabaloo has now calmed down, here's the final part of the greatest European Rangers series. It's subjective and meant for debate and how much one man's opinion truly matters is really open for debate. Some players like Ulf Samuelsson and Radek Dvorak don't make the debate, some people may disagree but that's the beauty of lists like this.  Anyway, enjoy. (part one and part two are here).
Jan Erixon
The hugely popular Jan Erixon was a one club man in the NHL, representing the Rangers over 550 times during his ten season stop in New York. Unfortunately for Erixon he went back to Sweden before the Rangers cup season. Although not offensively outstanding (just 216 points and 57 goals) Erixon was known as a character player and a defensive specialist.
While some of the Ranger clubs Erixon played on boasted Mark Messier, Amonte, Gartner, Graves, Zubov and of course Brian Leetch Erixon was still a key player that did the dirty work for the offensive stars to thrive. If the Rangers win the cup in the 2012/13 season the Erixon family will have an unfortunate claim to fame with recently traded Tim and Jan both leaving the organisation directly before cup winning seasons.
Martin Straka
Having arrived in New York after the lock out following an underwhelming (at best) season with the Kings and Penguins, Straka became a great free agent find for the Rangers. Straka, along with Michael Nylander and Jaromir Jagr was a key part of the Rangers return to competitiveness after the lock out. Like some of the other Europeans we've discussed Straka wasn't the longest tenured of Rangers' but with 187 points in 224 games and two seasons where he averaged a point per game in the playoffs with New York, Straka's impact was both unexpected and undeniable.
Pavel Bure
Bure almost garners consideration simply because he was one of the best players of his generation and arguably one of the purest goal scorers of any generation. Bure is a classic example of 'if only'. If only the Rangers acquired him sooner, if only he was able to stay healthy, if only the Rangers had better teams back then…
Bure's immediate impact upon arrival was spectacular, breaking the club record for goals in consecutive games with 12 in 12. In his brief time as a Ranger Bure tallied 50 points in 51 games and 31 goals in the same period. I have no problem going as far as saying had he stayed healthy and remained with the Rangers Bure would have helped re-establish the franchise and become one of the best Ranger goal scorers in franchise history.
The best of the Rest
It's sad that the 'best of the rest' begins with Alexei Kovalev. When a player scores over 1000 career points in the NHL and is still considered to have underachieved you know his talent level was immense. Kovalev was one of the most talented players of the past 25 years but never really hit the heights he could reach aside from the occasional season with Pittsburgh and Montreal. While Kovalev certainly contributed to the Rangers cup win of '94 he should have achieved more. 330 points in 492 games really wasn't enough.  Another case of 'if only'.
Petr Nedved played on bad Rangers teams. Does he even count as a European given his controversial escape to North America? Either way, Nedved was another supremely talented yet underachieving player. While Nedved put together several solid seasons in New York (totals included 78 points, 68 and 58), he was accused of being one dimensional, inconsistent and failing to make those around him better. Like Kovalev, Nedved was capable of more as his 99 point season as a Penguin suggested. With 351 points in 478 games he still made his mark on the franchise.
As discussed with Straka and Jagr, the Rangers resurgence after the lock out came with unheralded rosters given little chance to succeed. No one likely expected Michael Nylander to put together 79 and 83 point seasons as the Rangers number one center and mesh so perfectly with the individual talents of Jaromir Jagr. Nylander disappointingly bolted to the Capitals after that, a move that signalled the down turn of his career. Nylander could have had a serious impact on the Rangers future had he stayed one or two more seasons in New York.
Several Europeans have left their mark on the Rangers franchise, several including Henrik Lundqvist and Marian Gaborik can still immortalise themselves as Rangers greats regardless of nationality. At the end of the day, European players have had a great impact on the Rangers franchise. Hopefully a few more get their names on the Stanley Cup as Rangers. 
Original Story:
http://www.blueseatblogs.com/2012/08/...
THE BACKYARD
BEST OF MAXIM
RELATED ARTICLES
Pretty much everyone knows that I'm a big Stu Bickel fan. While he may not have had a spectacular rookie season with the Rangers last season, he won my heart. He showed that with grit and determination, he could play in the NHL (longer than most had expected him to).  But his rookie season wasn't [...]
Now that the free agency period has more or less passed, Bovada, the sports betting agency in Las Vegas, has adjusted its odds for the NHL. And after adding Rick Nash (along with some other role players), the Rangers have jumped up all the way to second on the list, trailing only Atlantic Division rival Pittsburgh, who sits at 8/1. The Rangers, previously 7th at 12/1 odds, now sit...
It truly is the low point of the off season. The Rangers are quiet, at least publicly, and attention around the league is primarily focussed on the CBA talks. There are still a few things we can talk about though so welcome to another musings. Jump on in. The Hockey News wrote an article recently on why the North West division is the league's worst. It got me thinking again about...
With Rick Nash in the mix, there appears to be only one more target for the Rangers, and that is Shane Doan. Adding Doan to the club would solidify the Rangers depth at forward, making them true Stanley Cup contenders, and possibly the Cup favorites come October. Since the Phoenix ownership situation is still up in the air, Doan has already begun shopping his services, which included...
While I was away on vacation last week, the New York Rangers and Columbus Blue Jackets decided to do a little transferring of players. Even if I was here, I probably wouldn't have written anything until now. That's commitment! The Rangers acquired Rick Nash, someone they were rumored to be pursuing months ago leading up to their playoff run, along with Steve Delisle, in exchange...
If reports are to be believed, Shane Doan is currently seeking a four-year contract worth around $30 million if and when he concludes remaining in Phoenix is no longer a desirable scenario. A deal of that magnitude would call for a salary cap expenditure of $7.5 million annually. Doan will be 36 by the start [...]
Per Jim Cerny's Twitter account, new assistant coach of the Connecticut Whale and former Rangers defenseman Jeff Beukeboom will join the Blueshirts United weekly chat tomorrow at 3 PM.To visit Blueshirts United, click here.   Those arent boos, those are chants for "Beuuuuk." It's great having the last true smash-mouth, hard-hitting Rangers defenseman Beukeboom...
Steve Zipay at Newsday spoke with former Columbus Blue Jacket GM Doug McLean about what type of player the Rangers are getting in Rick Nash..."Where do you find a 6-4, 235-pound guy with hands, who can skate, is entering his prime, with limited miles on him -- although every night he was the No. 1 focus, tightly checked, man-on-man, because teams knew if you shut down Rick Nash...
Today marks the beginning of August, which is most often the very worst month of the year for hockey fans. Most of the major transactions, as well as the minor ones, go down in July in the weeks that follow the opening of free agency, and then the fire dies down to a small flame come August. There's an extremely small chance we a see a move of the magnitude or larger than that...
Believe it or not, back on Feb. 21 the Detroit Red Wings sat atop the NHL standings, which was business as usual. Since that time, it has been anything but business as usual for one of the leagues premier franchises. Injuries during the second half of season, another playoff disappointment, a game-changing retirement and a summer of being jilted by big-name free agents have left...
NHL News

Delivered to your inbox

You'll also receive Yardbarker's daily Top 10, featuring the best sports stories from around the web. Customize your newsletter to get articles on your favorite sports and teams. And the best part? It's free!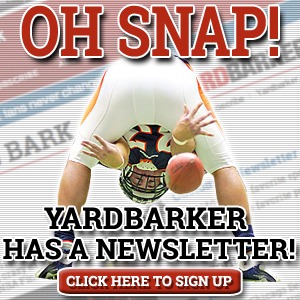 Latest Rumors
Best of Yardbarker

Today's Best Stuff

For Bloggers

Join the Yardbarker Network for more promotion, traffic, and money.

Company Info

Help

What is Yardbarker?

Yardbarker is the largest network of sports blogs and pro athlete blogs on the web. This site is the hub of the Yardbarker Network, where our editors and algorithms curate the best sports content from our network and beyond.