Found September 16, 2012 on Queen City Sports:
PLAYERS:
Gary Bettman
,
Jochen Hecht
,
Thomas Vanek
,
Jason Pominville
,
Derek Roy
,
Ryan Miller
,
Luke Adam
,
Brayden McNabb
,
T.J. Brennan
,
Zemgus Girgensons
,
Tyler Ennis
,
Jeff Skinner
,
Tyler Seguin
TEAMS:
Buffalo Sabres
,
Dallas Stars
,
Carolina Hurricanes
,
Boston Bruins
The greatest fear of NHL fans has been realized as the lockout is now officially upon us.  For the second time in eight years, and the third time in Gary Bettman's tenure the NHL owners have locked out the NHL Players Association after failing to come to terms on a new collective bargaining agreement.
For now this is a minor inconvenience, training camp is scheduled to start within a week, but the first regular season contest isn't scheduled until Thursday October 11th.  So there remains a sliver of hope games aren't lost if the two sides can come to terms prior to that date.  Realistically it looks as though if an agreement can be reached it might be until late November or early December until we see regular season action, coinciding with a shortened season ala the 1994-95 campaign that featured a 48 game season.
What does this mean for the Buffalo Sabres?  Well at the moment it doesn't change much as we are still in pre-training camp time.  The Sabres were scheduled to open up camp this coming week, with their pre-season schedule starting on September 24th.  Obviously if a new CBA isn't ratified prior to then, those plans will be scrapped.  Pre-season can be shortened so the loss of training camp and pre-season games doesn't necessarily mean regular season games have to be lost if say the two sides agreed on a new deal in the next ten days.
As with prior lockouts, NHL players may look to European leagues to play while the NHLPA and the Owners continue to work towards a new CBA.  In the locked out season of 2004, then Sabres winger Jochen Hecht played the entire year in his home country for Adler Mannheim of the DEL.  At this moment no Buffalo player has accepted an offer with another league, but expect many Sabres to be courted over the next few days.
The lockout doesn't affect the younger players and prospects quite as much as the veterans.  While they are missing a chance to participate in NHL games, the Canadian Junior Leagues and the American Hockey League will operate as usual, so prospects can be sent to play for their team's affiliates and continue to gain experience.  This proved to be quite a blessing in disguise for Buffalo in the 2004 season, as Thomas Vanek, Jason Pominville, Derek Roy, and Ryan Miller all gained valuable playing time and experience playing for the Rochester Americans during the lockout.  This extended experience at the AHL level led to a surprisingly deep and offensively gifted Buffalo roster in the 2005 NHL season carrying the Sabres to their first of back to back conference finals appearances.  Should the lockout result in a lost season, look for similar experience to help guys such as Luke Adam, Brayden McNabb, TJ Brennan, and Zemgus Girgensons.
Tyler Ennis (getty images)
From a contractual standpoint the Sabres managed to make an eleventh hour deal with restricted free agent forward Tyler Ennis to complete their offseason makeover.  Ennis was signed to a two year contract worth an average of $2.8125 million per season.  This is a fantastic deal for both sides.  In Ennis Buffalo is bringing back a player who racked up 34 points in an injury shortened 48 game campaign last year and who may be the team's number one center for less than $3 million per year.  What this does for them is put them in a position where they are paying for what Ennis has done on the ice thus far, not for what he may do in the future.  Tyler Ennis hasn't had a breakout season yet, and though he appears primed to in the near future, he is a player who has yet to eclipse 50 points in a season.  His average annual value coming in at just under $3 million is right in line with how he has produced the past two seasons.
On the flip side for Tyler, the deal is only for two seasons, giving Ennis the opportunity to prove his worth heading into his next contract where he will most certainly make more money.  In the short term he settled for less than Jeff Skinner, Tyler Seguin, and other young RFA's signed this off-season, but in their defense they were more established than Ennis.  With the short contract Tyler just needs to prove he belongs in the same category and he will assuredly earn the big bucks down the road.
So what's next for the Sabres?  The prospects will report to their CHL and AHL camps, and the veterans will be working out on their own, with some opting to sign in European leagues until a new CBA has been been signed.  We know Buffalo will look like a different team on the ice when NHL play resumes, how soon we get to see them is yet to be determined.  Let's just hope everyone stays healthy while the powers that be work on coming to terms and getting the blue and gold back onto the ice sooner than later.
-Brandon Hess can be followed on twitter @SabreHess
The post The Lockout is Here, How Does it Affect Buffalo? appeared first on Queen City Sports.
Original Story:
http://www.queencitysports.net/the-lo...
THE BACKYARD
BEST OF MAXIM
RELATED ARTICLES
from Michael Grange of Sportsnet, Every single contract an NHL player signs has a stamp of Gary Bettman's signature along the bottom of it. Every contract that has come to life in the past seven years carries his legal mark of approval. But over the seven-year life of Bettman's masterpiece, the CBA that expired at 11:59 p.m. Saturday night, all those contracts...
  This time next week I should be in Nashville at a Predators/Hurricanes pre-season game. Am I fan of either team? No. Do I care? No. I want hockey. We all want hockey. We've been waiting for June for the sport to come back, attending prospect camps and kids' games and crossing off every calendar day until September 15th, praying that the CBA get resolved...
NHL commissioner Gary Bettman listens as he meets with reporters after a meeting with team owners, Thursday, Sept. 13, 2012 in New York. The current collective bargaining agreement between the league and the players expires Saturday at midnight. (AP Photo/Mary Altaffer) NEW YORK (AP) — NHL Commissioner Gary Bettman maintains the league will lock out [...] [[ This is a content...
Gary Bettman has been the NHL's boss for almost 20 years. He was hired by the NHL to bring the salary cap, and so he did, as he had received the salary cap NBA Basketball: acquisition. Twice the lockout has been a stoppage during his reign, and each time the lockout is done. Now it is the third! He is certainly the NHL's most hated person. For every NHL team's arrival...
The Buffalo Sabres have re-signed forward Tyler Ennis to a two-year contract. A person familiar with the contract said the deal is worth $5.625 million. The person spoke on the condition of anonymity because the Sabres did not disclose financial terms in announcing the signing Saturday. Ennis was a restricted free agent, whose rights had been retained by the team in June. He completed...
The Hockey Program mailbag session continues with another question sent by Captain Spaulding (@midtnweather) via Twitter.  Spaulding asks, "Is there any chance of a lockout being cancelled?".Gary Bettman, Commissioner of the National Hockey League. Yes there is a chance that the NHL lockout can be lifted. Right now, the current Collective Bargaining Agreement is set to expire...
The Toronto Sun's Steve Simmons offers many lockout-related thoughts in his Sunday column, but his main thrust involves the fact that while both the NHL and NHLPA shoulder blame for the third lockout of a certain owners' commissioner's regime, the true Chairman of the Board has clearly mastered the villain's role: Almost every time Gary Bettman opens his mouth...
NEW YORK (AP) -- With only hours until a threatened NHL lockout, the league and the players' union appear no closer to a deal. For nearly a year, NHL Commissioner Gary Bettman has vowed to lock out players for the second time in eight years if a new collective bargaining agreement isn't reached by the time the current one expires at midnight EDT Saturday. NHL deputy commissioner...
The word "lockout" is looming over another major pro sport, this time the National Hockey League. In question-and-answer form, this is a look at the issues and implications of a work stoppage in the NHL. Q: Why is the NHL having labor issues? A: At its core, this is a dispute over money. The league's labor contract, agreed to seven years ago, expires at midnight...
The word ''lockout'' is looming over another major pro sport, this time the National Hockey League. In question-and-answer form, this is a look at the issues and implications of a work stoppage in the NHL. ---- Q: WHY IS THIS THE NHL HAVING LABOR ISSUES? A: At its core, this is a dispute over money. The league's labor contract, agreed to seven years ago, expires...
NHL News

Delivered to your inbox

You'll also receive Yardbarker's daily Top 10, featuring the best sports stories from around the web. Customize your newsletter to get articles on your favorite sports and teams. And the best part? It's free!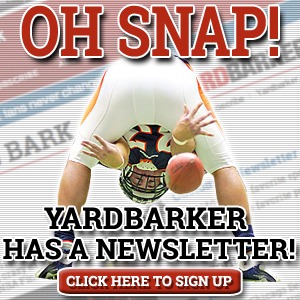 Latest Rumors
The Backyard

Today's Best Stuff

For Bloggers

Join the Yardbarker Network for more promotion, traffic, and money.

Company Info

Help

What is Yardbarker?

Yardbarker is the largest network of sports blogs and pro athlete blogs on the web. This site is the hub of the Yardbarker Network, where our editors and algorithms curate the best sports content from our network and beyond.