Found April 05, 2013 on Blue Seat Blogs:
PLAYERS:
Marian Gaborik
,
Ryane Clowe
,
Derick Brassard
,
Derek Dorsett
,
John Moore
,
John Tortorella
,
Steve Eminger
,
Roman Hamrlik
,
Rick Nash
,
Brandon Dubinsky
,
Brandon Prust
TEAMS:
Columbus Blue Jackets
,
New York Rangers
,
Montreal Canadiens
Tough as nails, pretty solid defensively too. When the Rangers sent draft picks to San Jose and Marian Gaborik to Columbus for Ryane Clowe, Derick Brassard, Derek Dorsett, and John Moore, it was very clear what the Rangers were doing. They were addressing their black holes of lineup depth and lineup toughness. But, one thing that was floating under the radar was play without the puck, and these new guys were also brought in to help in a defensive role as well. John Tortorella will not play someone if they are a defensive liability (see: Kreider, Chris; Miller, J.T.). Clowe and Brassard likely to slot into second or third line roles. Dorsett will be a fourth line player, and Moore a bottom pairing defenseman (for now, his potential is through the roof). Players in these roles are not expected to carry the offensive load. They are expected to play physical, two way hockey. Some offensive burden will fall on Clowe and Brassard, and last night showcased how effective they can be in that role. But it's their defense (and physicality) that will keep them in the lineup long-term. Looking first at GVT/PVT (please be sure to check the Metrics We Use page for details): GVT DGVT OGVT PVT Brassard 4.2 2.3 1.7 1.4 Clowe 0.3 1.9 -0.6 0.1 Dorsett 1.7 2.5 -0.7 0.6 Moore -0.1 0.6 -0.7 -0.03 Gaborik 2.4 2.4 0.9 0.8 This table is a bit interesting. Brassard is a bit undervalued by most fans, and that is likely because of his inability to both stay healthy and match his very impressive 2010-2011 and 2011-2012 seasons where he put up 17-30-47 and 14-27-41, respectively. That said, his GVT numbers are all better than Gaborik's, which I find to be interesting. Gaborik was certainly the best player dealt in this trade, but Brassard actually serves the Rangers better. Clowe's numbers here are a product of zero goals until he hit Broadway. Last season Clowe had a GVT of 8.0 (2.7 PVT). This just goes to show how much of a down year it has been for Clowe. Dorsett's numbers are actually interesting too, as they suggest that he is better defensively than most give him credit for. This is Moore's second season, and his numbers are an improvement from last year, which is all you can ask for. His numbers are on par with those of Steve Eminger and Roman Hamrlik, but Moore is light years ahead of these two when it comes to foot speed. But GVT/PVT only tell part of the story. The rest of the story is about matchups and how they drive puck possession: QoC Corsi Rel QoC CorsiON RCorsi Ozone Start Brassard -0.031 -0.304 0.79 8.7 49.6% Clowe -0.006 0.037 5.2 6.7 51.8% Dorsett* -0.013 0.956 -9.12 -6 35.0% Moore -0.031 -0.880 0.00 9.6 49.7% *-Dorsett's numbers from 2011-2012 due to lack of games played. Much like we discussed how the Rangers were going to have holes to fill when trading for Rick Nash, they have filled those holes in acquiring this quartet. These numbers are much better than I expected. I've been moving toward Corsi Rel QoC as a more accurate measure of puck possession relative to the quality of competition faced, but I included QoC and CorsiON/RCorsi as well. The first thing I noticed is that despite Clowe's inability to put the puck in the net, his CorsiON/RCorsi shows that he still drives puck possession. He had been doing it against lesser quality matchups, which is why is Corsi Rel QoC takes a hit, but the fact that he was still able to drive puck possession shows he may have just been snake bitten in San Jose. He's an offensive player that holds his own defensively and doesn't give his opponents much to work with. Based solely on these numbers, it appears that he could possibly be an upgrade over the much-debated Brandon Dubinsky. Brassard and Moore have almost identical numbers, and represent a classic case of his Corsi numbers showing contradiction. Their CorsiON (Corsi/60) suggests they are barely treading water when it comes to puck possession, but their RCorsi (Corsi/60 ON – Corsi/60 OFF) suggests that they were much more efficient than their teammates. This is where Corsi Rel QoC again comes in handy, as it factors in the quality of competition (QoC) faced. Neither are blowing you away there, but it's something to watch going forward, especially when you see Brassard was at +.462 Corsi Rel QoC last year. Dorsett is interesting, since I had to use last year's numbers due to lack of games played this season. Dorsett was used as a defensive specialist in Columbus, getting just 35% of his starts after a whistle in the offensive zone. For comparison's sake, that is right on par with what Brandon Prust received last year. But Dorsett's puck possession numbers blew Prust's out of the water last year, especially his Corsi Rel QoC. Since Dorsett plays a similar game to Prust, there is a chance that he could actually be an upgrade over the departed fan favorite. It is very clear that the Rangers gave up the most skilled player in this trade, that we know. However hockey is not just about scoring goals, even though the Rangers have a severe issue with this aspect of the game. You can have all the skill in the world, but if you aren't driving puck possession and going to the dirty areas of the ice, teams with lesser skill but more grit will find ways to beat you. This was a problem the Rangers were facing all year. With a pair of trades, they appear to have addressed everything they needed to address. At least, they did so on paper. Tweet
Original Story:
http://www.blueseatblogs.com/2013/04/...
THE BACKYARD
BEST OF MAXIM
RELATED ARTICLES
… Ryane Clowe said he always wanted to wear this hat after seeing it on 24/7.  Well Ryane, in only your first game as a New York Ranger your wish has come true! Amazing game from Clowe last night. 
  Bruce Bennett/Getty Images Wednesday was a big day in Rangerland.  As we all know by now, the Blueshirts acquired Ryane Clowe for three draft picks and traded oft-maligned sniper Marian Gaborik to the Blue Jackets for Derick Brassard, Derek Dorsett, and John Moore (with misc. non-prospects and a late draft pick thrown in).  Yesterday, Chris did a fantastic job adding some perspective...
Andrew Gross at the Bergen Record says JT Miller was recalled back to the Rangers after being assigned to the Whale this morning. Gross adds that Miller will NOT be in the line-up tonight vs. the Penguins. Meanwhile, Katie Strang at ESPN reports that Derick Brassard is en route to New York and could be here before game time. ...what an absolutely wacky day. ...would love...
The New York Rangers got immediate results for their late-season overhaul.Newcomers Derick Brassard, Ryane Clowe and John Moore combined to score four goals and four assists as the Rangers blasted the Pittsburgh Penguins 6-1.Those fellows had no time to get acclimated to coach John Tortorella or his system. They just went out and tore up the first-place Penguins on the ice."Throws...
Ryan Clowe had THE perfect impact. It's hard to call the Rangers 6-1 demolition of the Penguins last night anything other than an incredible first impact from the new guys. Wherever you looked, players were making a difference and it's intriguing the momentum and impetus incoming players give the current roster. On to the musings; dedicated to the trade deadline You just know...
Ryane Clowe and Derek Brassard: Welcome to New York. Brian Boyle: Welcome back. These three led the Rangers in the complete dismantling of the Penguins tonight, scoring a powerplay goal and at least three points each, and four of the Rangers first five goals en route to a 6-1 win. Boyle and Brassard had a goal and three assists each, and Clowe scored two (his first two of the season...
Earlier today, Greg Wyshynski at Puck Daddy retweeted this regarding the battle between the Rangers and the Canucks for Ryane Clowe's services... Canucks considered Clowe's salary demands which were 8 years 34 mill according to Botch. #wow — Taj (@taj1944) April 4, 2013 "Botch" is Jason Botchford who is the Canucks beat writer at the Vancouver...
Nik Zherdev. Nikita Filatov. Gilbert Brule. These are just a few of the first round draft picks who were supposed to come to Columbus and turn the team into a competitive force in the Western Conference. Those three, along with many others, failed to match the expectations and succeed with the Blue Jackets. We can now also add Derick Brassard to that list.  Drafted sixth overall...
When it comes to this part of the season, every single point matters to NHL teams that are either in a playoff spot or on the outside looking in. This is exactly the case when it comes to the New York Rangers. With six total points up for grabs between Monday and Friday, the Blueshirts probably surprised many by picking up five. The Blueshirts picked-up their fifth point tonight...
After trading Ryane Clowe to the New York Rangers yesterday, the Sharks have bolstered their strength by adding Raffi torres for a 2013 third rounder. On July 1, 2011, Torres signed a two-year contract worth $3.5 million with the Phoenix Coyotes. He recorded his first goal nearly a month into the 2011–12 season, in a 3–2 shootout loss [...]
We're huge fans of the Pens looking like ass right now. It was bound to happen when the streak ended. This is all happening at the best time possible, too. The Pens will be playing the 7 or 8 seed in the first round. Those two seeds will have hit some kind of stride by that time in order to battle through the logjam at the bottom of the East. So, let the Pens figure some ***...
NHL News

Delivered to your inbox

You'll also receive Yardbarker's daily Top 10, featuring the best sports stories from around the web. Customize your newsletter to get articles on your favorite sports and teams. And the best part? It's free!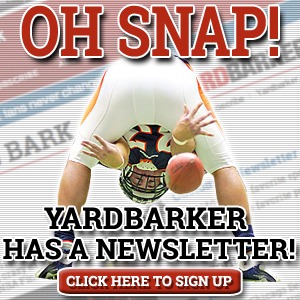 Latest Rumors
Best of Yardbarker

Today's Best Stuff

For Bloggers

Join the Yardbarker Network for more promotion, traffic, and money.

Company Info

Help

What is Yardbarker?

Yardbarker is the largest network of sports blogs and pro athlete blogs on the web. This site is the hub of the Yardbarker Network, where our editors and algorithms curate the best sports content from our network and beyond.