Found June 16, 2012 on Turner Sports Desk:
It is June 16th the NHL entry draft is only 6 days away and the Washington Capitals have no Head Coach. General Manager, George McPhee is saying what he is supposed to say in terms of stressing that his search is a deliberate one designed to get the absolute right guy.Well any GM would say that but here are some things to bear in mind. Any Head Coach worth a damn will want some input into who the Caps draft especially since they have a couple of high picks. The Caps could also trade those picks for a veteran player that could make an immediate impact. What Coach would not want to have a say in that? That is why this delay in hiring a coach is odd especially for a playoff team loaded with talent.I don't think we are asking the right question. The question that needs asking is what role does Alexander Ovechkin play in the selection of the next Caps coach? Well the last two Caps Coaches may provide a clue as to why the Caps remain coachless now. Some of the Caps Coaching candidates may pick up a phone and call Bruce Boudreau or Dale Hunter to find out what that job is really like. What are the advantages and disadvantages of this organization from the front office to the locker room? Bruce Boudreau might say that how you treat Alexander Ovechkin may determine how long your tenure is. Boudreau tried to light a fire under the entire team and his superstar by benching him and got hammered both by Ovechkin and the media. Ultimately Bruce lost the lockeroom because he became white noise even though Bruce orginally implemented a style of play that Ovechkin thrived in. Boudreau correctly came to the realization after a couple of playoff early exits that the aggressive offense first style of play would not earn the Caps a cup. His downfall started the moment he started moving away from that aggresive offensive style. Ovechkin and Semin's numbers dropped like a hot rock through snow and the rest is history.Enter Dale Hunter who played the exact opposite style that Bruce Boudreau implemented. Hunter correctly focused on defensive responsibility and creating chances by being solid in your end of the ice first and foremost. Eventually Dale benched Ovechkin for significant portions of playoff games because Ovechkin proved himself more of a liability than an asset within the team's defensive scheme. When Dale benched Ovechkin all of the focus was on that situation. It is my personal opinion that this situation effected Dale's decision not to come back. Dale realized that everything he does with Ovi will be picked apart and scrutinized to the point where it will effect your coaching. In the end Dale decided it was not worth the drama.Potential Coaches have to be asking themselves if they have a system Ovechkin is both willing and able to function within? Can they communicate with him, discipline him and teach him to play within their system? No one is asking Ovi to become a Selke Candidate but not being a consistent weak link on defense is a more than reasonable expectation.The bottom line here is the next Caps Coach will have to bring in a system that is balanced and he will have to be an excellent teacher, communicator, motivator and disciplinarian. It has been my experience that the truth lies somewhere between the polar opposite points of view. I write this knowing some will quickly dismiss it as Ovechkin hating (which is not true). Ovi is the franchise here in DC and he does factor in to the coaching equation.I have been a Caps fan since the beginning (1974) and a hockey fan for even longer. I have seen great players come and go. Ted Leonsis made the mistake of making Ovechkin the franchise instead of building the franchise around a system of winning that knows how to get the best out of assets like Ovechkin. The Caps organization is built to sell tickets and merchandise but they are not built to win Stanley Cups. Ovechkin is an asset and should only be seen as a cog in a winning machine. This is why the coaching question really boils down to how one deals with Ovi. That is not fair to him and definitely not a situation that allows for any franchise level consistency. The scary thing is the Ovechkin era will come and go and if Leonsis does not change this franchise dramatically he will have absolutely nothing to show for it.
Original Story:
http://feedproxy.google.com/~r/turner...
THE BACKYARD
BEST OF MAXIM
RELATED ARTICLES
One of the top NHL unrestricted free agents this summer is the Washington Capitals Alexander Semin.  Semin  has seen his goal production drop from 40 goals in 2009-10 to 28 in 2010-11 to post-lockout low of 21 this past season and as a result peoples general view of Semin's value has dropped significantly.  The question is, what was the reason for his drop off in offensive stats...
The Washington Capitals are preparing for the NHL Draft without a new head coach in place.General manager George McPhee expects his search to carry past this week. He has interviewed several candidates and has, according to the Washington Post, ruled out veteran NHL coach Paul Maurice, Flyers assistant coach Craig Berube and Capitals assistant coaches Dean Evason and Jim Johnson...
With the Washington Capitals entering a summer of salary cap uncertainty with a new Collective Bargaining Agreement looming, they still have several decisions to make regarding their pending free agents.  Chief among their restricted free agents this off-season is defenseman John Carlson.  Carlson made a base salary of $787,500 last season, the last of his entry-level deal, meaning...
 My bad.  When the first part of Capitals 101's offseason plan was published, veterans Bob Hartley and Paul Maurice were listed as the top two candidates to replace Dale Hunter. The problem with those choices is that it was based on who I thought was the best coach available, not the right coach. (Hartley is now with the Calgary Flames, and Maurice will be coaching in the...
As the 2011-12 season has come to a close, the time has come to evaluate what it meant for the Capitals, both as a team and as individuals.  As such, as the summer progresses, I will be writing a report card, or individual evaluation, for each player who played in 9 (~10%) of the team's games, or 4 playoff games. Next up is defenseman John Carlson, who finished his third NHL...
As the 2011-12 season has come to a close, the time has come to evaluate what it meant for the Capitals, both as a team and as individuals.  As such, as the summer progresses, I will be writing a report card, or individual evaluation, for each player who played in 9 (~10%) of the team's games, or 4 playoff games. Next up is winger Alexander Semin, who finished his seventh NHL...
What is the Capitals' gameplan heading into draft day? Will the Penguins make a draft day splash on home ice? What big names could be on the move? Tonight at 6:30pm, Matt Gajtka, Director of Communications for the USHL Muskegeon Lumberjacks and host of Polish Prodigy Podcast joins Andy Green and Harry Hawkings of RocktheRed.net as we talk NHL Draft on Rock the Red Radio....
Capitals News

Delivered to your inbox

You'll also receive Yardbarker's daily Top 10, featuring the best sports stories from around the web. Customize your newsletter to get articles on your favorite sports and teams. And the best part? It's free!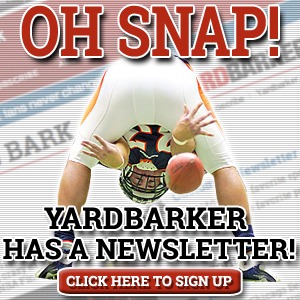 Latest Rumors
Best of Yardbarker

Today's Best Stuff

For Bloggers

Join the Yardbarker Network for more promotion, traffic, and money.

Company Info

Help

What is Yardbarker?

Yardbarker is the largest network of sports blogs and pro athlete blogs on the web. This site is the hub of the Yardbarker Network, where our editors and algorithms curate the best sports content from our network and beyond.