The Western Conference is far from decided in the NHL
By Chelena Goldman | Last updated 1/18/16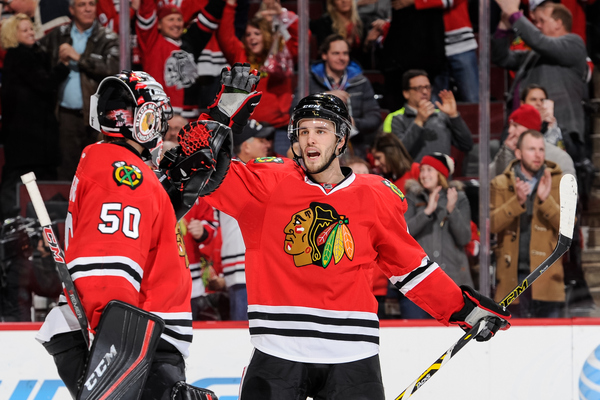 The red-hot Chicago Blackhawks continue to pace the Western Conference.
Bill Smith/Getty Images
At roughly the halfway point of the NHL season, it's clear that the landscape in the Western Conference is continuing to shift and alter itself, keeping viewers guessing as to how things are going to shake out in the latter months of the 2016 season.

There were hints to this in Saturday night's tilt between the Dallas Stars and San Jose Sharks. Not that long ago, the Stars were so far ahead in first place in the Central Division it was a wonder if they were ever going to be caught — or cool off offensively, for that matter. Saturday's 4-3 overtime loss in San Jose, however, marked Dallas' third straight dropped decision (3-5-2 in last 10), putting them a few points behind the Chicago Blackhawks in the standings. Even Tyler Seguin's superior scoring prowess wasn't enough to lift the Stars past San Jose, who successfully scored on Sharks-turned-Stars netminder Antti Niemi.

San Jose, on the other hand, notched its fifth straight win in a mix of home and road games and appears to be finding depth throughout its lineup. The Sharks even rallied to win after Dallas scored the first goal — something they hadn't done at home since January 2015. While the Pacific Division-leading Los Angeles Kings still have a cushy lead, the mix of San Jose, Arizona and Vancouver is working to close the gap.

Sure, just this one game, and these two games don't say everything there is to be said about the Western Conference in its entirety. But it's a nice glance into how the tides are changing as we get ready for February hockey and start to look more at teams making the big playoff push.

"It's important, in this NHL, with the standings, to get points," Sharks defenseman Marc-Edouard Vlasic said of San Jose stringing multiple wins together. "We've got teams to catch (in the standings), and we want to secure a playoff spot. We're far from it, but it's going good right now."

Currently maintaining the third spot in the Pacific Division with 48 points, San Jose is a ways from tying L.A.'s total of 59. The Kings' status as a Western Conference juggernaut will be tested at its best over the next two weeks with their schedule consisting off all conference competition, starting with contests against the Stars and Minnesota Wild — who have teetered about the top to middle of the standings in the difficult Central Division. (But any division is tough with a team like the Blackhawks, who have convincingly won 11 straight.)

The Central standings could be in for an unexpected surprise, as well, if the St. Louis Blues ever get healthy. Even with their mounting injuries, they have been able to pull out wins and remain in third place in the division with 59 points. Case in point: St. Louis ended a three-game roadie with only 17 healthy players but also punctuated the trip with a 2-1 shootout win over — drum roll please — the Kings.

With the All-Star break on the horizon, it is certainly not too early to start pondering how the standings will change headed toward playoff time. Make no mistake — there is plenty of room to move on the Western Conference front.
MORE FROM YARDBARKER:
The Weirdest Trade In Baseball History
MORE FROM YARDBARKER
NHL News

Delivered to your inbox

You'll also receive Yardbarker's daily Top 10, featuring the best sports stories from around the web. Customize your newsletter to get articles on your favorite sports and teams. And the best part? It's free!