Found August 25, 2012 on The Prospect Park:
(New York Rangers) I am going to have a hard time being polite or politically correct today because there are times when some New York Ranger fans just don't realize how hard players work to get to the NHL. I swear if I read one more poster trash the players by saying "all they do is play the game" that I will scream.
I could understand it if people who took the NHL's side if they had their facts in order but really most don't. Maybe if you put names to those owners would you still support the NHL position if you saw James Dolan's name instead of the NHL owners?
Perhaps the most frustrating thing I see is how few people realize that in the last NHL/NHLPA collective bargaining agreement that the owners got 95% of what they wanted from the NHLPA. In 2005 the NHLPA was (and still is) the most impotent union in sports.
I see people daily saying that those poor NHL owners shouldn't have to share their "profits" with the players. That NHL owners can't make any money because of those greedy players.
What saddens me is that for those who are supporting the NHL owners that they don't know the difference between profit and revenue. There are fans who just don't realize that the number one reason why NHL teams are having trouble is because of the decisions they the teams make.
Really who put a gun to the head of the Minnesota Wild's owner Craig Leipold and forced him to offer twin 13 year $98 million dollar contracts to Zach Parise and Ryan Suter? Who was it that offered Shea Weber an offer sheet worth $110 million over 14 years?
Please realize that while you are so busy trashing NHL players remember who it really is that are the one really damaging the sport you love. It is not the players but rather the foolish behavior of NHL owners and general managers.
It wasn't the players who decided that places like Atlanta or Phoenix had to have NHL franchises. It is not the players who decide who can own NHL franchise nor do they have a voice when a team's ownership screws up so badly that they turn the franchise into a joke.
Hello did people forget the "gun to the head" that the Penguins and Gary Bettman pulled on the City of Pittsburgh to get their new arena? How many people know what kind of lease was offered to the owners of the then Hartford Whalers to get them to move to Raleigh North Carolina?
Remind me to shed tears for the Dolan family who pay no property taxes on a square block in mid-town Manhattan. I don't deny the Dolans anything they make off the Rangers because they have a cash cow and milk it like they should.
But please don't sit there and write "all the players have to do is show up and play" because it is a bunch of crap. Any of you who have ever done anything with your lives has gotten there because you worked hard at it.
90% of you had to bust your tails in schools or on the job learning your craft, you didn't have it handed to you on a platter nor did you simply showed up one day and knew everything you needed to get where you are.
It ticks me off because so few know what anyone who wants to be an NHL player goes through to get there. And even fewer realize once there how hard an NHL player now has to work to stay in the NHL.
Being an NHL player is now a year round job for as soon as one season ends then a player needs to start working on next season. It goes way beyond "show up and play" as a player is now paying to attend specially run workout camps out of their own pocket.
I dare someone to go up to a Dan Girardi and tell him how easy his life is as an NHL player. Undrafted, unwanted and if not for the 2004 lockout then odds are Girardi is not a Ranger.
Go ask Brian Boyle what it was like to be 6'7 and having to attend skating school in order to save his NHL career. Being an NHL player goes way beyond just showing up to play.
And can we please learn the difference between what is revenue and what is profit?
Revenue
1. the income of a government from taxation, excise duties, customs, or other sources, appropriated to the payment of the public expenses.
2. the government department charged with the collection of such income.
3. revenues, the collective items or amounts of income of a person, a state, etc.
4. the return or yield from any kind of property, patent, service, etc.; income.
5. an amount of money regularly coming in.
6. a particular item or source of income.
Profit
1. Often, profits.
a. pecuniary gain resulting from the employment of capital in any transaction. Compare gross profit, net profit.
b. the ratio of such pecuniary gain to the amount of capital invested.
c. returns, proceeds, or revenue, as from property or investments.
2. the monetary surplus left to a producer or employer after deducting wages, rent, cost of raw materials, etc.: The company works on a small margin of profit.
3. advantage; benefit; gain.
So many people are having so much trouble understanding the difference. The players and NHL owners are arguing over how much of a split there should be in dividing up the revenue.
At no time have the players demanded to touch a team's profits besides if you listen to the commissioner nobody in the NHL makes one anyway.
One other sad but true good point was raised by
Dave of Blue Seat Blogs
when he wrote
The owners are using the loyalty of the fans, our loyalty and hard-earned cash, as a bargaining chip.
Dave is right on the mark when he correctly pointed that out.
The fact that loyalties are being used as a negotiating tactic is appalling. We never thought either side would stoop so low.
Sorry Dave but that was the battle plan all along by both sides. Gary Bettman was very able to sell NHL fans in 2004 that he locked out the players to save the NHL for them.
And it will keep working for the NHL as long as people keep believing that the players are the greedy ones here.
Original Story:
http://feedproxy.google.com/~r/ThePro...
THE BACKYARD
BEST OF MAXIM
RELATED ARTICLES
While many are still concerned about the Rangers scoring woes, it's worth noting that the Rangers now have two of the top ten post-lockout scorers in the NHL. The list, compiled at Kukla's Korner, has Rick Nash at #7 with 231 goals, and Marian Gaborik at #10 with 228 goals. It's worth noting that two Rangers top this list because it does address one of the Rangers biggest concerns...
Whether fans are willing to admit to the facts or not, it's an indisputable actuality that head coach John Tortorella and assistant coach Mike Sullivan contributed largely to the success of the New York Rangers in 2011-12. Enough so that Mr. Tortorella was runner-up for the Jack Adams award for the "Coach of the Year" title in the NHL; an honor he deserves whether...
Since NHL '13 might be the closest we get to NHL hockey for a few months, it seems appropriate that we post the NHL '13 ratings for the Rangers roster. Kevin touched on this in Thursday's musings, but there are a few complaints regarding these rankings. While many are focusing on Chris Kreider's 68 rating, I'm actually more focused on the 73 rating shared by Anton Stralman...
Over at MSG's Maven's Ravin' column, hockey legend Stan Fischler takes a look at some metro-area hockey players and evaluates whether or not they're one-hit wonders. His list include two Rangers.His take on Ryan McDonagh...If there's not a Norris Trophy in this guy's future, I don't know another defenseman with such potential. Then again, you never know...
Listen, I love the canine species just as much as the next guy, but the Rangers constant, over the top promotion of John Tortorella's dog walking charity event is a little out of control. And now comes the latest marketing attempt for the event (via Deadspin), this very odd pic of Henrik Lundqvist and his Doberman, Nova......i guess some people will find this pic cute, but I...
John Buccigross at ESPN, revisits the Marian Gaborik for Dan Boyle trade rumor he started last month in his recent Mother of All Mailbags column..."Trading Gaborik for Boyle would deepen the Rangers' defense and give them a top-six forward group of Brad Richards, Nash, Ryan Callahan, Derek Stepan, Carl Hagelin and Kreider, which is pretty strong if Kreider develops into...
Over at The Pipeline Show, Guy Flaming has a piece on New York Rangers prospect Michael St. Croix and how 2012-13 will be a huge year for his development. Flaming offers some advice he's received from several NHL scouts.I've spoken with numerous scouts who aren't sold he can play in the top 6 for a NHL club and because he's not considered a checker, he won't fit...
BY: Bruce Berlet (Special to Howlings) Joe Resnick, the agent for All-Star left wing Rick Nash, denied a report that his client will return to play for HC Davos in the Swiss Elite League if there another NHL lockout. Resnick told TSN that Nash, whom the New York Rangers acquired from the Columbus Blue Jackets on July 23, will not play for the European team that Nash and San Jose...
NHL News

Delivered to your inbox

You'll also receive Yardbarker's daily Top 10, featuring the best sports stories from around the web. Customize your newsletter to get articles on your favorite sports and teams. And the best part? It's free!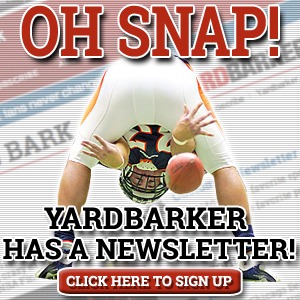 Latest Rumors
The Backyard

Today's Best Stuff

For Bloggers

Join the Yardbarker Network for more promotion, traffic, and money.

Company Info

Help

What is Yardbarker?

Yardbarker is the largest network of sports blogs and pro athlete blogs on the web. This site is the hub of the Yardbarker Network, where our editors and algorithms curate the best sports content from our network and beyond.