Found December 11, 2013 on Awful Announcing:
The Columbus Blue Jackets are a professional sports team that plays in the National Hockey League. If you're a regular viewer of SportsCenter, you may not be aware of this fact. You're not alone, though. Not even SportsCenter's most dominating personalities are aware of this fact. The NHL doesn't get much love on SportsCenter, and the Blue Jackets are perhaps the least covered franchise of the four major sports in Bristol. A small market franchise with no superstars (aside from Sergei BOBROVSKY) and just 1 playoff appearance in 13 years checks all the boxes for being totally ignored by SportsCenter. The only way the franchise will get coverage is through unconventional methods. When college football analyst and CBJ fan Kirk Herbstreit appeared to talk about the Texas head coaching situation, he got a shoutout in for the Jackets' 5-4 win over the Devils because he and everyone else knew that was the only way they would ever be mentioned on SportsCenter. Steve Levy and John Buccigross are two hockey guys and even they acknowledged the current state of affairs. It's pretty sad when ESPN's own people are discussing their own lack of NHL coverage on the air. If you are an NHL fan, perhaps it's best to stick to Fox Sports Live in hopes of a few highlights. Kirk Herbstreit should commit to dropping random Blue Jackets tidbits in all of his college football reports to carry the flag for the franchise. Maybe later this week he can namedrop Ryan Johansen during a BCS title game preview.
Original Story:
http://www.awfulannouncing.com/2013/d...
THE BACKYARD
BEST OF MAXIM
RELATED ARTICLES
via RIA NOVOSTI, Nikita Nikitin, a defenseman playing for the Columbus Blue Jackets  of the National Hockey League, has told R-Sport he refuses to learn English as he can always rely on fellow Russian teammates. Nikitin has played in the NHL since 2010 but admitted – in Russian – that "my English isn't getting any better." Russians in the NHL are regularly...
As unenthused as I was at the beginning of last week, it proved to be a week of relative greatness for the Columbus Blue Jackets (12-15-3). The team managed to shut out both the Tampa Bay Lightning (17-10-2) and the Minnesota Wild (18-9-5). And while they had a tough 2-1 loss last night against the Pittsburgh Penguins (21-10-1), they played tough through out the entire game and it...
Nick Foligno scored the game-winning goal with 91 seconds left when Ryan Johansen's shot went in off his skate, giving the Columbus Blue Jackets a 5-4 victory over the New Jersey Devils on Tuesday night. Cam Atkinson had two goals and two assists, Brandon Dubinsky had a goal and three assists and Matt Calvert also scored for the Blue Jackets, who have won their last four at...
"I think we're building something here. It kind of reminds me of our team last year. We finally found out what's working for us, and we're playing our game and playing to our strengths." That was Columbus winger Matt Calvert talking about his team's play the past three games, two shutout wins, followed by the tough one-goal loss in Pittsburgh Tuesday night...
Matt Calvert, Artem Anisimov and David Savard scored in the first 11:10 and the Columbus Blue Jackets beat the Rangers 4-2 on Thursday night, sending New York to its fourth straight loss. The Rangers, 0-3-1 on its nine-game homestand, closed within 3-2 in the third period, but Ryan Johansen pushed Columbus' lead back to two goals with 1:32 left. The Blue Jackets goalie tandem...
Somewhere in the skies between Pittsburgh and Columbus late Monday, Blue Jackets right wing Cam Atkinson could tell his linemate, center Brandon Dubinsky, was ready to make amends for his mistake. Late in a 2-1 loss to the Penguins, Dubinsky was ejected for arguing with NHL officials, keeping him in the dressing room while the Blue Jackets tried in vain to mount a comeback. "We...
The Columbus Blue Jackets have sidelined defenseman James Wisniewski for at least two games with an upper-boy injury suffered in their Friday night victory over the Minnesota Wild.The nature of the injury wasn't made clear, but original indications were that Wisniewski could miss a week, though that has been amended to missing just Monday night's 2-1 loss to the Penguins...
Remember this? (AP Photo/Julio Cortez) Tonight marks the return of two former Rangers and fan favorites: Brandon Dubinsky and Artem Anisimov. Both were sent to Columbus after the 2012 playoff run for Rick Nash, and one (Dubinsky) has been very vocal about wanting to stick it to the Rangers tonight. Tonight is also the first time Nash will face his former team. Marian Gaborik (sent...
Whenever the biggest story coming out of a game is Marc-Andre Fleury missing his first NHL goal by six inches, it probably means that the Penguins won. Columbus is second to last in the Metropolitan Division and their missing Vezina Trophy winner Sergei Bobrovsky. They are also without Marian Gaborik and Nathan Horton. To add…
Following a two year stint in Division IA, the Norwegians are back and hoping to stick full time after a promotion during the 2013 World Juniors. Highlighting the 2014 squad is forward  Markus Søberg, a 2013 sixth-round pick of the Columbus Blue Jackets has 13 goals and 22 points in 19 games with Frölunda Gothenburg in Sweden, as well as potential 2014 NHL draft picks Mattias [...]
Blue Jackets News

Delivered to your inbox

You'll also receive Yardbarker's daily Top 10, featuring the best sports stories from around the web. Customize your newsletter to get articles on your favorite sports and teams. And the best part? It's free!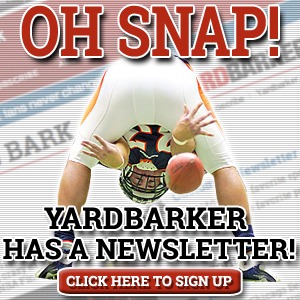 Latest Rumors
Best of Yardbarker

Today's Best Stuff

For Bloggers

Join the Yardbarker Network for more promotion, traffic, and money.

Company Info

Help

What is Yardbarker?

Yardbarker is the largest network of sports blogs and pro athlete blogs on the web. This site is the hub of the Yardbarker Network, where our editors and algorithms curate the best sports content from our network and beyond.