Heading into the home stretch of the 2017-18 National Hockey League season, the Calgary Flames are a team that has accomplished several things. Mike Smith has cemented himself as a top-flight starting goaltender. Johnny Gaudreau has pushed himself into the upper echelon of NHL scorers. Calgary Flames goalie Mike Smith (Sergei Belski-USA TODAY Sports) But one problem has perplexed...
Johnny Gaudreau had another solid week, Dougie Hamilton is the cure for the power play and the Flames made 4 moves this week. The Flames finished up their 6 game road trip this past week with a record of 4-2-0 and started their brief home stand with a 6-3 loss. Calgary overall was 1-2-0 on the week, getting blown out by the Bruins and Panthers, but they were able to salvage one...
Gaudreau is closing in on Nikita Kucherov for the top spot in the NHL points race. For the second time this season Johnny Gaudreau has taken home one of the NHL's Stars Of The Week. This afternoon Gaudreau took home the second of the three available spots for his play over the last 7 days. Gaudreau's play is a hefty part of why the Flames are 3-1-0 on their current 6 game road...
Flames' Johnny Gaudreau said that he "got a tip" on the puck in the Blackhawks' 3-2 loss on Tuesday night.
Great. Wonderful. Super. You could see it on the replays that NBC Sports Chicago was showing during the postgame show. The broadcasters didn't mince words in calling the decision "garbage." And then Flames forward Johnny Gaudreau more or less confirmed to The Athletic's Scott Powers what many of us had already suspected: The Blackhawks got screwed on Calgary's game-winning goal....
Johnny Gaudreau comments on playing alongside Connor McDavid in the All Star game tomorrow from Tampa Bay.
Johnny Gaudreau picks up the loose puck behind the Tampa Bay Lightning defence and beats an outstretched Andrei Vasilevskiy to give the Calgary Flames the lead.
Watch as officials and the Calgary Flames have argument during TV time out after Johnny Gaudreau was clipped by a high stick.
Calgary Flames star Johnny Gaudreau scores in the shootout against the Minnesota Wild and the officials have to take a second look after it appears he goes backward for a moment.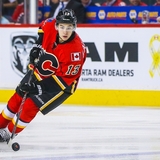 Calgary Flames forward Johnny Gaudreau pulls off an incredible individual effort to score a memorizing goal against the Marc-Andre Fleury and the Pittsburgh Penguins. ---------------------------------------------- Visit Sportsnet.ca for more sports news and highlights - http://www.sportsnet.ca Follow Sportsnet on Facebook - http://sprtsnt.ca/YTFB Follow Sportsnet on Twitter ...
MORE STORIES >>
Flames News

Delivered to your inbox

You'll also receive Yardbarker's daily Top 10, featuring the best sports stories from around the web. Customize your newsletter to get articles on your favorite sports and teams. And the best part? It's free!