Found May 16, 2012 on NorthWest Sports Beat:
Why Care about Bears? On A Booth And A Bear… When I was a lot younger, my family rented a cabin up at Saratoga Beach on Vancouver Island every summer. One year, we found some curious nibbles on our cereal boxes and other low-shelved food that I managed to convince my parents was caused by a mouse and not myself.
So we walked over to the General Store and bought a bag of mouse traps.
My only previous exposure to this scenario was through Mouse Trap, so while I was confused and disappointed by the lack of bathtubs and old-timey divers I figured this curiously straight-forward way to catch a mouse with cheese and a spring-loaded bar would still be fun. After all, it was a game right? So we set it up and and went about eating dinner when my sister saw something scurry in the kitchen. There was the mouse, eying the cheese like he had never watched YTV. In a flash he was off, deftly grabbing the cheese without setting off the trap. Booth can fight, Booth can shoot, what can't Booth do? - (AP Photo/Jeff Roberson) To my sister and I, this was hilarious. My dad was a little more, uh, cheesed off though and immediately re-baited the trap. It took about 10 minutes or so, but the mouse came back, once again spotting a cheese oasis in the kitchen floor. He took off and again showed the deft hands of a jewel thief by removing the cheese without triggering his own demise. My sister and I were closer to killing ourselves by laughing than this mouse was to killing himself via his cheese addiction. My dad wasn't about to give up; Round 3. Only this time, the mouse played the role of the Vancouver Canucks and the trap was wearing a Los Angeles Kings jersey. Game over, and it all came crashing down on my sister and I. The laughter flipped instantaneously to tears as the finality of what had actually happened hit. It was fun and games until you were confronted face-to-face with the poor mouse's twitching body pinned down in the trap. The idea of killing an animal can be pretty abstract until you actually see the final product. So yeah, David Booth should be able to relate to my Dad who still wonders why on earth he let us watch knowing full well what the outcome would be. Dan Hamhuis holding a fish...just sayin. Photo From Vancouver.24hrs.ca) A little press blurb in a media guide or Canucks.com that describes Booth as an "avid hunter" or whatever is a little different than being confronted by his trophy kill on Twitter but what did people expect the final outcome of Booth's passion for hunting be? A Pretty Woman scenario where he gives them a makeover and sets them off back in the woods beautiful and free? But also, what was Booth expecting by giving the bear his close-up? Vancouver isn't exactly Hunter's Ed country what with all the environmentalism and David Suzuki. Here is a picture of Dan Hamhuis holding a fish in a fundraising event put on by the Vancouver Canucks.
That fish is dead because Dan wanted to have a nice relaxing day. Is it really any different?
I'm not the type of guy to ever even consider going into the woods to shoot a bear, but I have fished. I'm also of the belief that for better or for worse, legal is legal and everything David Booth did was on the legal level. He's probably far from the first hunter to take down a bear this spring, yet for some reason those guys don't have as many Twitter followers. Welcome to the fish bowl David Booth, now watch out for Hamhuis' hook. CLICK HERE TO CHECK OUT THE CANUCKS BLOG IN THE CLUBHOUSE TODAY! © Richard Hodges for North West Sports Beat, 2012. | Permalink | No comment | Follow NWSB on Twitter or join US on Facebook for real-time updates OR... | Share This on Twitter | Share NWSportsBeat.com on Facebook Post tags: Bear Hunt, Booth v Bear, Canucks, Canucks hockey blog, Canucks news, Canucks Rumors, Dan Hamhuis, David Booth, Fish bowls, hockey headlines, Hunter, NHL News, twitter, Vancouver Canucks Blog, YTV promos
Original Story:
http://www.nwsportsbeat.com/canucks/v...
THE BACKYARD
BEST OF MAXIM
RELATED ARTICLES
Going out on a limb… Ever since the Canucks were ousted from the playoffs by the LA Kings this April, there has been a significant amount of chatter about the state of the franchise and the always contentious starting goaltender debate. Both goalies have merited the right to continue being a Canuck, both have faults and question marks surrounding their game and both have good...
The Great Dane After a one-round mourning period, The Flying V is back to break down the best of a season gone far too soon for the Vancouver Canucks. Given the gracious grieving period, let us begin with some summer optimism. A number of Vancouver Canucks had a solid season in 2012, and there are several reasons to be happy about the state of Vancouver's favourite team heading...
The road to Sochi… With those silly World Championships going on over in Helsinki and Stockholm, we here at NWSB thought there may never be a better time than now to discuss the future of Cory Schneider with the US National Team. Why isn't he there now? Will he represent in Sochi in 2014? Would he start if he did go? All these questions are seconds from being answered right before...
For a long time I've been ewwwing and awwwing over Abbotsford B.C. golfer Adam Hadwin. He's the next "Mike Weir" if you will. He's got the game, the charm, the attitude, the drive and the swing. He'll be on the PGA tour for a long long time. Hadwin appeared and made the cut in five PGA Tour events in 2011: U.S. Open, RBC Canadian Open, Frys.com Open...
NHL News

Delivered to your inbox

You'll also receive Yardbarker's daily Top 10, featuring the best sports stories from around the web. Customize your newsletter to get articles on your favorite sports and teams. And the best part? It's free!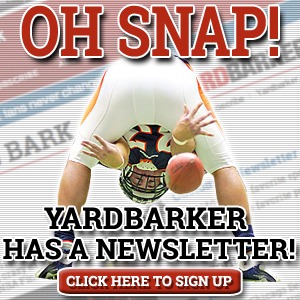 Latest Rumors
Best of Yardbarker

Today's Best Stuff

For Bloggers

Join the Yardbarker Network for more promotion, traffic, and money.

Company Info

Help

What is Yardbarker?

Yardbarker is the largest network of sports blogs and pro athlete blogs on the web. This site is the hub of the Yardbarker Network, where our editors and algorithms curate the best sports content from our network and beyond.