Found January 24, 2012 on Obsessed With Sports:
About 8 years ago, Curt Schilling decided to publicly back President Bush in his reelection campaign. Schilling quickly realized he wasn't in the southwest anymore. The way many members of the Commonwealth saw Curt changed after this action. He became one of the more loathed athletes in the Boston area. But, was it because of his loud mouth? Or, was it due to what was coming out of that loud mouth?
Tim Thomas may be heading towards a similar fate in Boston. Thomas is a known Tea Party supporter. He even sports a themed mask at times. But Tim is in the heart of one of the more liberal states in the country. He also went to college at the University of Vermont. This means he should be no stranger to the popular political beliefs in the northeast.
Here is Thomas' statement on the matter:
"I believe the Federal government has grown out of control, threatening the Rights, Liberties, and Property of the People.
"This is being done at the Executive, Legislative, and Judicial level. This is in direct opposition to the Constitution and the Founding Fathers vision for the Federal government.
"Because I believe this, today I exercised my right as a Free Citizen, and did not visit the White House. This was not about politics or party, as in my opinion both parties are responsible for the situation we are in as a country. This was about a choice I had to make as an INDIVIDUAL.
"This is the only public statement I will be making on this topic. TT"
I'm not sure what type of vetting process the Facebook comments are being put through, but they are largely supportive. At least much more so that I would have thought. This is surprising and in stark contrast to the reaction Thomas is already seeing from the media and local fans.
The Boston Globe's Kevin Paul Dupont wrote this morning, "Shabby. Immature. Unprofessional. Self-centered. Bush league. Need I go on? All that and more applies to what Thomas did, on a day when Cup teammates Mark Recchi (now retired), Shane Hnidy (a radio guy these days in Winnipeg), and Tomas Kaberle (a member of some Original Six team in Canada), all gladly joined the red-white-blue-black-and-gold hugfest at the White House."
The Boston Herald had a similar piece from Magery Eagan. She says, "The only thing I knew about Thomas until yesterday had to do with phenomenal hockey playing. Here's what I suspect today: He's a spoiled brat. It was just as bratty, embarrassing and classless…"
Not every writer completely bashes Thomas' actions. Maybe my favorite NHL writer/blogger had one of the better takes on this topic. Greg Wyshynski wrote:
It's the moment when Thomas will no doubt lose a lot of supporters, for sure, when they realize an athlete they celebrate has stark political differences than they have. He's not the first nor the last athlete to choose not to visit the White House.

It's a moment in which a professional athlete uses his fame, his influence for something he believes in, and does something that won't be popular among fans or media. Sean Avery did the same thing: Potentially alienating his teammates by taking a political stand on gay marriage.

If he's celebrated and Thomas is demonized, what does that say about our real tolerance of free speech? That it's only free when we agree with it?

(And for the "separation of politics and hockey" crowd — that flies out the window when you agree to be a backdrop to a speech in an election year. Or any year.)
If I didn't like the direction of the Federal government, I might go about voicing that opinion in a different way. However, that's not the criticism you are hearing from the Boston media, nor many area fans. There is a notion that what Thomas did is somehow wrong. The Bruins were a part of a political speech yesterday. If an individual does not want to be a part of that, it's hard to fault him. The specific actions are what could be critiqued by pundits. Not in Massachusetts, though. It's the principals of Thomas that get the lashing.
If the current administration leaned a different way, the reaction from the media, and many fans, would be different. We are talking about the Commonwealth — I'm used to it now. It's a fact, actually.
Specifically, the coverage was indeed different when Theo Esptein decided not to take the trip to the White House during Bush's presidency. It was not covered with nearly this much vitriol. In fact, I can barely find any articles on the topic. The media gave Theo a wink and a nod that day. Thomas, on the other hand, is in for a far less supportive experience.
It's free speech if the majority agrees; it's self-serving if you are in the minority.
[via Tim Thomas Official Facebook Page]
Original Story:
http://www.obsessedwithsports.com/201...
THE BACKYARD
BEST OF MAXIM
RELATED ARTICLES
Bruins fans are quickly learning there are certain downsides to a team's success. For so long we were used to the Bruins either flaming out in the playoffs or making ridiculous trades or just finding some reason to disappoint us. But we all stuck it out and over the past few years we have been rewarded, with everything culminating in a June 15, 2011 Stanley Cup clinching...
I had no clue as to if I should post this here or at Puck Drunk Love, but I figured this was my blog - I feel awkward about posting political stuff anywhere else. Tim Thomas skipped yesterday's meeting with President Barack Obama to honor the Bruins' 2011 Stanley Cup Championship. Teams go to the White House all of the time, and Thomas was the team's only American. He...
Tim Thomas is not expected in net for the Bruins as they play the Washington Capitals on Tuesday night, but he will most likely still be a large part of the discussion surrounding the night's game. In the wake of the Bruins goalie's decision to not attend the team's meeting with President Barack Obama on Monday, Thomas has stirred up a firestorm of controversy that may...
The defending Stanley Cup champion Boston Bruins visited the White House on Monday, where they took a tour and met with President Barack Obama. Tim Thomas, however, elected not to attend. Thomas later released a statement saying that he believes "the Federal government has grown out of control, threatening the Rights, Liberties, and Property of the People." Therefore, the...
Bruins all-world goalie Tim Thomas doesn't deserve all the sniping he's receiving for skipping a date with the...
It is a well known fact that hockey goalies are a breed apart.  Many of them have odd habits and generally speaking are not like the skaters on their teams.  After all, if you spent your career, your life's work, willingly watching players launch pucks from the point at you at 90+ MPH, you gotta be a different kind of person. Proving this point, Boston Bruins Goalie, two time...
Bruins goaltender Tim Thomas released the following statement Monday evening regarding his absence from the Bruins' visit to the White House this afternoon: "I believe the Federal government has grown out of control, threatening the Rights...
Bruins goalie Tim Thomas' White House boycott is a minor infraction that won't land him long in the penalty...
Look, goalies always have been a tad "different, so is it shocking that Tim Thomas opted not to visit the White House the other day with the Boston Bruins? No. And truth be told I could really care less if Thomas went or not. I'm fairly certain the rest of the Bruins players, coaches and staff enjoyed what had to be a special day. Regardless if you're a Democrat, Republican...
Tim Thomas may have stolen the headlines on Monday with the Bruins in the nation's capital, but it will be pretty hard to take away the memories that many of the B's came away with. The Bruins were in Washington to be honored at the White House during a brief meeting with the president. As is customary, the B's presented Barack Obama with a black and gold sweater with...
Canucks News It's Wednesday morning and Canucks fans are of course ________ about last night's result. You fill in the blank and leave it in the comments section below! Anyhow, while you're sipping your morning java, HAVE A glance at all the Canucks blogs from recent days and nights. I will say in advance, YOU'RE WELCOME. For this morning's links, myself on behalf of NWSB...
NHL News

Delivered to your inbox

You'll also receive Yardbarker's daily Top 10, featuring the best sports stories from around the web. Customize your newsletter to get articles on your favorite sports and teams. And the best part? It's free!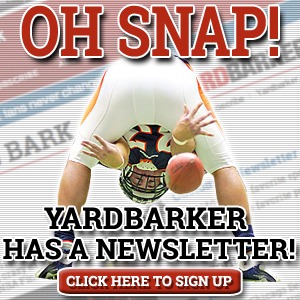 Latest Rumors
The Backyard

Today's Best Stuff

For Bloggers

Join the Yardbarker Network for more promotion, traffic, and money.

Company Info

Help

What is Yardbarker?

Yardbarker is the largest network of sports blogs and pro athlete blogs on the web. This site is the hub of the Yardbarker Network, where our editors and algorithms curate the best sports content from our network and beyond.