Found June 05, 2012 on Blue Seat Blogs:
This summer the Rangers can afford to be aggressive – and risk a swing-and-a-miss mistake – this off season as they search to go one round further next season than this time around. There's one caveat however (isn't there always?) and that's the pending CBA fallout.
The Rangers are not far from being a Cup team. The core is there, the youth is plentiful and in place while the experience of the playoffs and the associated heartbreak of failure (an apparent prerequisite for future success) has been acquired. The organisation has depth at its disposal in almost every regard and if the cap doesn't come down when the dust settles then there is money to spend as Larry Brooks discussed recently. This is where Glen Sather and the decision makers have the opportunity to be aggressive as they look to build.
The Rangers will pursue scoring this summer, (apparently) they will look at Justin Schultz to add talent to the back end and they may even sniff around Ryan Suter. Sather can afford to take on a financial risk because of the available cap space, depth and youth on the roster. He can afford to be the highest bidder in any potential Parise sweepstakes or acquire an inconvenient contract if it means more scoring.
The Rangers are poised to have a relatively rare opportunity to go hard at a cup next season when you consider this year's progression and the likelihood of Sather upgrading the roster. It's the right time for Sather to go after the cup. The club has been built the right way for the best part of a decade and have arrived at an opportunity that unlike the dark, late nineties era perhaps demands money be spent.
Is bold best? The Rangers current situation is an instance where it possibly is. Gary Bettman has his parity stricken league where clubs like the financially insecure Coyotes can enjoy success and where the Kings can limp into the post season only to tear it up once they arrive there. With a hard cap in place careful decisions need to be made while a club builds in the hope of competing for the Stanley Cup.
If Sather thinks he can add a *gasp* PAIR of studs like Suter and Parise (unthinkable?) then maybe he should try and do it. He's a master of a trade so it's not unthinkable that he can make room for two. That kind of aggressive spending spree would make the Rangers a monster to deal with next year and a sure fire cup favourite. When you have gone down the route the Rangers have over the past decade you can afford to make a move and deal with the outcomes later. This team and the 1997-2003 era aren't even comparable.
Let's just say Parise or Suter don't pan out. You think they would be unmoveable? Or the Rangers wouldn't have assets elsewhere (and veteran savvy in Sather) to get out of a cap pickle? Please note: Gomez, Scott and Redden, Wade. The Devils beat the Rangers in part because of their higher end skill. Now is no time for resting on laurels or for pat on backs for a job well done. Now is a likely a time for aggressive means.  Aggressive; not at the cost of the entire franchise future but through calculated risk and proactive means. The Rangers have earned the right to be bold and a Stanley Cup could be the reward.
Original Story:
http://www.blueseatblogs.com/2012/06/...
THE BACKYARD
BEST OF MAXIM
RELATED ARTICLES
Brandon Prust is another example of Glen Sather's recent ability to pull off trade theft. A throw in that became a core player and a great example of the black and blue, never say die Rangers identity. To cap it off, his last contract signed with the Rangers, a two year 800k/year deal, was a bargain thus further cementing Prust as a quality addition to the Rangers club. With that...
Despite showing an unexpected offensive upside at the NHL level in his rookie year the Rangers will be better placed for a long term, successful era when Carl Hagelin is flying down the left wing on the third line. He won't be a casualty of depth but could be the difference maker because of it. Make no mistake Hagelin exceeded expectations this year (despite a generally subpar...
In the New York Post's weekly Sunday hockey column yesterday, Larry Brooks reported that GM Glen Sather and the New York Rangers have contacted the Nashville Predators about restricted free agent forward Alexander Radulov. The Blueshirts, in doing this, are seeking a goal scorer to replace Marian Gaborik while he is likely out for the first two months of the 2012-13 season after...
In his third full year as a New York Ranger, 24-year-old forward Artem Anisimov had his fair share of ups and downs during the 2011-12 season. On some nights he could prove to be a legitimate difference maker for the Blueshirts, while on others he spent most of the game riding the bench because of a costly mistake. Not very much has changed in Anisimov's three years as a Ranger...
It may seem like the Rangers have been growing young defensemen on trees, but Mike Sauer's uncertain future is proof that you can never have enough blueliners in the pipeline.  With that in mind, let's take a look at a few D-men that could interest New York at the draft later this month. Just a reminder, all 2012 draft prospect reviews can be found on our Draft Coverage page...
On July 1, 2010, Glen Sather went out and secured the solid, veteran backup goalie that Henrik Lundqvist had never known.  For the past two seasons, Marty Biron has been the consummate professional, teammate and role player behind one of the game's premier workhorses.  It's no coincidence that Henrik Lundqvist had his strongest playoff performance in a year where he had his...
Best John Tortorella interview I've seen in a while:  
John Branch at the New York Times reports on the extensive research Derek Boogaard's father Len did on his son's death including these findings..."In a six-month stretch from October 2008 to April 2009, while playing 51 games, Boogaard received at least 25 prescriptions for the painkillers hydrocodone or oxycodone, a total of 622 pills, from 10 doctors — eight team...
The Eastern Conference Finals only provided further evidence that Zach Parise is a terrific player and would be an ideal fit for the New York Rangers. There's little doubt that GM Glen Sather is going to make Parise a massive multi-year offer when he becomes an unrestricted free agent on July 1st, but despite New York's desire to convert the Devils' captain into a true blue...
from John Branch of the New York Times, In his final three seasons playing in the National Hockey League, before dying last year at 28 of an accidental overdose of narcotic painkillers and alcohol, Derek Boogaard received more than 100 prescriptions for thousands of pills from more than a dozen team doctors for the Minnesota Wild and the Rangers. A trove of documents, compiled by...
Last week we recapped John Tortorella's interview from the Michael Kay show on ESPN Radio. Since that time Tortorella has made the rounds with the media preaching the good word with Mike Francesa and now Bob Costas. I am not going to recap these interview as I did last week. I think they're really worth a listen in their entirety. Scope it… Torts with Costas: Torts with Francesa...
Derek Boogard being interviewed for WCCO If you would like to use this photo please leave a comment here, contact me via Flickrmail, or email nvjorgen [at] yahoo dot com. If you see this photo on the net leave a comment with a link to the page. Thanks. (Photo credit: Wikipedia) If you haven't seen this article you might want to take a look at it. Personally, I can't...
NHL News

Delivered to your inbox

You'll also receive Yardbarker's daily Top 10, featuring the best sports stories from around the web. Customize your newsletter to get articles on your favorite sports and teams. And the best part? It's free!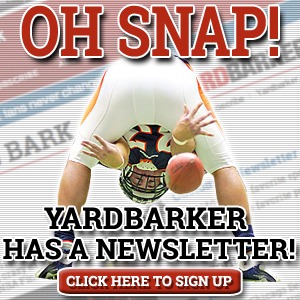 Latest Rumors
Best of Yardbarker

Today's Best Stuff

For Bloggers

Join the Yardbarker Network for more promotion, traffic, and money.

Company Info

Help

What is Yardbarker?

Yardbarker is the largest network of sports blogs and pro athlete blogs on the web. This site is the hub of the Yardbarker Network, where our editors and algorithms curate the best sports content from our network and beyond.