Found February 04, 2013 on isportsweb.com:
The Toronto Maple Leafs have had quite a week winning two games and losing a close one on the weekend.  After watching these games I realized two things.  One, Buffalo's net minder, Ryan Miller can be beaten, two no matter how hard he tries, Phil Kessel can not seem to score  a goal, not even an empty netter.  He now has 36 shots on net and no goals to show for it.   He did get two assists this week though. Things started on a high note for the Leafs earlier the week when they came back and defeated the Sabres 4-3 in overtime.  "I guess that you got to feel fortunate when you get the extra point and you can score with under two seconds in the game,"  said Leaf's head coach, Randy Carlyle in the post game press conference. There was, however,  some sloppy play near the end of the third period, which even Carlyle acknowledged in the post game press conference.  As a result, the Sabres tied it up at 3-3 and pushed the game into overtime. Matt Frattin (right) was the overtime hero against the Sabres. Matt Frattin, who got two goals in the  game, scored with 1.5 seconds left in overtime by putting the puck in the upper right hand corner of the net with a back hand shot.  "It was a great individual effort by Matt Frattin," said Carlyle. The Leafs hung on and managed to win their first home game of the season as they defeated Washington 3-2 two nights later.   They followed that up with 1-0 loss to Boston this past Saturday.  (Unfortunately, I miss this one due to a nasty bout of the stomach flu). Leaf's goaltender, James Reimer stopped 29 shots against Buffalo, 20 shots against Washington, and 33 shots against Boston.  He now has a goals against average of 2.47 and a .922  save percentage. Nazem Kadri still leads the team in points with seven.  I don't believe he will be going down to Minors soon if he keeps this up. Tonight, the Leafs face the Carolina Hurricanes at the Air Canada Center.  Last time I've checked, the Leafs were eighth in the Eastern Conference standings.
Original Story:
http://feedproxy.google.com/~r/isport...
THE BACKYARD
BEST OF MAXIM
RELATED ARTICLES
A puck was shot towards the bench area and Toronto Maple Leafs forward Phil Kessel had a priceless reaction.  I can't blame him for flinching, it was just the way he went about it that makes this absolutely hysterical.  It was like he was completely shocked that he didn't get hit and wasn't ready to let his guard down.[The Score] 
But goal waved off after it was reviewed, kicking motion.       added 9:16pm, via the Situation Room Blog at NHL.com, At 18:44 of the second period in the Hurricanes/Maple Leafs game, video review determined that Toronto forward Tyler Bozak directed the puck into the net with his right skate. According to rule 49.2 "A goal cannot be scored...
Congrats to the Maple Leafs broadcast network for pulling this Staal Brothers (Jordan & Eric) 2, Maple Leafs 1 stunt during last night's game. The Hurricanes would win, 4-2, but the Leafs shutout the Staal's in the 3rd period.  Some call that a moral victory. Speaking of hockey, would you buy a soft pretzel shaped like the Stanley Cup? Of course you would. Would you buy...
Two full weeks are in the books and there are players still out there who can help your team if you pick them up. We'll give our usual lineup of three forwards, two defensemen and a goaltender to pick up and we'll start with Matt Frattin. Forwards  It still defies explanation that Frattin has four goals and two assists in five games and is still available in 96 percent of ESPN...
The Toronto Maple Leafs just can't get the job done at home. It's been a different story on the road. Toronto looks to match its best road start since 1998-99 on Tuesday night when it faces the slumping Washington Capitals for the second time in less than a week. After picking up their first home points of the season on Thursday with a 3-2 win over Washington (2-6-1), the...
Sportsnet Ontario flexed their creative muscle during the Carolina Hurricanes / Toronto Maple Leafs game on Monday night. Midway through the second period, Carolina led the Maple Leafs by a score of 2-1 thanks to goals from Jordan Staal and his brother Eric.  As the station prepared to go to break (or returned from break, we're not sure), they opted to run a slightly modified...
Tonight's game against the Toronto Maple Leafs provided the Hurricanes with a chance to get back to .500 and give the team some positive vibes as they continue this long road trip. It looked like they could be in for another long game as Carolina got off to the worst start imaginable in the first 20 minutes. The Canes were stuck in their own zone for about 60% of the frame, couldn...
Carolina Hurricanes at Toronto Maple Leafs 7 p.m., Air Canada Centre TV: FS-Carolinas, SportsNet-Ontario Starting this long road trip with a 5-3 loss to an injury-depleted Flyers team on Saturday night probably wasn't what the Hurricanes had in mind, so they will look to turn things around tonight against the Toronto Maple Leafs. That loss to the Flyers was yet another...
Michal Neuvirth should get another crack at Toronto on Tuesday (Clydeorama). The Washington Capitals will welcome the Toronto Maple Leafs to Verizon Center on Tuesday night for a matchup between two struggling teams as Washington once again tries to regain their footing.  Coming off a 6-3 humbling at the hands of the Pittsburgh Penguins Sunday, Washington is 2-6-1 on the season...
TORONTO -- Jordan and Eric Staal, Justin Faulk and Patrick Dwyer scored as the Carolina Hurricanes defeated the Toronto Maple Leafs 4-1 on Monday before a crowd of 19,073 at Air Canada Centre. Matt Frattin scored for the Maple Leafs, who took a 1-0 lead out of the first period. Cam Ward stopped all but one of 41 shots in the Carolina goal and was strong during a Toronto power...
The Phil Kessel trade might have been over three years ago, but that won't stop Bruins fans from bringing it up again and again and again. With the B's heading to Toronto to play the Maple Leafs with Tyler Seguin and Dougie Hamilton in tow, Boston and Toronto fans took a trip down memory lane — with mixed results. While all of New England might have been thrilled with the deal's...
The last time the Bruins took the ice, they were dealt their first regulation defeat of the season after allowing four third-period goals in a 7-4 loss to Buffalo. That performance, Bruins players say, was an aberration. "[We made] some poor decisions that we don't usually do," defenseman Adam McQuaid said during W.B Mason Bruins Face-Off Live on Saturday. "Usually we're...
NHL News

Delivered to your inbox

You'll also receive Yardbarker's daily Top 10, featuring the best sports stories from around the web. Customize your newsletter to get articles on your favorite sports and teams. And the best part? It's free!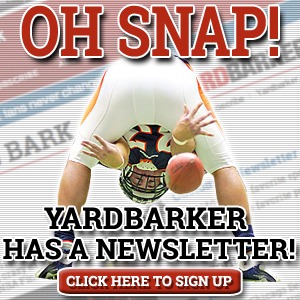 Latest Rumors
Best of Yardbarker

Today's Best Stuff

For Bloggers

Join the Yardbarker Network for more promotion, traffic, and money.

Company Info

Help

What is Yardbarker?

Yardbarker is the largest network of sports blogs and pro athlete blogs on the web. This site is the hub of the Yardbarker Network, where our editors and algorithms curate the best sports content from our network and beyond.