Found January 12, 2012 on The Royal Half:
Game #44
LA Kings 
(21-15-7, 15th in NHL)
vs
Dallas Stars
(23-17-1, 16th in NHL)
Season Series Tied 2-2
7:30pm, Staples Center
Los Angeles, CA
BEST PLAYER TO WEAR BOTH COLORS THAT NOW PLAYS IN HARTFORD, CT:
BEST OPPOSITION BLOG:
Defending Big D
Stars of Big D
BEST OPPOSITION TO FOLLOW ON TWITTER:
DamnitJason
(Because he loves Dustin Brown's game)
Late yesterday afternoon, I saw this curious tweet from LA Times sports reporter, Lisa Dillman:
And then a few hours later... that old-school media known as "newspapers" picked up on the story.
Last Tuesday, on the first Kings' off day in a while, Darryl finally moved into his new place – Murray's house, as it happens. That happens all the time when players get traded – they swap houses as well – but not as frequently among coaches. His wife and son will come down to Los Angeles during the all-star break, but they are otherwise staying behind in Calgary so Christopher can finish Grade 12.
And then Rich Hammond confirmed it.
Terry Murray is now Darryl Sutter's landlord. Murray returned East after being fired by the Kings last month. Sutter needed a place to live. Perhaps finding farmland tough to come by in the greater Los Angeles area, Sutter connected with Murray and arranged to rent his house.
So new Head Coach Darryl Sutter is renting old Head Coach Terry Murray's house in the South Bay? I'd like to think that Terry Murray's last day in his house before turning it over to Sutter went something like this. 
"Red" was obviously Marc Crawford.
But the biggest news from yesterday was Dustin Penner's open letter to LA Kings fans in regards to the recent Pancake-Gate controversy. From Mayors Manor:
So it seems as though I need to address Pancakegate for those in the sports media world, as well as those following #pennercakes on twitter, in light of the recent phenomenon I've created.

Right off the bat, I'd like to clarify a few things. 

For example, they were vegetarian pancakes. The injury happened as I was sitting down to eat, not mid-bite. And yes, I did finish them. 

There has been some feedback from the media as a whole regarding the lack of transparency involving injuries. So, I decided to be candid.

First and foremost, I think we can agree that having delicious pancakes that your wife made for breakfast, for a 1pm game, is not out of the norm. Secondly, "SOBS" (Sudden Onset Back Spasms) can occur at any moment, doing just about anything you can think of, and is a very serious issue.

Those who have experienced "SOBS," know it is no laughing matter. I'm a little hurt, to tell you the truth, that the plight of my people isn't being taken seriously.

Frankly, I don't mind the attention and there's no such thing as bad press, right? Apparently, I made it onto ESPN's 'Around the Horn' and joined Kings' ATH alumnus Dustin Brown (see water bottle incident) and have also became a twitter sensation overnight (with hashtag #pennercakes). So, I'm hoping to get an endorsement from IHOP or Denny's. 

The main thing here though is that we were able to bring attention to a serious issue like "SOBS" and hopefully find a treatment and unmask the mystery of it all.

In closing, for those who know how to laugh and find humor in life I hope they've enjoyed this as much as I did. 

In an effort to end the entire experience on a high note, I'm partnering with MayorsManor to sponsor a 'Pancakes with Penner' breakfast. In the weeks to come we'll be setting up a special raffle. Fans will be able to purchase tickets for $1.00 for a chance to have a pancake breakfast with me. All the money raised will go to charity...while we enjoy some delicious pancakes!
In a similar way in which the opposing party responds to the State of the Union... The Official Royal Half Speechwriter, Brian, has prepared an in-depth rebuttal to Dustin Penner's statement. I present it, unedited, below.
Dear Mr. Penner,

While we enjoyed reading your post and appreciated your alleged candor about Pancakegate, we at the Royal Half believe your convoluted story and jibber-jabber is nothing but a smokescreen to get the non-mainstream media off your spasmy back.

First off, you describe what your incredibly hot wife made as "vegetarian pancakes." Your wife may be smokin', we're not sure what she's smoking because there's no such thing as "vegetarian pancakes." (Unless of course, she usually chops up bacon and sausage and throws that **** in there, then in that case... she's a keeper.)  Pancakes are flour, baking powder, white sugar, milk, eggs, and butter.  If your wife made "vegan" pancakes, then that is an entirely different story because those pancakes are sans butter, milk and egg.  How do I know this?  I live with a vegan.  My wife is a vegan.  Mr. Penner, you sir, are no vegan.

Secondly, your "appearance" as a topic on "Around the Horn" this week is far from boast-worthy.  Your coach just made a cameo on "Saturday Night Live" and you're psyched about a mention on "Around the Horn"?!?  But besides that, let's face the facts, Pancake Boy:  "Around the Horn" is a weaker (and far less worthy) spin-off of "Pardon The Interuption," which frankly, should be your goal to make.  Having Woody Paige mock you isn't nearly as exciting as getting 1 minute and 30 seconds of Mike and Tony's time.  (Hint: slip on a waffle, then burn your hand making French toast for the trifecta... and I guarantee you a spot on PTI.)

And finally, your case of "SOBS" may be some sort of joke, but there's still thousands of diseases out there in need of dire attention, like Tobias Funke's awful case of "TBA."  If you hold a pancake breakfast for anything, it's for Mr. Funke, who is in dire need of a cure.

Mr. Penner... Pancakegate has been a boon to your profile and IHOP's profits. Instead of scoring points with your wife and winning her heart by complimenting her pancakes, you should be scoring points for your hockey team, the LA Kings, and winning the fans' hearts.

Sincerely,

The Royal Half
Strong words from our own Brian. But if you know Brian, you know the motto he lives by;
PRIDE=PASSION=PANCAKES
Finally... guess who's back?
Another gem from loyal reader, Tim.
Original Story:
http://www.theroyalhalf.com/2012-arti...
THE BACKYARD
BEST OF MAXIM
RELATED ARTICLES
LOS ANGELES (AP) -- Loui Eriksson scored twice and then netted the deciding goal in a shootout to help the Dallas Stars rally for a 5-4 victory over the Los Angeles Kings on Thursday night. Eriksson tied the game 4-all on a power-play goal at 14:35 of the third period. He tried to center the puck in front of the net, and the Kings' Willie Mitchell inadvertently knocked it in...
Final (SO) Dallas Stars 5 - Los Angeles Kings 4 Wow, what a firecracker of a game between these two last night. This one had a little bit of everything in it: Great saves, great goals, fights, vicious hits and an intense playoff atmosphere. After what happened in the game against Anaheim, to see the Stars come out in this game and actually look like they wanted to play the entire...
The National Hockey League announced today that Dallas Stars forward Jamie Benn has been named as one of 42 players selected to participate in the 2012 NHL All-Star Game and Weekend, to be held at Scotiabank Place in Ottawa. The 42 All-Stars ...
LA Kings player Dustin Penner recently hurt his back while eating pancakes made by his hot ass wife Jessica Welsh, who happens to be Richard Zednik's ex-(gold digging) wife.   When asked about the injury, this is what he said…  "Not bad. Better than yesterday. I woke up fine, sat down to eat and it locked right up. It never happened to me before. I couldn't stand up. I...
Loui Eriksson scored twice and then netted the deciding goal in a shootout to help the Dallas Stars rally for a 5-4 victory over the Los Angeles Kings on Thursday night. Eriksson tied the game 4-all on a power-play goal at 14:35 of the third period. He tried to center the puck in front of the net, and the Kings' Willie Mitchell inadvertently knocked it in when he tried to clear it.
Loui Eriksson scores twice and then netts winning goal in SO to help Stars rally to victory over Kings.
Dallas Stars coach Glen Gulutzan can't get enough of studying the Western Conference standings. Chances are he won't like how they look if his team can't defeat the slumping Colorado Avalanche. The Stars go for their fourth win in five games when they face the visiting Avalanche for the final time this season Saturday. Dallas (24-17-1) is within a point of eighth place...
Three key aspects of the Kings' 5-4 shootout loss to the Dallas Stars... 1. FICKLE GAME, FLUKY BOUNCE It's probably a folly to attempt to attach any real significance to this game. It's a one-off, a game that only happens a c...
It may be too early to put much stock in the standings for a tightly packed Western Conference, but Thursday night's matchup between the Los Angeles Kings and Dallas Stars could have major implications down the road. These Pacific Division rivals are separated by two points as they battle for position heading into this meeting at Staples Center. The Kings (23-17-1) are in eighth...
This should be a good time for Dallas Stars fans. The murky ownership situation is stabilized after a stint...
Loui Eriksson scored twice and then netted the deciding goal in a shootout to help the Dallas Stars rally for a 5-4 victory over the Los Angeles Kings on Thursday night.
NHL News

Delivered to your inbox

You'll also receive Yardbarker's daily Top 10, featuring the best sports stories from around the web. Customize your newsletter to get articles on your favorite sports and teams. And the best part? It's free!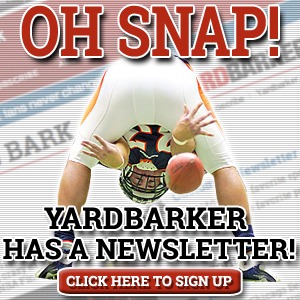 Latest Rumors
Best of Yardbarker

Today's Best Stuff

For Bloggers

Join the Yardbarker Network for more promotion, traffic, and money.

Company Info

Help

What is Yardbarker?

Yardbarker is the largest network of sports blogs and pro athlete blogs on the web. This site is the hub of the Yardbarker Network, where our editors and algorithms curate the best sports content from our network and beyond.