Found March 03, 2012 on The Royal Half:
Game #65
LA KINGS
29-23-12
70 pts, 9th in Western Conference
vs
ANAHEIM DUCKS
28-27-10
66 pts, 12th in Western Conference
Kings Lead Season Series 3-1
7:30pm, Staples Center
Los Angeles, CA
BEST PLAYER IN THE WORST JERSEY:
BEST OPPOSITION BLOGS:
Battle of California
Anaheim Calling
ARE THE LA KINGS IN THE PLAYOFFS?
NO. 
Saturday night at Staples Center is the 3rd Annual Burger King Jersey Appreciation Day. The Royal Half has been your exclusive home for coverage of the first two Burger King Appreciation Days and we've even gone in-depth into the origin story of the jersey itself, a wondrous monstrosity that is well sought after amongst jersey collectors. So for this 3rd year of Burger King Jersey coverage... we present two amazing un-earthed discoveries from the vault of the Burger King Jersey Legend. Courtesy of Spike Coffman, long-time friend of the blog and current producer of The Fourth Period Radio Show on XM Home Ice... screengrabs from the Los Angeles Kings-Mighty Ducks of Anaheim game on January 27th, 1996... aka the 1st time the now-famous alternate jerseys of these two teams were seen by fans.
Honestly, those jerseys were so bad even the Fox Robots wouldn't wear them.
Forget about the rarity of seeing these jerseys in action...
how about the rarity of seeing Valeri Karpov in a NHL game?
Original Gangster Robinson.
I mean... seriously... could you imagine anything uglier on the body of the Great One?
Close.
Closer.
Nailed it.
This game was sponsored by Zima. I think that says it all.
Hrudey's on Duty Tonight.
Mopping up the puke from fans duty that is.
This is the one NHL jersey Mike Sillinger wishes he didn't wear.
Okay... maybe this one too.
Never change, Fox Sports. Never change.
This jersey just proves my theory that Jari Kurri could score in anything.
I don't know what amazes me more about this screengrab...
Robert Lang's sexy glare... 
or that Robert Lang scored the first 19 goals of his NHL career with the LA Kings.
Why yes, that is ex-NHL coach Ron Wilson in the upper right corner.
Wow, Sean O'Donnell's dad played in this game.
WHAAAAA?!? THAT IS SEAN O'DONNELL?!?
A few years ago, friend of the blog Lisa Gansky, was digging through her high-school photography projects and found some amazing photos of the Burger King Jersey in the wild. And speaking of how incredibly old Sean O'Donnell is...
Sean O'Donnell was 24 years old during the 1995-96 NHL season.
He is currently 84 years old.
Lisa Gansky has one of the most impressive Nathan LaFayette game-worn jersey collections in the world.  
Yanic Perreault, Nathan LaFayette and Eric Lacroix.
I'll take "Some of the Worst LA Kings Ever" for 1000, please.
For all you LA Kings fans that are jumping on the Jeff Carter bandwagon...
never forget that Rob Cowie was the original #77 for the Kings. Well, right after Paul Coffey.
And while you are at it, never forget that Vitali Yachmenev (on the left) was tied for second in NHL rookie scoring
with Eric Daze during the 1995-96 season with 53 points, just 8 points behind Daniel Alfredsson.
Move over Nathan LaFayette and Robert Lang... and hellooooo Mike Sillinger #26???
Wait... did we just discover that Mike Sillinger wore both the Anaheim Ducks AND Vancouver Canucks
Alternate Jersey during the 1995-1996 season?!? 
Holy ****... I think we just did.
Be sure to check out more of Lisa Gansky's photography as well as her unparalleled collection of 1990's hockey autographs.
Original Story:
http://www.theroyalhalf.com/2012-arti...
THE BACKYARD
BEST OF MAXIM
RELATED ARTICLES
Prior to the Anaheim Ducks' 2-0 loss to Buffalo on Wednesday, coach Bruce Boudreau spoke of the importance of reaching a tangible mark when fighting an uphill battle to make the playoffs. "I think anytime you can see progress by jumping a team, getting closer, then it makes you hungrier for the next game," Boudreau said. It was certainly true following Anaheim'...
LOS ANGELES, Calif. Once his playing days expire, there's a good career ahead in public relations for Ryan Getzlaf. The Anaheim Ducks center, stifled by a drop in production and on pace for a career-low mark in goals that would fall short of his 14 rookie season tallies in 2005-06, offered as rosy of an assessment as could be provided after his team's 4-2 setback against...
What seemed like a happy marriage between two parties that sought each other out appears to be headed for a divorce just two years into the relationship. The Ducks will have to find another home for its American Hockey League affiliate as the Syracuse Crunch declined to pick up next year's option to continue what has been a rocky partnership. According to a report in the Syracuse...
ANAHEIM, Calif. (AP) -- Ryan Getzlaf scored the winning goal with 46 seconds left to give Anaheim a 3-2 victory over Calgary on Friday night, extending the Ducks' home winning streak against the Flames to 15 games. The Ducks nearly scored on a long shot with 10 seconds left, but defenseman Mark Giordano scrambled after the puck sailing toward the empty net. His desperation swipe...
If last nights game at Honda Center against the Flames was any indication of what tonights game in Los Angeles holds than we are in for a treat. The Ducks and Flames battled with playoff like fervency until Ryan Getzlaf decided to find his scoring touch in the final minute of the third period. His first goal in 18 games gave Anaheim two big points and possibly even more importantly...
Ryan Getzlaf scored the winning goal with 46 seconds left to give Anaheim a 3-2 victory over Calgary on Friday night, extending the Ducks' home winning streak against the Flames to 15 games. The Ducks nearly scored on a long shot with 10 seconds left, but defenseman Mark Giordano scrambled after the puck sailing toward the empty net. His desperation swipe with his stick came...
The last time the Ducks lost two in a row in regulation, it was the end of December/beginning of January.   Since then, they have been smoking hot, making up points that are usually impossible to regain.  Despite all those points earned and made up, they still could not gain in the standings.  A win against the Buffalo Sabres would have bounced them up a notch from 13th to 12th...
Losing two in a row in regulation, the Ducks had to win against Calgary.  Win in regulation?  Even more important.  Anaheim  knew they needed both points and could not afford to give up a point to the Flames, who they are chasing in the standings.  They accomplished their goal, but it was close.Calgary, who had played the night before in Phoenix, recalled Leland Irving from...
The 2011-12 season has been a long strange trip for the Anaheim Ducks and it's not over yet. Obviously everybody knows where the Ducks were and where they are now but they still have a tremendous amount of work left to do. Tonight they face the Calgary Flames on the heels of a two-game losing streak that can easily be turned into a two-game winning streak when they face the...
With their playoff hopes fading fast, a game against the Edmonton Oilers might be just what the Anaheim Ducks need. The Ducks try to continue their dominance over the lowly Oilers when they meet Monday night at Honda Center. Anaheim (28-28-10) has dropped three of four and is seven points out of playoff position with 16 games remaining. The Ducks squandered a chance to gain ground...
NHL News

Delivered to your inbox

You'll also receive Yardbarker's daily Top 10, featuring the best sports stories from around the web. Customize your newsletter to get articles on your favorite sports and teams. And the best part? It's free!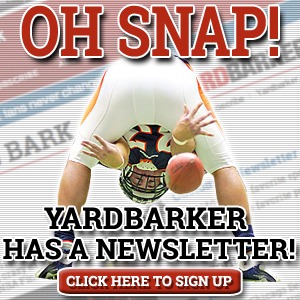 Latest Rumors
The Backyard

Today's Best Stuff

For Bloggers

Join the Yardbarker Network for more promotion, traffic, and money.

Company Info

Help

What is Yardbarker?

Yardbarker is the largest network of sports blogs and pro athlete blogs on the web. This site is the hub of the Yardbarker Network, where our editors and algorithms curate the best sports content from our network and beyond.