Found February 23, 2012 on The Royal Half:
What's the most important thing I learned from watching the NBC Sports Network's debut of "Mike Richards NHL36" last night?   That it's someone's job to change out the dressing room nameplates
depending on which jersey the LA Kings are wearing that night. Out of all the NHL36 series so far, I found last night's edition following Mike Richards for the 36 hours before his game with the Phoenix Coyotes to be the most interesting. And it really showed me that Mike Richards is the kind of guy who wears his passion for his team on his sleeve. Well, at least he's a fan of winning teams. Right, Drew Doughty? The show spent the majority of time giving viewers an intimate look into the life of Mike Richards off the ice. Look, I love Mike Richards as much as the next guy...
but when do we start talking about how every time he's on TV,
Richards is wearing something that basically says "Redneck Rebellion." NHL36 also provided an intimate look into Mike Richards home life.  Like literally... that's his house. And I'd have to think it'd be pretty easy to find now.
I just wish there was an easier way to know exactly where Mike Richards lives. The female fan base in Los Angeles thanks you, NBC Sports Network. NHL36 also gave us a preview of an upcoming new series for HBO. Worst. Episode. Of Entourage. Ever.
I'm not calling out anyone's masculinity... but I love that Drew Doughty has a white iPhone. While Richards, Drew Doughty and Trevor Lewis were scarfing down some spicy tuna crispy rice, they had time to participate in one of the LA Kings most popular hazing practices... Making Andrei Loktionov eat by himself. But how much footage of Drew Doughty eating sushi with Mike Richards can you really watch? NHL36 also gave us an in-depth look into the Los Angeles Kings organization. Would you like something to read?
Do you have anything light?
How about this leaflet, "LA Kings Hall of Famers? NHL36 also took the time to talk with Kings GM, Dean Lombardi, about the impact Mike Richards has had on his team not scoring at all this season and probably putting his job in jeopardy. Seriously, what local community service award did they have to
drag out of the closet to put in the background of this interview set?
Cause that sure as hell ain't any Pacific Division Champion trophy.  In addition to the hardcore hockey fan, the purpose of the NHL36 series to open up the game to newer fans, especially women. And it seems like NBC Sports Network knows how to appeal to that target audience well. By showing video of Jon Bernier eating breakfast. Oceans 14 and Oceans 10. Only one man can make stripes and patterns play as well together as Jordan Nolan and Dwight King. For me, a big mystery was solved while watching NHL36 Wednesday night. Why, yes... Mike Richards does have awful tattoos. You have to give it to the film crew of NHL36. While it may not be as well-produced or as intimate a look as HBO's 24/7 series is... the producers of NHL36 were able to quickly figure out Darryl Sutter's best side for the camera. Perfect. And finally... for all you schoolgirl fetish-types out there... Mike Richards in knee high socks. While the NHL36 featuring Mike Richards might have been a hit with the fans... losing the same night to the Colorado Avalanche doesn't have quite the same appeal. I wish there was some way to visually represent what it feels like to be a LA Kings hockey fan the last couple weeks. Hmm.. almost there. Nailed it. The latest "All The Kings Men" Podcast is out. This weeks episode features Podmaster General Jesse Cohen chatting about the past week in LA Kings hockey with myself, Matt Reitz from View from My Seats as well as Matt from Life in Hockeywood. You can check it out here or subscribe to it on iTunes here. You can also listen to the most recent All The Kings Men episode below:
Original Story:
http://www.theroyalhalf.com/2012-arti...
THE BACKYARD
BEST OF MAXIM
RELATED ARTICLES
Jeff Carter and Mike Richards are reunited at last. Mike Richards and Jeff Carter will be able to rejoice once again. From Philadelphia to Los Angeles — or 2,600 miles apart — two drinking buddies can rekindle the time lost while Mike Richards was shipped to the Kings while Carter was moved to Columbus. With today's blockbuster deal, there's many questions if...
There are two things in common this season when it comes to Jeff Carter and the Los Angeles Kings – they have both failed to live up to expectations. With Carter now on his way to the west coast, has Kings GM Dean Lombardi solved the team's goal-scoring woes with this one trade?The Kings, who at the beginning of the season were viewed as a Stanley Cup contender, are inexplicably...
from Rich Hammond of LA Kings Insider, One of the final twists in tonight's wild game came with 6:13 remaining in regulation, when Kings winger Kyle Clifford was given a match penalty for a hit on Phoenix's Gilbert Brule. Clifford had only been out of the penalty box for 24 seconds after he served a tripping penalty. Brule was very slow to get up, after what appeared to be a...
via Rich Hammond of LA Kings Insider, Willie Mitchell has agreed to a two-year contract extension with the Kings worth $7 million. Mitchell, who will turn 35 in April, had signed a two-year, $7-million contract with the Kings in Aug. 2010 as an unrestricted free agent.
                Exactly 7 month ago today, the Philadelphia Flyers shocked the hockey world trading Captain Mike Richards and leading scorer Jeff Carter on the same day in separate trades. Richards went to the Kings, where he was expected to join an already potent attack force. The likes of Anze Kopitar, Dustin Penner, and Dustin Brown offered both skill and size up front...
<a href="http://www.mogreet.com/moshare/it/" class="moshare-button-21" data-message="According to TSN's Bob McKenzie a.k.a. "The Hockey Insider," the L.A. Kings and Columbus Blue Jackets are inching closer to striking a deal that would send Jeff Carter to the Kings. Surprisingly, Jonathan Bernier's name has not been mentioned, possibly...
(source feed provided no summary content for this entry)
The Columbus Blue Jackets have traded center Jeff Carter to the Los Angeles Kings for defenseman Jack Johnson and a first-round draft pick in either 2012 or 2013.
LOS ANGELES – The Los Angeles Kings have acquired forward Jeff Carter from the Columbus Blue Jackets in exchange for defenseman Jack Johnson and a conditional first round draft selection in either the 2012 or 2013 NHL Entry Draft, Kings Pres...
NHL News

Delivered to your inbox

You'll also receive Yardbarker's daily Top 10, featuring the best sports stories from around the web. Customize your newsletter to get articles on your favorite sports and teams. And the best part? It's free!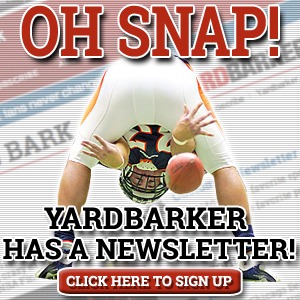 Latest Rumors
Best of Yardbarker

Today's Best Stuff

For Bloggers

Join the Yardbarker Network for more promotion, traffic, and money.

Company Info

Help

What is Yardbarker?

Yardbarker is the largest network of sports blogs and pro athlete blogs on the web. This site is the hub of the Yardbarker Network, where our editors and algorithms curate the best sports content from our network and beyond.