Found April 20, 2012 on NorthWest Sports Beat:
And many more… The man of the hour is Alex Edler who will turn 26 years of age on Saturday (April 21), a day before the biggest game of the season for the Vancouver Canucks. It's also a game where it'd be awfully nice for him to step up his game because you know the Kings would love to capitalize on more defensive gaffes by the Canucks. Edler's stats this series are somewhat flattering with 2 goals and a -1 rating. He's had turnovers galore and not been the hitting machine we all hope for him to be.
So the Ostersund, Sweden native can expect what for his birthday? Here are the Top 5 things one might get the hulking 6'3" left-hander.
From the Equipment staff It's well known that Alex Edler has quite the bomb when he chooses to use it but in recent seasons, that hasn't necessarily been a good thing. Quite often, we see a snapped twig off an attempted slapshot that either leads to the puck trickling towards the slot or an opportunity for the opposing team to counter the other way. So from Pat O'Neill, Jamie Hendricks and Brian Hamilton; a vat of super glue. The day before a game, you take all of Alex's sticks and dip them completely into this vat of super glue, allow it to dry solid and voila, you have an unbreakable hockey stick! See what I mean? Price: 1000 pieces x 8.49 = $8490 – Ah, they can afford it. From his family Don't judge me, but I watch Survivor. On this week's episode, participants had the opportunity to read a letter from home. Cast members usually get very teary eyed and use a letter from home as motivation to keep going because they are in the later stages of the game. Alex Edler has made a home here in Vancouver and he is loved by the fans but at 26 years of age, thousands upon thousands of kilometers away from home, don't you think he'd benefit from a motherly memorandum? Price: 12:00 Kronas = $1.78 Canadian Postage – Thank you www.posten.se From Jonathan Quick Oh Quicky, how you have stymied the Canucks so far. You're becoming quite unliked in these parts. However, you have been gracious enough to open your five hole and your other holes for Alex Edler not once, but twice. In fact, Alex Edler has 29% of Vancouver's goals this series thanks to you. So please continue with the gift that keeps on giving…back to Canucks fans via Alex Edler, chinks in your kingly armour. Priceless From the fans I'm going way back from a Canucks.com King of the Rink edition from September 19th, 2007. Luc Bourdon (rest in peace), Jannik Hansen and Alex Burrows were all asked trivia questions about their team-mate Edler who then gave the real answers and we all had a good laugh because Alex Edler said he would never eat cat or dog. Good for him; neither would I. However, the most revealing answer he gave was that he has eight ties. This was 5 years ago we one could safely assume that he may now have more than 8 ties, which is more likely than still having just eight because as many a guy can attest to, ties last a pretty long time unless you stain it with ketchup or something similar. You know that strut all the players do through the hallways of the arena en route to the dressing room? Yeah, well we want Alex to feel good about himself and how he looks; we want him to have that SWAGGER. So all the fans can pitch in for a nice tie or set of ties but let's make sure it's shiny and fabulous. Price: Regular Price: $24.99; On sale: $14.99 – I like this one: SWAGGA From Me When one thinks of anger management classes, the idea of simmering down the rage probably goes through the mind. The anger management I am recommending for Alex Edler is more so for him to release his wrath. He's not been the hitter we've become accustomed to seeing come playoff time and he certainly was expected to knock a few Kings over given how he performed in the first round in 2009 against LA. It's been quite the disappointment. So to Alex Edler on his 26th birthday, I say Goosfraba! Price: One day for $295.00 – One day is enough.
Birthday Presents: Marc-Andre Gragnani Birthday Presents: Jannik Hansen Birthday Presents: Cory Schneider Birthday Presents: Maxim Lapierre Birthday Presents: Roberto Luongo
CLICK HERE CHECK OUT THE CANUCKS BLOG IN THE CLUBHOUSE TODAY! © Vancan19 for North West Sports Beat, 2012. | Permalink | No comment | Follow NWSB on Twitter or join US on Facebook for real-time updates OR... | Share This on Twitter | Share NWSportsBeat.com on Facebook Post tags: Alex Burrows, Alex Edler, Alexander Edler, Because it's the Cup, Canucks Birthday Presents, Canucks birthdays, Canucks Wish List, Jannik Hansen, Jonathan Quick, Luc Bourdon, NHL, super glue, Sweden, This is what we live for, Vancouver Canucks
Original Story:
http://www.nwsportsbeat.com/canucks/v...
THE BACKYARD
BEST OF MAXIM
RELATED ARTICLES
Rejuvenated Ballard boosts blue line One year ago in the playoffs Keith Ballard appeared to be Alain Vigneault's favourite whipping boy, as he was frequently dropped from the post season lineup and fell victim to several less than flattering appraisals by his coach. To his credit, the expensive free agent defenceman, acquired from the Florida Panthers (Vancouver's favoured players...
We may have seen the last of Roberto Luongo with the Vancouver Canucks. it wasn't long ago, Luongo was considered the cornerstone of the franchise with Canada's best chance of winning the Stanley Cup. it was Luongo who once donned team captaincy, and he still carries a contract with franchise player cash attached. However, Roberto Luongo posted his lowest games played mark...
After Game 4 between the Vancouver Canucks and Los Angeles Kings was in the record books Wednesday, Canadian Mike aka Mike Dunsmore of FOX Sports Radio did a radio interview with Ryan Kesler. Or so he thought. Listen to the interview and you can figure out who it was. Dunsmore (@CanadianMike101) tweeted this at 2:16pm pacific time on Saturday afternoon: Kevin Bieksa is a beauty...
Did you see the great game last night? Canucks won 3-1 to beat the LA Kings and force a game 5 back in Vancouver. Henrik Sedin got some revenge on Dustin Brown for his "legal" hit in Game 4 on Henrik. A drive by Backhand Slap - Swedish style. Enjoy.
Yes we all know the Vancouver Canucks don't have the best fans. (I'm of course referring to the 1000's of fans that sit on their hands in suits during Canucks games) NOT the die hard fans that can't afford tickets that watch games in sports bars all over BC 82 games a year. Yes we all know the Vancouver Canucks came up one game short of winning the cup last year...
Perhaps the scuba tanks were thrown off the Santa Monica Pier, because there certainly wasn't any diving Wednesday night at Staples Center. The Vancouver Canucks staved off elimination with a 3-1 win over the Los Angeles Kings by earning their puck luck and leaving the referee-pleading, post-whistle shenanigans back at the hotel for the evening. By following the familiar roadmap...
Six seasons ago, Roberto Luongo's attitude would have been different. Now, the veteran goalie is attempting to take his new backup role in stride as the Vancouver Canucks prepare for Game 5 of their Western Conference quarterfinal series against the Los Angeles Kings. Cory Schneider is expected to start in goal Sunday for the Canucks, down 3-1 in the series, while Luongo watches...
Time goes by…so slowly… Canucks fans and players alike are screaming, "Can we just get going already?" It seems like Game 4 was an ice age ago but we have almost arrived at Game 5 which goes Sunday. Over the last week, we've seen Vancouver go down further and then start the ball rolling on a potential comeback and many people have had many things to say about it. So below...
And Here We Go? The dawn is always darkest before the night, and true to their word the Vancouver Canucks brought everything they had in Game 4 to stave off elimination. Armed with a newly rejuvenated clone of captain Henrik Sedin, the Canucks for the first time this post-season looked like the dominant Canucks of the regular season. It didn't look good when Anze Kopitar opened...
Henrik Sedin backhands Dustin Brown and puts him down... Every time you check your email, think -- gotta check Bob's Blitz. Follow us on Twitter. Subscribe, or Return to Bobs Blitz.com.Follow us... Full story at Bob's Blitz ~ http://www.bobsblitz.com
Defenseman Alex Edler and captain Henrik Sedin scored power-play goals as the Vancouver Canucks staved off elimination by posting a 3-1 win over the host Los Angeles Kings in Game 4 of their Western Conference quarterfinal series on Thursday. Kevin Bieksa also tallied, fellow blue-liner Dan Hamhuis notched two assists and Cory Schneider made 43 saves in his first career playoff...
The Vancouver Canucks will have a new second line Sunday when they attempt to stay alive in the Stanley Cup playoffs against the Los Angeles Kings. Alex Burrows, Ryan Kesler and Max Lapierre - dubbed by one pundit as the Three Mouthketeers because of their outspoken ways on the ice - want their actions to speak louder than words in Game 5 of the Western Conference quarterfinal series...
NHL News

Delivered to your inbox

You'll also receive Yardbarker's daily Top 10, featuring the best sports stories from around the web. Customize your newsletter to get articles on your favorite sports and teams. And the best part? It's free!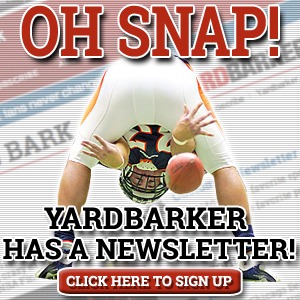 Latest Rumors
Best of Yardbarker

Today's Best Stuff

For Bloggers

Join the Yardbarker Network for more promotion, traffic, and money.

Company Info

Help

What is Yardbarker?

Yardbarker is the largest network of sports blogs and pro athlete blogs on the web. This site is the hub of the Yardbarker Network, where our editors and algorithms curate the best sports content from our network and beyond.