Found February 11, 2012 on NorthWest Sports Beat:
Get with it, Seattle! In recent weeks, a money manager from San Francisco named Christopher Hansen has apparently taken a much more serious look at a privately funded multi-purpose arena for the Seattle sports market. The main concern is to attract an NBA franchise back to the North West.
Since arenas are such expensive ventures, there would be a need to fill the proposed venue as often as possible.
This would generate sufficient revenue to cover the construction and ongoing overhead of running such a costly building. Such a move would exhaust the interest and pockets of most disinterested taxpayers. While trade shows, concerts and exhibitions are proven money-spinning rentals, their frequency is very much dependent on the state of the economy, which in the US has sputtered more than the goals off the stick of Chris Higgins in recent weeks. But the addition of not one, but two regular sports tenants with an NHL franchise would greatly enhance the attraction of constructing a brand new arena. Of course, the addition of a new NHL location would immediately establish a rivalry for the Vancouver Canucks and would be of great interest for fans in BC. Thusly, we present five reasons why Seattle should have an NHL team (*Disclaimer insert* – from the perspective of Canucks fans). 1. Quality family time Setting the new franchise down in sunny constantly rainy Seattle allows prospective owner Chris Hansen to be closer to his long lost, twice removed Danish cousin Jannik Hansen of the Canucks with whom he can share familial bonding over such Danish culinary treats as pickled herring. 2. Finally worth it Now that our American neighbours have gradually taken up craft brewing and no longer rely on astoundingly crappy mass-produced beer, a quick run down the I-5 allows Canuck Nation to get in a worthwhile (and relatively cheap) road trip to watch their beloved 'Nucks. Shutting Gary Bettman up would be nice for Canucks fans as well. (It is also much less expensive than mortgaging your first born trying to get tickets to Rogers Arena). 3. An upgrade A Seattle franchise would be the first true top tier pro hockey in the Emerald City, providing a nice upgrade from the major junior Seattle Thunderbirds. This would also rekindle a nice warm perspective for jaded Canucks fans, who express their frustration at times with the current talented edition of the team, but who have forgotten our own upgrade from the equally amateurish Canucks group of the late 80's and early 90's. 4. Not so fast! Though the Seattle Metropolitans did manage to win the Stanley Cup in 1917, the early rivalry bragging rights still go to the Millionaires of Vancouver who did it first in 1915.
Take that you Starbucks guzzling southerners!
5. Two for one A new Seattle team most likely involves the relocation of a current team, which according to much rumour would point to the Phoenix Coyotes moving north. That would spare Vancouver more travel, and at the same time prove Gary Bettman to be a sadly mistaken fool. Two wins for the price of one! CLICK HERE TO CHECK OUT THE VANCOUVER CANUCKS CLUBHOUSE TODAY ON NWSB! © C-Mac for North West Sports Beat, 2012. | Permalink | No comment | Follow NWSB on Twitter or join US on Facebook for real-time updates OR... | Share This on Twitter | Share NWSportsBeat.com on Facebook Post tags: Canada vs. USA, Canucks Blog, Canucks hockey, Chris Hansen, Chris Higgins, Gery Bettman, Jannik Hansen, Millionaires of Vancouver, NHL Seattle, Phoenix Coyotes, Rogers Arena, seattle, Seattle Hockey, Seattle Metropolitans, Seattle NHL, Seattle Thunderbirds, starbucks, Vancouver Canucks, Vancouver Canucks Blog, Vancouver vs. Seattle, Washington
Original Story:
http://www.nwsportsbeat.com/canucks/v...
THE BACKYARD
BEST OF MAXIM
RELATED ARTICLES
Mats Sundin's #13 banner was raised to the rafters of the Air Canada Centre in Toronto on Saturday night, and it made me think back to his time in Vancouver. Sundin, as you might remember, spent half a season in blue and green during the 2008-09 season. The Mats Sundin that Canucks fans got to see, at age 38, wasn't of hall of fame caliber but he wasn't a bust either. Sundin...
One of the players who is rumored to be on the trade block at this year`s deadline is Cory Schneider of the Vancouver Canucks.  Vancouver has two strong goalies in Schneider and Roberto Luongo and both would like to be the team`s clear number one goalie.  Luongo is signed until 2022 with a $5.33 million salary cap hit.  That contract is prohibitive to move.  Schneider is signed...
Canucks look to continue dominance The Vancouver Canucks will look to return home undefeated after a four game road trip. Standing in their way is the Calgary Flames, a team that has had their share of troubles with the Canucks over the past few years. CLICK HERE TO CHECK OUT THE VANCOUVER CANUCKS CLUBHOUSE TODAY! Vancouver Canucks (34-15-5) at Calgary Flames (25-22-8) When: 10...
Canucks News It was a bit of a let-down last night in Cowtown for the Canucks but please allow me to brighten your morning. Below is a collection of Canucks related stories from around the interwebz for you and your loved ones to feast your eyes on. So without further ado, I present the greatest list OF ALL TIME. What are the NWSB Staff saying? Well to answer that question, just...
Stinkin Flames… The Vancouver Canucks and Calgary Flames battled in a classic Northwest Division matchup featuring two fights and extra time as the Flames beat the Canucks 3-2 in the shootout. Mason Raymond and Alex Edler were stopped in the skills competition and Jarome Iginla had his revenge on Roberto Luongo to seal it in the third round, keeping the Canucks from collecting...
It takes a good coach to be able to find a new strategy that nobody else has ever used that is a successful strategy that helps your team win.  Alain Vigneault, the coach of the Vancouver Canucks, has developed one such strategy over the last couple of years.  While many coaches match lines with the opposition, Vigneault does not do that.  Vigneault matches lines to the position...
There's that shootout again… There was a time when a Vancouver Canucks/Flames game was appointment viewing. If games against the Oilers over the past decade have been defined by speed and skill displays, contests against the Flames have traditionally been trench wars. The rivalry has waned in recent years as the Flames and Canucks have chased completely different trajectories...
Not many teams will complain about non-regulation victories, but even the NHL's hottest squad seemingly needs to find something to improve. The Vancouver Canucks seek their seventh victory in eight games and their sixth consecutive road win over the Calgary Flames on Saturday night. Before beating Minnesota 5-2 on Thursday, Vancouver's four previous victories each came...
Mats Sundin's familiar No. 13 has been raised to the rafters at the Air Canada Centre by the Toronto Maple Leafs.
NHL News

Delivered to your inbox

You'll also receive Yardbarker's daily Top 10, featuring the best sports stories from around the web. Customize your newsletter to get articles on your favorite sports and teams. And the best part? It's free!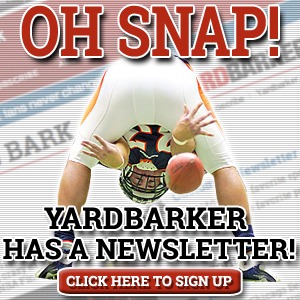 Latest Rumors
Best of Yardbarker

Today's Best Stuff

For Bloggers

Join the Yardbarker Network for more promotion, traffic, and money.

Company Info

Help

What is Yardbarker?

Yardbarker is the largest network of sports blogs and pro athlete blogs on the web. This site is the hub of the Yardbarker Network, where our editors and algorithms curate the best sports content from our network and beyond.