Found April 05, 2013 on Puck Drunk Love:
Fighting Evander Kane isn't usually something people enter into lightly, at least not after his one and done knockout of Matt Cooke a couple years ago. He's not only one of the best forwards in the league (and probably the best player on the Winnipeg Jets), he's also got a little temper on him. Alexei Emelin learned the hard way that chirping and antagonizing Kane usually doesn't end well. Wow. Kane wound up with five for fighting and a game misconduct. In case you missed it in the blur, he ripped Emelin's helmet off of his head and threw it over the forward to the ice. It's unclear if that was Kane's intention or if he just has terrible aim and he was going for throwing it at Emelin. Whatever the reason, that's a no-no. You can fight someone, and Emelin seems to agitate people. But ripping off their helmet before they can even throw a swing? Not only is that an awesome feat of coordination and speed, it's stupid. Just fight, Evander -- or...
Original Story:
http://www.bloguin.com/puckdrunklove/...
THE BACKYARD
BEST OF MAXIM
RELATED ARTICLES
Alexei Emelin needs to use better judgement when picking his battles. The Canadiens defenseman, who was pummeled by Zdeno Chara in a game against the Bruins back on March 3, antagonized Winnipeg's Evander Kane into a fight Thursday night. Kane didn't take kindly to the instigating, and he proceeded to rip Emelin's helmet off, toss it violently to the ice and land several hard...
In their 4-1 loss to the Montreal Canadiens, with less than five minutes left in the third period, Jets forward Evander Kane completely lost his temper in this fight vs. Alexei Emelin. Kane threw many hard punches, and for a split second, he actually grabbed Emelin's helmet, and threw it at him. As a result of the fight, Kane got five minutes for fighting and a game misconduct...
Frustration was mounting last night for Evander Kane and the Winnipeg Jets. Down 4-1 to Montreal late in the third, en…
YIKES
Cited by doctors as a "miracle" recovery, Winnipeg Jets forward Zach Redmond was back on the ice skating on Friday morning, only a little more than a month after suffering a lacerated femoral artery after a teammate's skate gashed his upper leg. Jets team doctor Peter MacDonald was quoted in the Winnipeg Press as stating that the team expects Redmond back in training camp next...
Winnipeg Jets defender Zach Redmond is lucky to be alive following having his femoral artery slashed by a skate just over six weeks ago, and even more incredible is that he returned to the ice today. As a reminder of what happened, Zach has a nice little scar which you can check out below. Docs for #nhljets expect Zach Redmond to make full recovery and be in training camp, if not...
Scars are just as much a part of hockey as pucks, pads and swear words. Zach Redmond, who was cut by teammate Antti Miettinen's skate during a practice at PNC Arena in Raleigh on Feb. 21, has made a "miraculous" recovery, Jets team physician  Dr. Peter MacDonald told the Winnipeg Free Press. And he's got the cool scar to prove it, as seen below. #NHLJets Zach Redmond shows...
Winnipeg Jets defenseman Zach Redmond is lucky to be alive, and he now has a massive scar to remind him of that on a daily basis. In February, Redmond had his femoral artery slashed by a skate during practice and underwent three-hour emergency surgery. The injury occurred during a practice drill in front of the net, and blood reportedly pooled onto the ice as trainers tended to the...
What is it with these hockey players getting injured in practice? First we showed you the nasty scar on Alex Ovechkin aft…
Winnipeg Jets defenseman Zach Redmond nearly lost his life when his femoral artery was sliced by a skate, now he's showing off his survival scar.
"It's nothing short of a miracle considering what's he's been through.  We're all aware of what happened. Considering the magnitude of the injury and the insult, not only to the leg but the whole body, it's quite miraculous." -Winnipeg Jets head physician Dr. Peter MacDonald regarding Zach Redmond skating today. In case you don't recall what happened...
NHL News

Delivered to your inbox

You'll also receive Yardbarker's daily Top 10, featuring the best sports stories from around the web. Customize your newsletter to get articles on your favorite sports and teams. And the best part? It's free!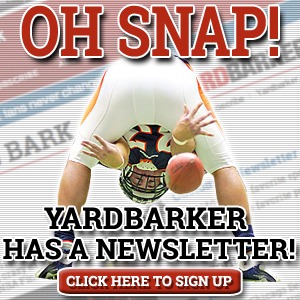 Latest Rumors
Best of Yardbarker

Today's Best Stuff

For Bloggers

Join the Yardbarker Network for more promotion, traffic, and money.

Company Info

Help

What is Yardbarker?

Yardbarker is the largest network of sports blogs and pro athlete blogs on the web. This site is the hub of the Yardbarker Network, where our editors and algorithms curate the best sports content from our network and beyond.