Found March 26, 2013 on Fox - The Hockey Guy:
NHL goaltending suddenly isn't so easy for Viktor Fasth. The Anaheim Ducks import has hit first turbulence in North America after his highly successful European career.He lost back-to-back home games, allowing seven goals on 49 shots. He lost to the San Jose Sharks 5-3 Monday night, allowing his team to fall into a 3-0 deficit."We have to bounce back," he told the Orange County Register. "We have a game against these guys in two days again. We've got to play a better game then."During his last three games overall Fasth allowed 10 goals in 142 minutes. And he has allowed four goals in three of his last seven starts.You may recall that Fasth started brilliantly this season, allowing more than two goals just once in his first nine NHL starts. To a large degree, he has been victimized by some slippage in Anaheim's overall game."We should have a little swagger for sure," defenseman Sheldon Souray told the Register. "We've earned that. We've played well. But we've gotta un...
Original Story:
http://www.yardbarker.com/blog/icemen...
THE BACKYARD
BEST OF MAXIM
RELATED ARTICLES
Dominion, Dominion, Dominion. At this point do I really need to say anything else about my favorite hockey product and the kryptonite to my efforts at restraint when it comes to spending money on cardboard? This bad boy was listed for a short period of time, and by short I mean less than half a day. The moment I saw it sitting there with a surprisingly reasonable Buy-It-Now, I jumped...
In an effort to add a little more veteran punch (and perhaps a boost to the penalty killing) the Ducks have signed right wing Radek Dvorak to a one-year contract.  The contract is pro-rated at $675,000. Dvorak, 36, has been playing in Davos, Switzerland, all year.  He is the veteran of 1,191 NHL games with Florida, the New York Rangers, Edmonton, St. Louis, Atlanta and Dallas...
(Jeff Gross/Getty Images) Throughout the offseason, rumors of Cherry Hill native Bobby Ryan returning to play for his hometown Philadelphia Flyers were omnipresent. Everything seemed right. Ryan was on the block for most of the season and was unhappy with the management. He even was documented saying "I dont care, move me" and that "Philadelphia would [...]
The Anaheim Ducks have signed right wing Radek Dvorak, giving the 16-year veteran a one-year contract. The team announced the move after announced after Sunday night's 2-1 loss to Detroit The right wing has 219 goals in 1,191 career NHL games with Florida, the New York Rangers, Edmonton, St. Louis, Atlanta and Dallas. The 36-year-old right wing played in 73 games with the Stars...
(via Sports Illustrated) Darren Dreger of TSN reported that the Philadelphia Flyers and the Anahiem Ducks are linked in trade talks. Dreger claimed that the Ducks are looking for a center, which could be Sean Couturier.  On Monday night's Trade Centre, Dreger said: "Keep an eye on Anaheim and the Philadelphia Flyers. Not saying Bobby Ryan is on the trade block, but it...
For the fourth time in two games, the Detroit Red Wings and Anaheim Ducks paused for a fight. This time around, it was Wings enforcer Jordin Tootoo throwing down against the Ducks' Matt Beleskey. Off a faceoff in the Ducks' zone, Beleskey cross-checked Tootoo on the back, then the Wings forward retaliated with a slash and both dropped the gloves. The two pugilists put on an entertaining...
Jimmy Howard made 33 saves, Dan Cleary and Drew Miller scored first-period goals, and the Detroit Red Wings beat the Anaheim Ducks on the road for the second time in three days Sunday night with a 2-1 victory. The Ducks, who trail idle Chicago by three points for the NHL's best record, have dropped consecutive games in regulation for the first time this season following a 22...
Good news for those who have the NHL Network, bad news for Center Ice and/or GameCenter Live Online subscribers who don't have the NHL Network: BLACKHAWKS-DUCKS BATTLE FOR WESTERN SUPREMACY HIGHLIGHTS BIG WEEKEND ON NHL NETWORK-U.S. NEW YORK (March 27, 2013) – The last weekend before the NHL's April 3 Trade Deadline will be filled with exciting match-ups for viewers...
After going almost a month without a regulation defeat, the Anaheim Ducks have suffered three in four days. The visiting Ducks can avoid a fourth straight loss by avenging their latest defeat in Wednesday night's conclusion of a home-and-home set with the San Jose Sharks. Anaheim (22-6-4) was riding a team-record 13-game home winning steak and 9-0-3 overall stretch, but concluded...
The Anaheim Ducks are no doubt ready to welcome a new opponent to the Honda Center. The San Jose Sharks probably can't wait to finish up this road trip. These Pacific Division rivals begin a home-and-home set Monday night in Anaheim that will complete a season series that has been closely contested. Anaheim (22-5-4) entered this past weekend with a franchise-record 13-game...
Good things usually keep snowballing into more good things.  Bad things have a way of doing the same thing, but in the wrong direction.  The Ducks are currently rolling downhill with three losses in a row, their most recent coming at the hands of the San Jose Sharks on Monday night. As if consecutive losses to the Detroit Red Wings were not enough, Anaheim continued their current...
Wanting to bounce back from an awful game against the Detroit Red Wings on Friday night, the Ducks gave it a second go on Sunday.   The results were better, but still not enough to overcome Jimmy Howard's superb goaltending in the 2-1 loss.  It was the first time the Ducks have lost two in a row all season long. As it was on Friday evening, the Ducks fell behind when Dan...
NHL News

Delivered to your inbox

You'll also receive Yardbarker's daily Top 10, featuring the best sports stories from around the web. Customize your newsletter to get articles on your favorite sports and teams. And the best part? It's free!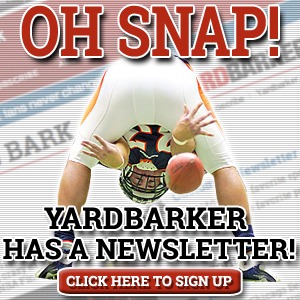 Latest Rumors
Best of Yardbarker

Today's Best Stuff

For Bloggers

Join the Yardbarker Network for more promotion, traffic, and money.

Company Info

Help

What is Yardbarker?

Yardbarker is the largest network of sports blogs and pro athlete blogs on the web. This site is the hub of the Yardbarker Network, where our editors and algorithms curate the best sports content from our network and beyond.