Found January 18, 2013 on Blog So Hard Sports:
The Caps long awaited return to the ice starts tomorrow evening   As Alex Ovechkin made his way through customs and walked out the front doors of Dulles Airport, he brought something with him that Caps fans have been eager to see for far too long. it wasn't his custom Bauer hockey bag, it wasn't the yellow laces that make him stand out on the ice. it was that tooth-less grin that makes him one of the most recognizable figures in all of sports. With that infectious smile that lights up the room, Ovechkin was one of the first players back to the U.S. after spending his time playing along side line mate and fellow superstar, Nicklas Backstrom in the KHL for Dynamo. At that exact moment, everyone in the DMV knew that Hockey was back…for good! Dealing with his 3rd head coach in 2 years and now having to learn his 3rd system in the same amount of time, Ovechkin and the rest of the team certainly have their work cut out for them. After Dale Hunter decided not to return to Washington this season, The Caps went down a familiar road by not only hiring a former player, but their 3rd consecutive head coach without any prior NHL experience in Adam Oates. As a former Lightning and Devils assistant head coach, Adam Oates was one of the most highly respected assistants in the league. He was credited with the offensive resurgence of the Tampa Bay Lightning, especially on the power play, and played a significant role in the development of Steven Stamkos who has quickly turned in to the most dynamic player in the world. In 2010, he was hired to be the assistant for the Devils and helped New Jersey reach the Stanley Cup Finals last year but ultimately lost in 6 games to the buzz saw known as the Los Angeles Kings. After the rise and fall of what seemed to be "The Greatest Show on Ice" from 07-11, The Washington Capitals tried to change their identity. They transformed themselves from a run and gun style of offense where 5, 6, or even 7 goals a night was the norm here in D.C., in to a grind it out, physical style of hockey. To make an NBA analogy, it was like going from The Phoenix Suns under Mike D'Antoni to The Spurs under Greg Popovich. Obviously, without the results. Both systems worked for this team but ultimately it netted the same result. One game away from being in the conference title and more questions to be asked. So which system or philosophy is the right one? Can the Caps become more consistent? Is the window closing on this team? And probably the most important one, What's wrong with Alex Ovechkin? I guess only time will tell and a lock out shortened season may not ultimately give us the biggest sample size to work with, but this hockey fan is extremely optimistic about the Caps chances this year more so than any other year. With the more aggressive offensive and defensive style of play that Oates is implimenting, I expect to see this team get back to scoring a lot of goals. I'm not sure if we'll ever see an offensive season like we did in 09, but don't be surprised if this team is back to being one of the highest scoring units in the league. Oates plans on giving Ovechkin what he deserves, more ice time. He's not restricting him on offense or defense and allowing him to be the player that the Caps brought him in here to be. This is basically the exact opposite of what Dale Hunter tried to do. He cut back Ovechkin's minutes, benched him when he didn't play defense, and gave guys like Jay Beagle and Joel Ward more playing time, especially in the post season. While many people praised him for being so bold, I for one was extremely offended by the decision and overwhelming arrogance that spewed from Dale's veins. When Joel Ward is playing more than Alex Ovechkin, I'm sorry, but that doesn't cut it. Obviously no one is going to say anything when your team is winning, your goaltender is saving your ass and you're one goal away from advancing to the eastern conference finals, but it was evident that this "tiff" between Hunter and Ovechkin wasn't going to be in Hunter's best long term interest. For what it's worth, I give Dale credit for sticking to his guns but I'm glad he's not the coach of this team. You have a Ferrari and you're driving it like a Corolla. Live a little. If you want to know why Alex isn't scoring, it's simple. HE'S NOT ON THE ICE. Since 2007, his ice time has been decreasing drastically. From 23:06 in the 07/08 season to a career low 19:48 in 11/12. Is some of it due to the fact that the team has weakened around him? Sure. Is some of it due to the coaching carousel from last year? Absolutely. Is a lot of it due to Ovi just being too predictable? Yes. But somehow, someway, Ovechkin is still scoring and his 38 goals last year was still 5th best in the league. Its a far cry from the 56 and 65 goal campaign's we're accustom to seeing, but it's pretty simple, you want to see production, you need him on the ice. Obviously, I do place some responsibility on Ovi's shoulders. Look, the inside-outside move from the left boards and cutting back for a wrist shot is done. Every D man knows that move is coming. Time to get a little creative and get back to the basics. Ovechkin was at his best when he was a physically dominating player on the ice. Throwing his body around, hitting guys, crashing the net and taking lots of shots. I fully expect to see Adam Oates get Ovi back on track. After playing very well in the KHL,  expect to see Ovechkin come out of the gates ready and hungry. Bold Prediction #1: Alex Ovechkin will lead the league in goals scored. Believe it or not, there are a lot of other exciting and dynamic pieces we haven't even talked about yet. Washington went out and got Mike Ribeiro from the Dallas Stars to be their #2 center. A position that this team has been looking to fill even going back to the days when Oates was a player here in D.C. We've often seen this team make trades for centers at the deadline, but none of which have panned out to be a constant threat. Ribero is a 50-60 point guy who has proved to be durable. He's someone who can not only score big goals but can make any pass. A shifty and versatile player and his presence will force other teams to have to match up with the Caps differently. It will take pressure off of Backstrom's line and hopefully allow opportunities for other players to make an impact. Not a big splash as far as signings go, but certainly a signing that this team needed. Bold Prediction #2: Mike Ribeiro will have 70 points. Another exciting thing for Caps fans is potentially having a healthy Nicky Backstrom, Mike Green, and Tom Poti all on the ice at the same time since 2010. After suffering a scary neck injury while playing in Russia, Backstrom has been cleared to play and will be in the line up. Same applies to all star defenseman Mike Green who seemingly got better and better as the post season went along. Poti has missed the past season and a half due to a groin and broken pelvis injury and recently completed a rehab stint in Hershey. Mcphee says that he expects him to be ready by Tuesday at the latest. Mike Green headlines an energetic blue line for Adam Oates' team which includes a plethora of young guys and experienced guys to anchor the ship. Caps fans should be extremely excited to see what another year can do for guys like Karl Alzner and John Carlson. Once Orlov is 100% healthy and good to go, you're looking at your top 4 defensemen as Alzner, Carlson, Green and Orlov. If that isn't the best young blue line tandem in the NHL, I don't know what is. You have shut down guys and scoring threats on both potential pairs. Last but not least, there's the awesome problem this team faces of having two young stud goaltenders with playoff experience going in to a shortened season. Both Braden Holtby and Michael Neuvirth have won big games for this team and the guys on this roster believe in both of them. Believe me when I say, this is a good problem to have. After stealing the spotlight in the post season last year, I think there's little doubt that Braden Holtby is the #1 goaltender on this team. The unflappable brick wall had one of the post seasons for NHL goalies and single handedly won the first round series for the Caps against the Bruins. Don't believe me? Ask Rich Peverley. Holtby will likely get the start tomorrow night in Tampa, but don't be surprised if you see the guys split the goaltending duties this season. This team is about to play 48 games in 99 days with lots of back-to-backs and stretches where they play 3 games in 4 nights. Not to mention, they play 17 games in the month of March!  If you have a bad game, you don't have to wait long to redeem yourself. Both Holtby and Neuvirth have proven that they can bounce back after losses so I'm not worried about them. Bold Prediction #3: The Capitals Goalies will finish with the best team GAA (Goals Against Average) in the league. So how far can this team go? I think they can go all the way. Why not? If there was ever a team that could benefit from playing a shortened NHL season and going all the way, the Caps have the best and deepest roster to do it. Last year proved to be a big stepping stone for this team. Not only did they learn how to win close games in the post season, they weren't rattled when they lost tough games. In the New York series they lost that brutal triple OT game and that heartbreaking game 5 and were able to come back and win the next games. This team developed a lot of heart and character in the post season last year and I think they plays well for their chances this year. They're poised to make a run. Ovechkin and Backstrom were both playing in Dynamo at an elite level and I see no reason why that shouldn't carry over here with their core roster in place. The L.A. Kings proved to us that it doesn't matter where you rank in the post season, if you're hot at the right time, you can win the cup. The Caps have the depth and the experience, now it's time to bring home the cup!   Related posts: Capitals Season Will Start 1/19 On The Road At Tampa Bay Lightning Capitals Off-season Plans NHL Lockout Could Hurt the Capitals the Most
Original Story:
http://blogsohardsports.com/capitals/...
THE BACKYARD
BEST OF MAXIM
RELATED ARTICLES
The Washington Capitals have recalled defenseman Tom Poti from Hershey of the AHL, bringing back someone who hasn't played in an NHL game in two years because of injuries. Poti was added to Washington's roster Friday, a day before the team plays at the Tampa Bay Lightning to open the lockout-delayed season. The 6-foot-3, 190-pound Poti has not appeared in the NHL since...
General manager George McPhee believes the Washington Capitals have enough talent on the ice to contend for a Stanley Cup. His biggest concern heading into Saturday night's opener against the Tampa Bay Lightning is that his team will have had only six practices and a scrimmage to learn new coach Adam Oates' system. With a lineup that includes two-time Hart Trophy winner...
Washington Capitals Season Preview Record Last Year: 42-32-8 Goal Differential: -8 Team 5v5 Fenwick: 49.71% (16th in NHL) 5v5 Sh%: 8.6% 5v5 Sv%:  .920 PP SF/60: 47.5 (18th in NHL) PK SA/60: 49.4 (14th in NHL) The Washington Capitals fall from grace last season was fascinating to watch. Many projected this team to win the Southeast Division for the fifth...
from Katie Carrera of Capitals Insider at the Washington Post, The Capitals will allow Alex Ovechkin to take part in the 2014 Sochi Olympics, regardless of whether the NHL permits all of its players to participate in the games, owner Ted Leonsis said Thursday. Ovechkin, who on Wednesday was named a torchbearer for the Sochi games, has said multiple times that he intends...
via The Washington Capitals
I now look at the Southeast Division #1. Washington Capitals- The Capitals are always a team that are impressive during the regular season and once the playoffs come they never seem to get over the hump. They found themselves exiting the playoffs in a 7th game to the New York Rangers. There was a few coaching [...]
"To all Caps fans – local and long-distance – thank you for your ongoing support and your support of our players, we truly appreciate it. You are terrific fans, and we have worked extremely hard for many years to grow that relationship, and we have been rewarded with fantastic support. It is now incumbent upon us to be a first-class partner not only with our players but also...
General manager George McPhee believes the Washington Capitals have enough talent on the ice to contend for a Stanley Cup. His biggest concern heading into Saturday night's opener against the Tampa Bay Lightning is that his team will have had only six practices and a scrimmage to learn new coach Adam Oates' system. With a lineup that includes two-time Hart Trophy winner...
from Stephen Whyno of Capitals Watch at the Washington Times, "There's lots of new rules on what we have to do with ice quality," Washington Capitals owner Ted Leonsis said. "We're totally committed to having the best ice that we can possibly have." Verizon Center's ice has been a subject of ridicule, and arena staff has gone to lengths to maintain some...
Photo by Brian Blanco Don't panic.  The Washington Capitals lost their opening game of the 2013 season on Saturday night, conceding three power play goals en route to a 6-3 loss to the Tampa Bay Lightning.  With a new coach, a new system, and a lockout hanging over their heads, the Caps were terrible in their own zone and suffered the consequences of such sloppy play.  Joel...
Capitals News

Delivered to your inbox

You'll also receive Yardbarker's daily Top 10, featuring the best sports stories from around the web. Customize your newsletter to get articles on your favorite sports and teams. And the best part? It's free!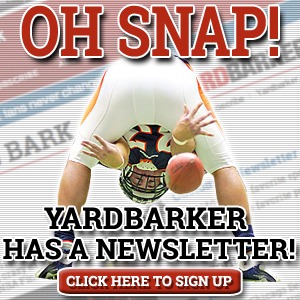 Latest Rumors
Best of Yardbarker

Today's Best Stuff

For Bloggers

Join the Yardbarker Network for more promotion, traffic, and money.

Company Info

Help

What is Yardbarker?

Yardbarker is the largest network of sports blogs and pro athlete blogs on the web. This site is the hub of the Yardbarker Network, where our editors and algorithms curate the best sports content from our network and beyond.