Found November 07, 2011 on Shutdown Line:
PLAYERS:
Troy Brouwer
,
Jamie McBain
,
Bryan Allen
,
Tim Gleason
,
Zach Boychuk
,
Eric Staal
,
Anthony Stewart
,
Tuomo Ruutu
,
Brandon Sutter
,
Jiri Tlusty
,
Drayson Bowman
,
Alexei Ponikarovsky
,
Joni Pitkanen
,
Cam Ward
,
Tim Brent
,
Jay Harrison
,
Tomas Kaberle
,
Jeff Skinner
,
Chad LaRose
,
Karl Stewart
,
Karl Alzner
,
Jeff Schultz
,
John Carlson
,
Roman Hamrlik
,
Mike Knuble
,
Cody Eakin
TEAMS:
Washington Capitals
,
Carolina Hurricanes
,
Pittsburgh Penguins
I would mark this game as one of the most frustrating losses of the year. Judging from the boxscore, the Canes were overmatched and blown out but the truth is that Carolina was in this game for a long time and had multiple opportunities to come back but failed and had yet another third period meltdown. I would put this on the same level as the Flyers and Lightning games in terms of how bad of a collapse this was. Carolina wasn't playing awful at even strength the first forty minutes and could have easily tied the game in the third when the score was 2-1 but they committed a bad penalty, gave up an early goal and then didn't bother to show up for the rest of the period.
We'll revisit the disaster after the jump
Washington Capitals vs. Carolina Hurricanes 11/4/11 Scoring Chances
Period
Totals
EV
PP
5v3 PP
SH
5v3 SH
1
5 4 5 2 0 0 0 0 0 2 0 0
2
6 4 3 3 3 1 0 0 0 0 0 0
3
2 7 2 4 0 0 0 0 0 3 0 0
Totals
13
15
10
9
3
1
0
0
0
5
0
0
Carolina's chances are in red, Washington's are in white
Carolina had a slight advantage at even strength due to a strong start but their powerplay was mostly lifeless. Two of their three chances came on the same powerplay (the one where Skinner's goal was disallowed). It's even worse when you consider that they had four powerplay opportunities, three of which came when they were trailing 2-1, and failed to even record a chance on two of them. Had Carolina scored on one of those powerplays or even managed to create more chances then this would have been a totally different game. It also didn't help that the Caps controlled the third period and didn't allow the Canes to do much of anything. Some say the turning point of this game was Skinner's disallowed goal (which was due to an awful early whistle) but the Canes still had two more powerplay opportunities after that in the second period and failed to get any pressure. The defensive breakdown in the neutral zone that led to Troy Brouwer's goal was a bigger momentum shifter, in my opinion.
Individual Scoring Chances
#
Player
EV
PP
SH
4
Jamie McBain
14:21
2
5
3:13
1
1 0:12 0
0
5
Bryan Allen
14:36
2
2
0:12
0
0 5:01 0
5
6
Tim Gleason
14:14
1
2
0:47
0
0 5:01 0
5
11
Zach Boychuk
5:57
1
2
0:37
0
0 0:00 0
0
12
Eric Staal
15:58
3
2
3:31
1
1 1:20 0
2
13
Anthony Stewart
11:05
6
2
0:46
0
0 0:00 0
0
15
Tuomo Ruutu
12:27
6
3
2:39
1
0 0:00 0
0
16
Brandon Sutter
13:39
1
2
1:02
1
0 3:37 0
3
19
Jiri Tlusty
12:18
1
3
2:43
1
1 1:32 0
2
21
Drayson Bowman
7:58
0
2
0:39
0
0 0:00 0
0
23
Alexei Ponikarovsky
12:53
1
4
3:13
2
0 0:00 0
0
25
Joni Pitkanen
15:30
2
4
3:19
1
1 0:12 0
0
30
Cam Ward
47:24
10
9
7:23
3
1 5:13 0
5
37
Tim Brent
6:50
0
2
0:37
0
0 0:04 0
0
39
Patrick Dwyer
12:46
0
3
0:00
0
0 3:37 0
3
44
Jay Harrison
18:43
7
2
3:26
2
0 0:00 0
0
51
Tomas Kaberle
17:24
6
3
3:49
2
0 0:00 0
0
53
Jeff Skinner
13:59
8
0
3:31
1
1 0:00 0
0
59
Chad LaRose
16:22
3
2
2:51
2
0 0:16 0
0
Best EV Forward: Jeff Skinner +8

Worst EV Forward: Alexei Ponikarovsky, Patrick Dwyer -3
Best EV Defenseman: Jay Harrison +5

Worst EV Defenseman: Jamie McBain -3
Skinner was amazing this game and the rest of the second line played really well, too. I thought Stewart did exactly what he was supposed to do which was go to the front of the net, get physical and create more room for his linemates. It resulted in a goal and Skinner clearly benefitted from it as well. Tlusty's effectiveness on the first line came to a screeching halt this game as that unit was mostly ineffective for most of the night. Sutter's line was matched up with Washington's big line of Ovechkin-Backstrom-Semin and were taken out back as they couldn't do much to contain them. I wouldn't be against keeping Stewart on the second line for at least another game because he did well tonight and did all the right things by the eye test. It would have really helped if the third line pitched in more, though. These three have been getting a lot of minutes this year and they clearly were not effective at all in this game at shutting down Ovechkin or providing offense.

Want to know why Jamie McBain was scratched for Sunday's game? Look over the footage of Washington's first, second and fifth goal to find out. Pitkanen wasn't much better but McBain constantly put him in a bad position and it's one of the reasons why he was in the press box instead of on the ice against Dallas. Harrison and Kaberle are enjoying the sheltered minutes but both really stunk on the powerplay. Also, Harrison wasn't used on the PK at all which is very interesting. Allen and Gleason were shelled on the PK but had a typical night for them at even strength. Not bad when you consider they were put up against Ovechkin's line for most of the game.
Head-to-Head at even strength
For all the hype I have heard about Washington's "meat and potatoes" line, they were hit hard by Skinner, Ruutu and Stewart. Karl Alzner and Jeff Schultz didn't have a good showing against them either. I wonder if John Carlson was the main reason for that pairing's success last year because he had a very strong game overall and was paired with Roman Hamrlik instead. Unfortunately for the Canes, our shutdown line didn't fare much better against Ovechkin, Backstrom and semin as they were crushed by those three at even strength. Gleason and Allen didn't do that good of a job against that unit either. Pitkanen and McBain also had a rough game against everyone but Washington's third line while Kaberle and Harrison won all but two of their matchups. I was a little confused as to why Washington elected to put Mike Knuble on the fourth line but it makes sense with Cody Eakin on the big club. Give the youngester top-six minutes while he's there, roll all four lines and you have yourself a very balanced offense. Maybe Paul Maurice should look into doing something similar but that's alot easier said than done when you compare Carolina's talent up front with Washington's.

Original Story:
http://shutdownline.com/hurricanes/sc...
THE BACKYARD
BEST OF MAXIM
RELATED ARTICLES
The Matchup: Carolina Hurricanes (5-6-3) vs. New Jersey Devils (6-5-1) 7:30 PM at The Rock TV/Radio: VERSUS/660 AM WFAN Know Your Enemy: Shutdown Line What we Think of the Hurricanes: The Hurricanes are coming off of a 5-2 loss to Dallas and are actually in quite the slump…losing their last two games and six of their last eight. All-star goalie Cam Ward was pulled in their...
Sniper Dragging His Heels While much has been made of the Washington Capitals captain's slow start, the truth of the matter is that with 13 points in 12 games, it's not exactly like the fire in Alex Ovechkin's game has gone dormant. Yes, dealing with lower ice-time totals and learning to become a responsible player have taken away from Ovechkin's former one...
The injury-plagued Rangers acquired minor league forward Francois Bouchard from the Washington Capitals for minor league defenseman Tomas Kundratek. New York has been playing without forwards Mike Rupp (knee) and Wojtek Wolski (groin), who are both scheduled for surgery this week. The 23-year-old Bouchard, chosen by Washington in the second round of the 2006 draft, has yet to make...
The Washington Capitals completed a swap of minor-leaguers today, sending RW Francois Bouchard to the New York Rangers for D Tomas Kundratek.  Bouchard was the Capitals' 2nd round pick in 2006 and is the younger brother of Minnesota Wild playmaker Pierre-Marc Bouchard.  He never lived up to his billing as an offensive playmaker, regressing last season with the AHL Hershey Bears...
It was the first regulation win against the Washington Capitals since 2007 and it ended the six game slump. You know I thought it was a loss for sure. The Capitals and their scoring machines could easily make it ugly for the Islanders. They made it difficult, but not ugly. Rick DiPietro let up the first Capitals goal and it looked like it was going to be the seventh loss...
The New York Rangers traded defenseman Tomas Kundratek to the Washington Capitals for right wing Francois Bouchard. Neither player has appeared in an NHL game. The 21-year-old Kundratek, a third-round pick in the 2008 draft, has two goals and 12 assists in 77 games with Connecticut of the American Hockey League. Bouchard, 23, has appeared in 227 games with Hershey since he was...
Matchup - Hurricanes (5-6-3 - 13 points) vs. Devils (6-5-1 - 13 points) TV - Versus, TSN 2 (HD) Puck drop - 7:30 PM ET Projected starting goalies - Cam Ward (CAR) vs. Martin Brodeur (NJD) Battle of the stats Goals for/against per game Carolina - 2.50 / 3.29 New Jersey - 2.25 / 2.75 Powerplay/Penalty Kill percentage Carolina - 14.5% / 80% New Jersey - 13.9% / 91...
… not to sure about who Bouchard is but I see the Rangers have finally given up on Kundratek. During the 2006-07 QMJHL season, Bouchard led the league in points with 125.
The injury-plagued Rangers acquired minor league forward Francois Bouchard from the Washington Capitals for minor league defenseman Tomas Kundratek. New York has been playing without forwards Mike Rupp (knee) and Wojtek Wolski (groin), who are both scheduled for surgery this week. The 23-year-old Bouchard, chosen by Washington in the second round of the 2006 draft, has yet to make his NHL debut.
We know a lot about our favorite athletes on the field. Their stats and bios are easily googled and we read about their on-field accomplishments often. But how much do we really know about them personally? Since we're curious, we've asked our favorite athletes to tell us 10 things that we don't know about them. Today we check in with the Capitals' Karl Alzner (@KarlAlzner...
NHL News

Delivered to your inbox

You'll also receive Yardbarker's daily Top 10, featuring the best sports stories from around the web. Customize your newsletter to get articles on your favorite sports and teams. And the best part? It's free!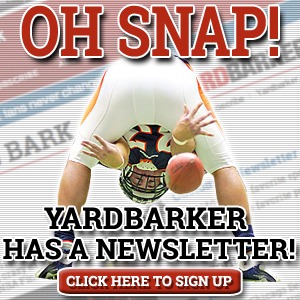 Latest Rumors
The Backyard

Today's Best Stuff

For Bloggers

Join the Yardbarker Network for more promotion, traffic, and money.

Company Info

Help

What is Yardbarker?

Yardbarker is the largest network of sports blogs and pro athlete blogs on the web. This site is the hub of the Yardbarker Network, where our editors and algorithms curate the best sports content from our network and beyond.