Found January 18, 2012 on NorthWest Sports Beat:
PLAYERS:
George Parros
,
Travis Moen
,
Chris Higgins
,
Maxim Lapierre
,
Andrew Alberts
,
Zach Parise
,
Shea Weber
,
Kyle Wellwood
,
Shawn Thornton
,
Roberto Luongo
,
Trevor Linden
,
Ryan Kesler
,
Cam Neely
,
Milan Lucic
,
Todd Bertuzzi
,
Mattias Ohlund
,
Sami Salo
,
Jarome Iginla
TEAMS:
Vancouver Canucks
,
Anaheim Ducks
,
Montreal Canadiens
,
New Jersey Devils
,
Nashville Predators
,
Winnipeg Jets
,
Boston Bruins
,
Detroit Red Wings
,
Tampa Bay Lightning
,
Calgary Flames
Last minute bargains? As we near the February trade deadline, the rumour mill has heated up, linking the Vancouver Canucks with possible moves for Cory Perry, George Parros, or Travis Moen. The Canucks will probably be tinkerers at the deadline, adding some depth to complement their core, like last deadline when they picked up Chris Higgins and Maxim Lapierre or the deadline before when they picked up Andrew Alberts.
Sure, there are the pipe dreams like Zach Parise or Shea Weber (or uh, Cory Perry) but let's be realistic here. You might as well ask for a Pony.
Now that we've established realism let's abandon it. Forget I mentioned it at all. Let's have some fun. Pretend that Kyle Wellwood, noted enigma and probable polymath, spent his time in Vancouver tinkering in his secret underground workshop underneath Rogers Arena. No one realized it at the time but in between trips to Subway, Wellwood was working on a time machine. He finished it just before the Canucks let him go a couple Summers ago but never told anyone, except possibly his trusted sock monkey lab assistant. Last week, Mike Gillis headed down into the basement just to see how Steve Tambellini feels in Edmonton. To his shock, he stumbled upon the time machine. Gillis is a man who recognizes opportunity when it's stashed in his basement and realized the potential to make a very unique move at the deadline: bringing back a former Canuck to round out the team and win that elusive Stanley Cup. But who? The machine only has enough power for a single use. Which ex-Canuck could most benefit this team? 1. Gino Odjick This one is easy.
Concerned about team toughness? Bring back Gino and we'll see how tough Shawn Thornton really is.
The Chief was one of the most feared enforcers in his day and much beloved among Canuck fans. He'll definitely make opponents think twice about taking liberties with Canuck players. Giiiiiiino is still the all-time Canucks penalty minute leader and bleeds black, orange, and yellow. Doesn't just the idea of bringing him back put a smile on your face? 2. Kirk McLean Captain Kirk was the best goalie in franchise history before Roberto Luongo came around, but the difference between McLean and Luongo is that McLean was a playoff warrior. A vintage 1994 Kirk McLean would have schooled Tim Thomas in the finals. Who can forget his save off Robert Reichel in overtime of Game 7 against the Flames? It might be the greatest save in Canucks history. Similarly, his 52 save performance in Game 1 of the Stanley Cup Finals is the greatest performance ever by a Canuck goalie. When he's playing at his best, Roberto Luongo may be a better goalie than Kirk McLean, but if we're playing for keeps I'm taking Kirk McLean every time. 3. Trevor Linden Speaking of 1994, let's also think about plucking a prime Trevor Linden. This pick needs little explanation. Just think about Trevor lifting the Cup. Like Gino and Kirk, Trev was a heart and soul guy who bled for the Canucks both literally and figuratively. Can you imagine Trevor and Ryan Kesler on a line together? Magic. Bring back Giiiiiiiiino! Remember Ryan Kesler's fantastic goal against Nashville in the second round? Didn't it look a lot like this? If you could bridge the passion of the '94 team with the skill of the 2011 team, there would be no stopping the Canucks. 4. Cam Neely The Canucks could use a big bruising power forward to wreak havoc up front, like Milan Lucic does in Boston. Lucic is a former Giant but not a Canuck, and it's tempting to select the West Coast Express era Todd Bertuzzi, but let's do one better and get the guy who invented the power forward position, Cam Neely. There's little to be said about Cam that you don't already know and this move allows the Canucks to reverse their worst trade of all-time while sticking it to Boston. Sedin-Sedin-Neely? Yes please, here is my first born child. Do you want my second born too? 5. Mattias Ohlund If we're going strictly by needs, the Canucks need a hard-nosed top four defenceman to play with Alex Edler. Sami Salo is great in this role but has this habit of getting injured. When Salo is out, there's no one really to fill his role and the defensive zone becomes a fire drill.
So let's bring back Mattias Ohlund in his prime to pair with his fellow countryman.
Ohlund is probably the most complete defenceman the Canucks have ever had. He's big, he's smart, and when he left he was the highest scoring defenceman in Canucks history. Just ask Jarome Iginla how effective Ohlund was in shutting star players down. His steady presence on the blueline would help the Canucks greatly and give them another option on the point for the powerplay. However Mike Gillis plans to use Wellwood's wayback machine, we can all agree on one thing: don't use it to bring back Messier! CLICK HERE TO CHECK OUT THE VANCOUVER CANUCKS CLUBHOUSE TODAY ON NWSB! © Richard Hodges for North West Sports Beat, 2012. | Permalink | No comment | Follow NWSB on Twitter or join US on Facebook for real-time updates OR... | Share This on Twitter | Share NWSportsBeat.com on Facebook Post tags: 1994, 1994 Stanley Cup, Alex Edler, Andrew Alberts, Cam Neely, Canucks Blog, Chris Higgins, Completely Awesome Hypothetical Scenarios, Gino Odjick, Kirk McLean, Kyle Wellwood, Kyle Wellwood's Wayback Machine, Matthias Ohlund, Mattias Ohlund, Maxin Lapierre, Mike Gillis, Roberto Luongo, Ryan Kesler, Sami Salo, Steve Tambellini, Trade Deadline, Trevor Linden, Vancouver Canucks, Vancouver Canucks Blog, Wayback Machine
Original Story:
http://www.nwsportsbeat.com/canucks/w...
THE BACKYARD
BEST OF MAXIM
RELATED ARTICLES
Take note ladies (and gents) Cody Hodgson, the Vancouver Canucks' rookie who has worked tirelessly all season to prove himself, is, in fact, a stud. Did you know? Here are a few reasons why the Vancouver Canucks Co-ho is studworthy: 1. He's becoming a Canucks sharp shooter PING! Cody just scored, off the post and in. With three of the past six power play goals for the Canucks...
I was going to write a blog post on this, but then I thought NAH. That requires about 10 minutes more effort than a forum post, and that's 10 minutes more than I want to spend covering this sitch. Vancouver Canucks forward Ryan Kesler has taken exception to an assertion made by his coach that he doesn't use his linemates well enough. Alain Vigneault suggested following...
SWEET CAKES
Dustin Penner recently injured himself  by eating pancakes and the fans in Vancouver were not about to let him forget it.  Some clever fans brought some maple syrup and strategically placed it behind Penner.  Well played, well played. Pic via Kylelev Article found on: Cosby Sweaters
Can't get it together The Vancouver Canucks have just three games left this month and they look like they need it. The team has looked flat since the emotional win in Boston. Sami Salo's injury isn't helping matters but the forwards up front aren't exactly lighting it up either. Ryan Kesler has been in a prolonged scoring slump five-on-five while the Sedins haven't grabbed...
Game #47 LA Kings(22-15-9, 11th in NHL)vsVancouver Canucks(28-15-3, 6th in NHL) Season Series Tied 1-1 7:00pm, Rogers ArenaVancouver, BC BEST SUTTER BROTHER TO PLAY FOR THE VANCOUVER CANUCKS: BEST OPPOSITION BLOG THAT I'VE ATTENDED A PLAYOFF GAME WITH IN PERSON:Benched Whale BEST OPPOSITION BLOGS:Canucks ArmyNucks MisconductPucked in the Head Pass It to Bulis After...
Tanev Vancouver, B.C. - Vancouver Canucks President and General Manager Mike Gillis announced today that defenceman Chris Tanev has been recalled from the Chicago...
Can't win in Cali The Los Angeles Kings took a rough road game to the Vancouver Canucks last night, controlling play and pushing the pace in a 3-2 shootout victory at Rogers Arena. The loss to the Kings was the second straight game given up to a visiting California team after the Anaheim Ducks took it to Vancouver in a two-goal loss over the weekend. The Hat Trick Luongo Loses...
Vancouver Canucks center Ryan Kesler's had a struggle of it this season, with 12 goals and 19 assists through 41 games. Last season he had 23 goals at this point, cruising to a career-best 41 tallies after being liberated from his traditional role as the team's primary shutdown center. But Ryan Kesler also has something that other players around the NHL crave when their performance...
VANCOUVER, British Columbia (AP) -- Justin Williams and Mike Richards scored in the shootout Tuesday and the Los Angeles Kings beat Vancouver 3-2 and handed the Canucks a second straight home loss. Williams, who also scored in regulation, beat Canucks goalie Roberto Luongo on his stick side and Richards, the fourth shooter, fired over his glove. Alex Burrows scored for the Canucks...
In case you were wondering about the severity of the psychological scarring suffered by some Vancouver Canucks fans after losing the Stanley Cup to the Boston Bruins: It apparently runs "I'll make a 10-minute propaganda piece with clips from 'The Daily Show' to demonize the Bruins" deep. That said: This is wickedly entertaining, intercutting between the Bruins...
Three key aspects of the Kings' 3-2 shootout victory over the Vancouver Canucks... 1. SHAKE IT UP IN SHOOTOUT The Kings, one of the most-successful shootout teams in the NHL last season, had been 3-5 in the shootout this season and had l...
The Vancouver Canucks look to have a little more jump in their step tonight as they try to extend a six-game home point streak over the Los Angeles Kings.
NHL News

Delivered to your inbox

You'll also receive Yardbarker's daily Top 10, featuring the best sports stories from around the web. Customize your newsletter to get articles on your favorite sports and teams. And the best part? It's free!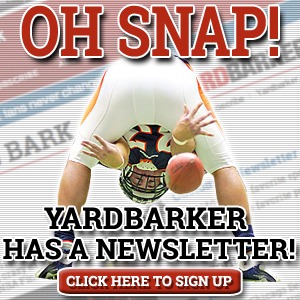 Latest Rumors
Best of Yardbarker

Today's Best Stuff

For Bloggers

Join the Yardbarker Network for more promotion, traffic, and money.

Company Info

Help

What is Yardbarker?

Yardbarker is the largest network of sports blogs and pro athlete blogs on the web. This site is the hub of the Yardbarker Network, where our editors and algorithms curate the best sports content from our network and beyond.