Found January 29, 2012 on Tonight's Healthy Scratches:
PLAYERS:
Marian Gaborik
,
Henrik Lundqvist
,
Daniel Alfredsson
,
Corey Perry
,
Patrick Kane
,
Tyler Seguin
,
Jarome Iginla
,
Zdeno Chara
,
Brendan Morrison
,
Brian Connelly
,
Stan Bowman
,
Scott Hartnell
,
Patrice Bergeron
,
Patrik Elias
,
Claude Giroux
TEAMS:
New York Rangers
,
Ottawa Senators
,
Anaheim Ducks
,
Chicago Blackhawks
,
Boston Bruins
,
Calgary Flames
,
Philadelphia Flyers
,
New Jersey Devils
The 2012 NHL All-Star Weekend is officially in the rear view mirror. Ottawa's ScotiaBank Place, by all accounts, was a terrific host for another successful NHL event. Team Chara defeated Team Alfredsson, 12-9, in today's All-Star Game. Rangers sniper Marian Gaborik took home MVP honors after scoring a hat trick and adding some flair to his first of two markers on teammate Henrik Lundqvist: All-Star Weekend or not, there was no shortage of news coming both out of Ottawa and around the league. Here's some quick links to get you caught up on all the news you may have missed if you, like most of the league, took some time away from the game the past few days:
Crosby Watch alarms went off all over Pittsburgh on Saturday night as a spinal cord specialist in Utah discovered that the game's brightest star has "an abnormality in his C1 and C2 vertebrae." Speculation on when Crosby will attempt another comeback, but the prognosis suggests he may be back as soon as this year's playoffs. But your guess might as well be as good as anyone's at this point. (Sportsnet)
It seemed as though all of All-Star Weekend revolved around the hometown Senators humble captain, Daniel Alfredsson. Alfredsson, who has worn the 'C' Ottawa for the past 12 seasons, had two goals in today's All-Star Game and narrowly missed getting a third. If you didn't see any of the numerous interviews with Alfredsson, here's an insight into how his personality exceeds his play. (The Hockey News)
The real star of this weekend's festivites was NHL Network's newest correspondent, six-year old Joey the Junior Reporter. Over the course of the weekend, he mingled with fans, interviewed players, and even offered to take his new colleague Heidi Androl out on a date. Yes, we found this cute and hilarious, but also depressing that he's accomplished more in his journalism career at the age of six than The Scratches probably ever will. (CSN Chicago)
The All-Star Skills Competition provided a bunch of memorable highlights in the trick-shot event as Corey Perry and his ministick and Patrick Kane's best Clark Kent impression gave fans plenty to cheer about. Patrick Kane took home 47 percent of the fan vote thanks to his Superman dive and "exploding puck" tricks. Puck Daddy compiled all the best trick shot moments. (Yahoo!)
The NHL hit an absolute home run with Drake's performance during the second period intermission. Drake, who many were surprised to find, is a native Canadian and played hockey growing up. He performed his hit song "They Know" as the players made their way back out onto the ice to watch. Boston's Tyler Seguin was caught singing along. Luckily, there was no audio of Seguin:
Before the game, Drake went into both locker rooms and met the All-Stars, stopping to take photos. Interestingly enough, he was as excited to meet the players as they were to grab a picture with him. He even sought out Jarome Iginla for a photo. (NHL.com)
In Thursday's NHL All-Star Fantasy Draft, while Alfredsson made an effort to select all of his Senators teammates early on, Zdeno Chara let second-year Tyler Seguin sit in the back room for a while. However, in the 18th round, Chara made Seguin his second-to-last pick. The two shared a bromantic moment, hugging out all their problems. Bloguin's own Days of Y'Orr had a fun take on the manly embrace, complete with hilarious .GIFs and Photoshops. If you don't already, make this one of your daily internet stops. (Days of Y'Orr)
There was one trade over the All-Star Break as the Chicago Blackhawks acquired Brendan Morrison from the Calgary Flames for two-time AHL All-Star defenseman Brian Connelly. Hawks GM Stan Bowman has made it known he is ready and willing to make a deal, primarily for a no. 2 center. Has he got one in Morrison? Probably not, but that doesn't mean he hasn't improved his team. (Committed Indians)
This space has done it's fair share of criticizing Scott Hartnell's selection to the All-Star Game over players like Patrice Bergeron or Patrik Elias. While we may or may not have a case for on-ice performance, few embraced the spirit of All-Star Weekend like Hartnell, who was a first-time selection. Hartnell captured as much video as he could on his tablet during the Skills Competition and today's warmups, but also found a way to contribute to charity by poking fun at himself.
As part of his Hartnell Down campaign to raise money for charity, the hairy Flyers winger pledged to donate $1,000 every time he fell to the ice in Sunday's All-Star Game. He was dropped four times, but in the third period, teammate Claude Giroux became more worried with knocking Hartnell down than pursuing a loose puck. Great job, Scott. Congratulations on being an NHL All-Star. (NHL.com)
Original Story:
http://www.tonightshealthyscratches.c...
THE BACKYARD
BEST OF MAXIM
RELATED ARTICLES
Zdeno Chara's 108.8 mph slap shot Saturday night took the skills competition to a new level. Is it a level we belong at? And is Chara a true natural, as a five-time slap shot champion in the skills competition? Here's what he did last night: We've come a long way in about 22 years, when the slap shot competition was introduced. In 1990, the All-Star weekend had...
Do you have any idea how fast 108 miles per hour is? It's really absurd. But Zdeno Chara can hit a hockey puck that fast with four-fifths of a mph to spare, as he showed during Saturday night's Hardest Shot portion of the NHL All-Star Skills Challenge. NESN Nation's Dan Duquette is kind of blown away with this one. That's almost too fast to make something move. Regardless...
Bruins defenseman Zdeno Chara, a team captain for today's NHL All-Star Game, has never forgotten his roots growing up under Soviet rule in Czechoslovakia.
OTTAWA — When does a 95.3-mph slap shot seem like child's play? When Zdeno Chara fires one at 108.8. It almost doesn't seem possible, but the Boston Bruins star broke his own record in the hardest shot event Saturday night's NHL All-Star SuperSkills competition, in the process leaving Washington Capitals ...
OTTAWA -- Soon after Zdeno Chara walked into the room, he whipped out his phone and sent a text message to teammate Tyler Seguin. Chara had to ask Seguin if he would be cool doing the All-State NHL Breakaway Challenge on Saturday night at the 20...
(source feed provided no summary content for this entry)
Tweet OTTAWA (AP) -- Zdeno Chara's blistering hot slap shot and Patrick Kane's Superman cape weren't enough to beat Daniel Alfredsson an...
OTTAWA (AP) -- Marian Gaborik got the best of New York Rangers teammate Henrik Lundqvist, and Zdeno Chara scored the winning goal for the NHL All-Star team named after him. Even in defeat, Daniel Alfredsson rewarded the hometown fans with two goals and an assist, and then the Ottawa Senators captain provided a hint that he might come back for one more season. For an All-Star game...
OTTAWA (AP) -- Zdeno Chara's blistering hot slap shot and Patrick Kane's Superman cape weren't enough to beat Daniel Alfredsson and his team stocked with hometown favorites in the NHL All-Star skills competition Saturday night.
The NHL All-Star game is a fun event, but ultimately, it's just that -- fun. It doesn't count for two points in the standings, has few bragging rights at stake and in general is just an excuse to see the best players in the league skating together without worrying about things as trivial as hitting or playing defense. Zdeno Chara, Tim Thomas and Tyler Seguin will all be participating...
Marian Gaborik got the better of New York Rangers teammate Henrik Lund qvist, and Zdeno Chara scored the winning goal for the NHL all-star team named after him.
NEW YORK (January 30, 2012)—Toronto Maple Leafs center Mikhail Grabovski, Nashville Predators goaltender Pekka Rinne and Ottawa Senators right wing Daniel Alfredsson and have been named the NHL's 'Three Stars' for the week ending Jan. 29.Continue reading "Stars Of The Week"
NHL News

Delivered to your inbox

You'll also receive Yardbarker's daily Top 10, featuring the best sports stories from around the web. Customize your newsletter to get articles on your favorite sports and teams. And the best part? It's free!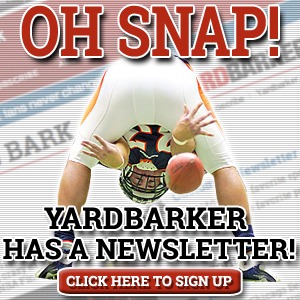 Latest Rumors
Best of Yardbarker

Today's Best Stuff

For Bloggers

Join the Yardbarker Network for more promotion, traffic, and money.

Company Info

Help

What is Yardbarker?

Yardbarker is the largest network of sports blogs and pro athlete blogs on the web. This site is the hub of the Yardbarker Network, where our editors and algorithms curate the best sports content from our network and beyond.