Found March 11, 2013 on Rob The Hockey Guy:
The Canucks are officially at the halfway mark of this lockout shortened season and something is clearly wrong with this team. This doesn't resemble the team that won two straight President's Trophies. Something is missing from the 2010-11 team that showed so much moxie, so much swagger, and more importantly, so much talent until it all fell apart in the Stanley Cup Final. So what's wrong with this team? Lets investigate… Injuries The Vancouver Canucks are not the same team without Ryan Kesler, plain and simple. He does everything for this team, and any time without him is going to be felt. It's also not a coincidence that the team's worst slump of the season has come with Kevin Bieksa injured. But these are excuses. A Stanley Cup contending team can and should overcome injuries. The 2010-11 team had injuries galore. Just look at the games played totals for these key players: Salo (27), Edler (51), Hamhuis (64), Bieksa (66), Burrows (72) and Malhotra (72). Depth The Canucks were able to get by in 2010-11 with a whole bunch of injuries because they had better depth than this team. The Canucks are well positioned to withstand an injury to a goaltender (probably better than any other team in the league) or a winger, and to a lesser extent a defenceman. The problem the Canucks have right now is they are not deep at all at centre, and that's where their injuries are most prevalent. In 2010-11 the Canucks had Henrik Sedin and Ryan Kesler for the entire 82 game schedule. Malhotra played in 72 games, and when he was injured they had Maxim Lapierre to step in. Even when Malhotra was in the lineup this season, he was a shadow of his former self. Jordan Schroeder has shown poise at the NHL level, but he's basically Kyle Wellwood (nifty plays, defensively responsible, but no offensive production despite power play time). The Coach Is Alain Vigneault's message falling on deaf ears? Is his message the right message? Should he be let go? I'm not crazy about letting go a coach with only 24 games left to go in the season, and I think the Canucks need to let AV ride this out. They have made their bed, now they have to lie in it. Making a change now would be a tall order for the new coach. With 24 games left to go in less than 2 months, a new coach would have very little time to implement major changes. But it's now or never for AV. The Power Play The Canucks' power play is 22nd in the NHL right now. That's remarkable when you consider how good their power play was for such a long time. The biggest problem with the power play right now is that they don't have enough shooters on it. What I mean by that is they don't have enough threats to score from the outside with shots that blow a goalie away. The 2010-11 power play had three excellent shooting threats: Alex Edler, Christian Ehrhoff and Ryan Kesler (even though he spent most of his time in front of the net). For the moment, Kesler and Ehrhoff have been replaced with Burrows and Schroeder. That's not the whole story, but it's a big part of the story. The Sedins need players with hard shots to keep the other team honest. If other teams are petrified of the big shot from the point, that will open up things down low for Daniel and Henrik. They aren't as good as we think they are Probably the biggest problem with this team is that they aren't as good as we think they are. Their defense is commonly thought to be one of the best in the NHL, but is that reality? It doesn't seem like it this year. It certainly isn't as good on paper as Boston, Chicago or Los Angeles. It's arguable if they're better than San Jose or New York. On paper, it's a solid group. The Sedins are excellent players, but they haven't played like Art Ross Trophy winners in a couple of seasons. Even when Ryan Kesler returns, he probably won't be the same Selke Trophy winning 40 goal scorer like he was in 2010-11. I know that's a scary thought for most Canucks fans and it scares me too. So what's wrong with this team? Well, a lot of things. They need to get healthy, they need their top players to play better, and they need their depth players to play to their potential. When all of those things don't happen, you get a whole lot of mediocrity.
Original Story:
http://www.robthehockeyguy.com/2013/0...
THE BACKYARD
BEST OF MAXIM
RELATED ARTICLES
Few bright spots in underwhelming week It was a very disappointing week for the Vancouver Canucks, and certainly for their legion of fans. The team dropped two of three games, and to teams they really, really should beat. The lone bright spot was a home victory over the defending champion L.A. Kings. It's always a great feeling to beat the team that ended your season a year ago...
It has been said that the Bruins got inside Roberto Luongo's head during the 2011 Stanley Cup Final. It appears that to some extent, one of the owners of the Vancouver Canucks agrees — and those mind games are now headed to the courts. According to Italian sports psychologist Bruno Demichelis, Canucks co-owner Francesco Aquilini hired him away from soccer club Chelsea after...
Waving the White Towel Yikes. After all these underwhelming games, the Canucks blew another chance to right the ship and take two points out a hockey game. Instead, the Minnesota debacle felt almost like the culmination of the creeping habits that had been plaguing the Canucks. Halfway through the year the Canucks are struggling to find their identity on the ice and now find themselves...
Slumping Canucks Have Revenge on the Mind The scuffling Vancouver Canucks head to Columbus for the second time in a week on Tuesday hoping to snap and uncharacteristic four game slide. Vancouver lost 2-1 in overtime to the Jackets Thursday before another road loss Sunday at Minnesota. Vancouver Canucks (11-7-1-5) at Columbus Blue Jackets (13-12-3-1) When: 7:00 PM ET, Tuesday, March...
Here we go again… It's yet another chance for the Vancouver Canucks to right the ship heading into March's crunch, as the beleaguered club has won just three of its last 11. Thankfully, tonight's matchup features a Northwest division rival that the Canucks have dominated in the recent past. They'll need another win tonight to keep the Wild from knocking on the door of a...
The Vancouver Canucks' recent struggles have allowed the Minnesota Wild to tighten the Northwest Division race. A three-game homestand may be just what the Wild need to overtake the Canucks. The Wild look to continue their impressive play at home Sunday night and pull even with the division-leading Canucks by sending them to their sixth loss in seven games. Vancouver (11-6...
  In a sick, twisted way, I love Vancouver Canucks fans.  There is no other fanbase in hockey that is this manic.  Not even Toronto or Montreal fans are this crazy.  See, at least in those two cities, that fans have reasons to be as off-kilter as they are.  They have the storied history,  and the Stanley Cups to match it.  Vancouver, not so much.  Canucks fans live in...
Time to put one up in the win column The Canucks are back in Columbus tonight for the second time in three games, taking on the Bluejackets for the second time in three games. The Canucks haven't won in four straight games (0-2-2), meanwhile the Bluejackets are red hot having won five straight games that include back-to-back wins against the Detroit Red Wings. The Canucks head...
NHL News

Delivered to your inbox

You'll also receive Yardbarker's daily Top 10, featuring the best sports stories from around the web. Customize your newsletter to get articles on your favorite sports and teams. And the best part? It's free!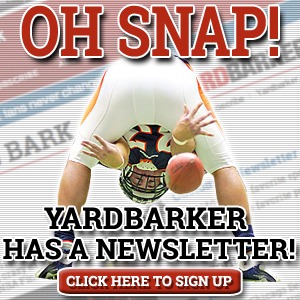 Latest Rumors
Best of Yardbarker

Today's Best Stuff

For Bloggers

Join the Yardbarker Network for more promotion, traffic, and money.

Company Info

Help

What is Yardbarker?

Yardbarker is the largest network of sports blogs and pro athlete blogs on the web. This site is the hub of the Yardbarker Network, where our editors and algorithms curate the best sports content from our network and beyond.