Found January 08, 2013 on Buzz On Broad:
3.. 2.. 1.. Take off. The Flyers' season doesn't begin for another week and a half, but goaltender Ilya Bryzgalov is already making headlines in the Philadelphia media with his quotes. "He's like from the movie Cast Away. We need to buy some ball for him so he has best buddy Wilson," said Bryzgalov when asked about forward Scott Hartnell's hairstyle.  It was a line that certainly generated some laughs around Twitter and the blogosphere today, but does Bryzgalov's joking nature distract him from performing well on the ice? Last season, Bryzgalov saw some stretches where he really struggled, and it sometimes seemed as if he would never gain his bearings and fit well in Philly. Heading into 2013, the 32-year-old goaltender seems much more prepared to be the go-to guy. "I had a great experience the last year. I understand the philosophy of how it works here, the fans, media, even the management of the team. I make some notes in my head for myself. And I'm going to follow them," said a collected Bryzgalov. The former Phoenix Coyote netminder is also looking forward to an expanded workload, at least percentage wise, this season. Head Coach Peter Laviolette has vowed to play Bryzgalov more this season, and Bryz certainly welcomed that opportunity. "When I play in Phoenix, I play almost 70 games a season and I feel great," said Bryzgalov. Obviously, 70 games isn't going to be an option in this 48-game, lockout-shortened campaign, but not having a goaltender like Sergie Bobrovsky behind him stealing more than just spot starts will certainly force Bryzgalov into a more prominent role. Last season, Bryzgalov finished with a .909 save percentage, 2.48 goals against average, and one charge of larceny after a fully-extended glove save on Pittsburgh Penguins' defenseman Kris Letang in the playoffs. Bryz started just 59 games in the regular season. With the Coyotes in '10-'11, Bryzgalov played in nine more games. He finished with an identical goals against average (2.48), but his save percentage was much more efficient at .921 for the season. The year before that, Bryzgalov started all 69 games that he played in. He posted a 2.29 goals against average with a .920 save percentage and 42 wins in what stands, right now, as the best season of his nine-year career. The moral of the story? Ilya Bryzgalov needs to play, and he needs to play often. He has the ability to be an elite goaltender in the National Hockey League when he's on top of his game. With the mental hurdles seemingly in the past, and without anyone breathing down his neck for playing time or overly criticizing his off-the-wall quotes, Bryzgalov can focus on being the starting goaltender.  We're acclimated to Bryzgalov's personality and playing style. He's acclimated to the hightened media attention and extremely passionate fan base. Let's hope the Russian goaltender can build upon a decent 2012 campaign and turn it into a stellar 2013 season. That would be one small step for Bryz, one giant leap for the Philadelphia Flyers. C.J. Burns is a contributor for Buzz on Broad. Follow him on Twitter @CJBurns215
Original Story:
http://www.buzzonbroad.com/2013/01/wh...
THE BACKYARD
BEST OF MAXIM
RELATED ARTICLES
Today, I can officially lift my self-imposed no NHL embargo because the NHL and the NHLPA finally came to their senses (with the help of federal mediator Scot Beckenbaugh). It sure feels good, and now the speculation can begin. Probably the most intriguing part of this new Collective Bargaining Agreement, aside from the length (10 years with an opt out at 8) is the addition of two...
Flyers coach Peter Laviolette is back where he belongs, at the team's training complex, speaking to reporters and watching some of his players work out. They're not all back yet, but they will be here soon, as the Flyers finally get a chance to wash away the sting of another short playoff run last season. The standard group of workout regulars that included defenseman Kimmo...
via Frank Seravalli of the Philadelphia Daily News, On Wednesday, the hot rumor was Luongo to . . . the Flyers? It all started with a report from former player-turned-analyst Enrico Ciccone, who tweeted that the Flyers have interest in Luongo. His report was seconded by TSN analyst James Duthie, who is believed to be a close friend of Luongo. When contacted, Flyers general...
Flyers' defenseman Andrej Meszaros When an agreement between the NHL and NHLPA to end the league's lockout was tentatively agreed on yesterday, many Flyers' fans donned orange and black with pride to celebrate the late arrival of a 2013 season. After allowing a much needed day for rejoice, it's time to dive into the issues that the team faces heading into the 48-game...
Categories: BREAKING NEWS Flyers News NHLTags: Anthony StolarzBrynäsFredric LarssonLondon KnightsUniversity of Omaha-NebraskaForgive the ambiguous title of the post, but the Philadelphia Flyers were informed of two developments today that affect two of their prospects from the 2012 NHL Entry Draft. The first is a bit of good news- the Swedish Ice Hockey Association has revised their...
Bill Guerin was around during the '94-'95 lockout-shortened season.  He said he plans to tell the players not to get too caught up in it.  Obviously much more at this link. It's great to watch Pens YouTubes without crying afterward.  
The Roberto Luongo trade rumours are in full force. Previously I've looked at the possibility of Luongo heading to Toronto, Edmonton, Florida and Chicago. Until today, I have not thought about the possibility of Luongo in the orange and black of the Philadelphia Flyers. The Luongo to Philadelphia rumour heated up today after TSN's James Duthie mentioned Philly's interest on...
Claude Giroux was among 5 Philadelphia Flyers who needed surgery to repair various ailments. Giroux had both of his wrists operated on. The Philadelphia Flyers will open camp this weekend, months after they were supposed to before a lockout almost caused a lost season. Camp will be short, probably beginning Sunday and ending Thursday or Friday. There will be no preseason games on...
Categories: BREAKING NEWS Flyers News NHLTags: Enrico CicconeIlya BryzgalovJames DuthieRoberto LuongoVancouver CanucksEarlier this morning, former NHL player and TV analyst Enrico Ciccone reported via twitter that the Philadelphia Flyers were interested in Vancouver Canucks goaltender (until next week) Roberto Luongo. Casual fans and Philadelphia media alike scoffed at the notion...
NHL News

Delivered to your inbox

You'll also receive Yardbarker's daily Top 10, featuring the best sports stories from around the web. Customize your newsletter to get articles on your favorite sports and teams. And the best part? It's free!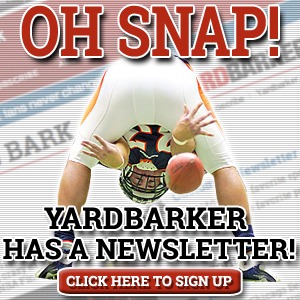 Latest Rumors
Best of Yardbarker

Today's Best Stuff

For Bloggers

Join the Yardbarker Network for more promotion, traffic, and money.

Company Info

Help

What is Yardbarker?

Yardbarker is the largest network of sports blogs and pro athlete blogs on the web. This site is the hub of the Yardbarker Network, where our editors and algorithms curate the best sports content from our network and beyond.