Found January 10, 2013 on Fox Sports North:
MINNEAPOLIS Adam Wilcox came to the University of Minnesota campus this fall for a job interview of sorts. The freshman from South St. Paul was in a competition with junior Mike Shibrowski to become Golden Gophers' starting goaltender. For the first few weeks of the college hockey season, Minnesota coach Don Lucia played each goalie for one game a weekend to see how they handled certain situations. But there was one game and perhaps even one play in October when Wilcox seized the starting job and made it his own. "There was a particular save up in Michigan Tech where he was sliding one way and the puck got tipped back, and he made just this tremendous glove save off a reaction," said Justin Johnson, a volunteer assistant coach who works with Minnesota's goalies. "That's where we looked at it and said, 'Wow, this kid is really seeing the puck well. He's ready for the types of mishaps and tips and stuff that happen. He's ready to play.'" With that performance, Wilcox became the Gophers' goalie of the present and the future. Wilcox hasn't left the net since starting the second game of that Michigan Tech series, a 3-2 win for the Gophers. After Tuesday's victory against Notre Dame, Wilcox has started 18 games, including 17 in a row. Along the way, he's garnered numerous accolades, twice winning WCHA Rookie of the Week honors. "It's nice to look at. It shows you're doing well, but you've kind of got to put it aside," Wilcox said of the awards. "You've got to look at it and kind of put it in the back of your mind and then get rid of it. You've got to take it game by game because one game can change a lot. One weekend can change it." Wilcox's stats put him among some of the nation's top goalies. He's posted a 1.62 goals-against average, sixth in the country and second in the WCHA. His save percentage of .929 is third in the conference. And he already has three shutouts; only three college hockey goalies have more. On Tuesday against Notre Dame, Wilcox made one of his more impressive saves of the year when he blanked Bryan Rust on a breakaway in the third period. It helped the Gophers maintain a 3-1 lead and showed just how cool Wilcox has been under pressure this season. "That's what Adam's been able to do, and that's one of the things that's impressed me the most is he makes the timely save, and really you can probably count on one hand the number of goals that maybe you could say it wasn't a good goal," Lucia said. "He makes the saves you're supposed to, too. He hasn't let in any leakers." Lucia credits Wilcox's athleticism for not only being able to make the impressive saves but to be in goal for back-to-back games. That athleticism was evident in high school, when Wilcox was also an all-state quarterback for the South St. Paul football team. Wilcox might even be able to hold his own as a forward on the Gophers, he said. During winter break, he joined some of his teammates for optional skates and ditched the goalie pads to take shots on net. Wilcox figures he might have a chance at being a second- or third-line forward, describing himself as a "playmaker." "All I know is that he's a tremendous athlete," Johnson said. "So whatever he's trying, he can be pretty good at it." All in the family Wilcox first started playing goalie when he was 5 years old, and he has his older cousin and former Minnesota-Duluth goaltender Alex Stalock to thank for that. Wilcox's mother and Stalock's mother are sisters, and both families live in St. Paul, which means Adam and Alex saw plenty of each other when they were younger. Stalock is five years older than Wilcox, but he'd still use his younger cousin as a goaltender when he got tired of being in net and decided he wanted to take some shots on goal. "They had a rink in their back yard and we had a rink in our back yard, too, when we were younger," Stalock said. "I'd work on some stuff with him or just go down and skate with him. It was good. A good way for him to start playing goalie." Stalock went on to star at Minnesota-Duluth from 2006-09. Since college, the San Jose Sharks product has played for the Worcester Sharks of the AHL. He made his NHL debut during the 2010-11 season, playing just 30 minutes in one game for San Jose. He has since worked his way back from a devastating leg injury that sidelined him for a year. When it came time for Wilcox to make his college choice, his cousin tried to persuade him to follow in his footsteps and head north to Duluth. In the end, Wilcox decided to stay home and play for the Gophers. "My family is big UMD fans. I took that into account. It was between UMD and here," Wilcox said. "It just came down to I wanted to come here most. I thought this would be the best place for me. It's a school I thought would have the best potential to win a championship." Handling prosperity So far, Wilcox's decision is paying off. He's the starting goaltender for the top-ranked team in college hockey, one that many have picked to contend for the national championship. If the Gophers do end up back in the Frozen Four, it'll be thanks in large part to Wilcox. The freshman is now 13-2-3 and has the nation's second-best winning percentage (.806). He rarely looks rattled in net, exhibiting plenty of confidence for a freshman. That poise was certainly evident in Minnesota's last two games. The Gophers hosted top-ranked Boston College on Dec. 30, but Wilcox wasn't fazed. He stopped 32 of 33 shots he faced to help Minnesota rout the Eagles, 8-1. "Those are my favorite games, when it comes down to the top teams," Wilcox said. On Tuesday, Notre Dame came to Mariucci Arena with the No. 2 ranking in the country. Once again, Wilcox rose to the occasion against elite competition. He allowed just one goal, stopping 22 shots in Minnesota's 4-1 win. "It's almost as if in some ways he's come in here and this is what he's expected of himself. He operates under this calmness of, 'Well, this is normal for me. This is what I expected to do. This is what I wanted to do, and it's happening,' " Johnson said. "I think some other goaltenders I've worked with over the past have maybe been a little burdened by that, like, 'OK, they've worked so hard to get here and now it's here and it's in my hands.' He's really taken it and ran with it." Wilcox was a sixth-round pick of the Tampa Bay Lightning in the 2011 NHL Entry Draft. Like many college hockey players, he has aspirations of playing at the next level. Seeing his cousin get that chance reinforced the goal for Wilcox. For now, though, Wilcox isn't looking too far ahead. He's not even looking ahead to next weekend, which will be his first taste of Minnesota's rivalry with North Dakota. His focus remains on the Gophers' upcoming series with Alaska-Anchorage. Everything else can wait. "I try not to get ahead of myself," Wilcox said. "I always put that as my goal for down the road, but I always take it game by game. If you don't take care of the present, the future's not going to be there." Follow Tyler Mason on Twitter.
Original Story:
http://www.foxsportsnorth.com/01/10/1...
THE BACKYARD
BEST OF MAXIM
RELATED ARTICLES
MINNEAPOLIS For the past two games, the top-ranked Minnesota men's hockey team played like a top-ranked team. The Gophers dispensed of then-No. 1 Boston College by an 8-1 final and took care of No. 2 Notre Dame with a 4-1 win on Tuesday. After performances like that, it seemed all but certain that Minnesota would trounce visiting Alaska-Anchorage, which had as many wins all...
Thanks to the athleticism of college basketball players, poster dunks happen almost every night in the real of college hoops. During last night's Minnesota/Illinois tilt, check out Illinois Brandon Paul who rises up to throw down a nasty dunk on Minnesota Trevor Mbakwe: Interesting postscript: Paul was called for a charge on the play but somehow the basket still counted...
Illinois Brandon Paul is one of the most underrated players in the country and last night he had one of the best dunks of the college basketball season. Paul had the ball out near the three point line and then he beat his defender off the dribble and headed to the hoop. Minnesota's Trevor Mbakwe tried to stop him but Paul went up and dunked on him. Paul was called for the charge...
The Gophers face the Hoosiers in Bloomington (Ind.) at 11:00 a.m. on Saturday. The contest will be broadcast on Big Ten Network. Join GopherDigest to chat live throughout the game.
All the numbers from Minnesota's 84-67 win over No. 12 Illinois at Assembly Hall. Joe Coleman had a career-high 29 points for Minnesota while Brandon Paul lead Illinois with 21 points.
CHAMPAIGN, Ill. (AP) — Joe Coleman scored 29 points and Andre Hollins added 22 to help No. 8 Minnesota top No. 12 Illinois Wednesday 84-67 and remain undefeated in the Big Ten.
Riding an 11-game winning streak, Andre Hollins and No. 8 Minnesota come to Bloomington as a legitimate contender for the Big Ten title. Could the Golden Gophers snap IU's streak of dominance in Assembly Hall? What to Expect » Podcast » (Photo: Associated Press)
NHL News

Delivered to your inbox

You'll also receive Yardbarker's daily Top 10, featuring the best sports stories from around the web. Customize your newsletter to get articles on your favorite sports and teams. And the best part? It's free!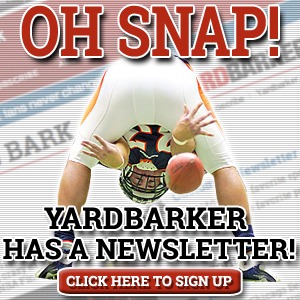 Latest Rumors
The Backyard

Today's Best Stuff

For Bloggers

Join the Yardbarker Network for more promotion, traffic, and money.

Company Info

Help

What is Yardbarker?

Yardbarker is the largest network of sports blogs and pro athlete blogs on the web. This site is the hub of the Yardbarker Network, where our editors and algorithms curate the best sports content from our network and beyond.