Found May 15, 2012 on Red Light District Hockey:
PLAYERS:
Ryan Suter
,
Brad Stuart
,
Nicklas Lidstrom
,
Henrik Zetterberg
,
Johan Franzen
,
Shea Weber
,
Ken Holland
,
John Carlson
,
Jonathan Ericsson
TEAMS:
Detroit Red Wings
,
Nashville Predators
,
Washington Capitals
It's obvious that the Detroit Red Wings need to make a few changes in the upcoming months. How big or how little the changes should be varies from fan to fan. One rumor seems to be fairly certain: the Red Wings are going to make a hard push for defenseman Ryan Suter.

With Brad Stuart 95% likely to leave for a team on the West Coast and the probability of Nicklas Lidstrom's retirement looming, a top defenseman is needed. Plus, the fact that the Nashville Predators went out in the second round, much earlier than the team wanted after defeating their measuring stick (the Red Wings), signing a core UFA like Suter won't be as difficult.

Type in "Ryan Suter" into Google, and the first option that comes up is "Ryan Suter Red Wings."
Suter is a solid defenseman. His price tag at the moment is $3.5 million, which is slightly less than what Stuart is currently signed for. Granted, Suter will be looking for an increase in pay, but the Red Wings won't stress if they have to toss in a little bit more to get a core player like him.

Suter has also mentioned that wherever he signs, he wants to be there for the rest of his career. A team like Detroit is prepared to do that, as they have already done with key players like Henrik Zetterberg and Johan Franzen. Suter is only 27 years old, which is kind of young for the Red Wings' standards. He proved in the first round against the Red Wings just how well he can play.

The Red Wings may have initially started the off-season by gunning for RFA Shea Weber. But fans are still a little more than angry about the incident in Game 1 with Zetterberg, and that's something they're not about to forgive so easily.

But on a more pertinent note, Weber's price tag could be just a little too high. He was awarded $7.5 million last off-season through an arbitration hearing. While the Red Wings will have that kind of money to play around with, they have to sign more than just a single defenseman. And Ken Holland is probably a little more focused on giving that kind of money to Nicklas Lidstrom, if he returns (though if he does return, it will probably be more around the $6.2 million he signed for this past season).

And it's a little too crazy to think that the Red Wings could get both Suter and Weber. So who else could the Red Wings potentially go after?

How about the overtime hero for Team USA in the 2010 World Juniors, John Carlson?

Carlson hasn't been in the NHL for very long, but he's been a great shut down defenseman for the Washington Capitals. He's only 22 and could benefit quite well on a team like the Red Wings. The problem? He's a RFA.

Do the Red Wings dare try to give him an offer sheet and have the Capitals either match it or decline and they end up losing picks or prospects in the process? The team does not put much stock in early round draft picks (see: Datsyuk, Zetterberg, Lidstrom, Jonathan Ericsson, Tomas Holmstrom...let's stop there), so parting with a pick or two may not be so devastating. Parting with a prospect may be a little more risky.

There are options out in the free agency pool; Philadelphia's Matt Carle, along with Suter, leads a thin group of impact defensemen that will be available this summer.

It's up to Ken Holland and the Red Wings organization to make all the final decisions on a back end that needs some help.

(This is a weekly recurring article where I throw out some legitimate [and some maybe a little crazy] moves the Detroit Red Wings could potentially make this off-season.)


Photo credit: Getty Images
Original Story:
http://www.rldhockey.net/2012/05/wing...
THE BACKYARD
BEST OF MAXIM
RELATED ARTICLES
The Red Wings' season is over, but forward Valtteri Filppula continues to make news on and off the ice. Filppula, playing for Finland in the World Hockey Championships, had two goals and two assists in Monday's victory over Kazakhstan. He's also featured in a viral Nike advertisement that was posted on the YouTube channel BreakTheSpell2012 on May 10. The video -- which...
The playing surface might be larger at the IIHF World Championships, but it would appear that "Kronwalled" sounds the same in any language. Getting "Kronwalled" also looks the same on any continent. Niklas Kronwall, who is playing for Sweden in the world championships this year, has become known for his bone-crunching checks and tooth-displacing hits across...
Kronwalled: Detroit Red Wing Niklas Kronwall is playing in the IIHF Ice Hockey World Championship for Sweden. Yesterday, he smashed Latvia's Kaspars Saulietis. Every time you check twitter or... Full story at Bob's Blitz ~ http://www.bobsblitz.com
Here's a round-up of the English-language news I missed due to my post-concussive equivalent of migraines, and just as the first catch-up post talked about future events before getting down to brass tacks, this post will follow the same format: • First and foremost, Pavel Datsyuk and John Tavares will face off in the semifinals of EA Sports' NHL 13 Cover Vote from Friday...
Sweden finished Preliminary Round play at the World Championships with a 4-0 win over Latvia, and finished the round with six wins and second in their pool behind Russia. During the second period of the Swede's game against Latvia, Swedish defense-man, Niklas Kronwall, unleashed his token hip/back/shoulder check along the boards on Kaspars Saulietis.The hit is very similar to...
Prior to taking a three-day break due to what I can best describe as the equivalent of post-concussive migraines, the World Championships' round robin stage was still underway in Stockholm and Helsinki. Today, the round robin portion of the tournament has wrapped up, and the top four teams from the Stockholm Group—Russia, Sweden, the Czech Republic and Norway—will tangle...
As the World Championship's Quarterfinals begin bright and early at 6 AM EDT with Canada and Slovakia kicking off the day's festivities (on TSN and the NBC Sports Network), and my migraines haven't gone away, I'm gonna tuck in early while warning you that the headaches mean that you might not see as much translated Swedish, Russian, Finnish, etc. as usual (sorry), and also...
Among the many news items in the catchy-uppy post, the Left Wing Lock's Sarah Lindenau posted the schedule for this summer's Red Wings prospect development camp, which will take place at its usual time, the second week of July, at Centre Ice Arena in Traverse City, MI: Continue reading "On the Red Wings' prospect camp and…training camp?"
from Elliotte Friedman of CBC, Plenty of Ryan Suter talk last week on Hotstove, but here's the gist: Bonus money will probably be a huge factor, because it will not be affected by a potential labour stoppage or salary rollback. In the first two years of Brad Richards' contract, 75 per cent of the $24 million US owed him is in bonuses. It's $13 million (of $18 million) for Christian...
I have written a few controversial pieces here at HockeyAnalysis.com (for example, my post on Luke Schenn back when Leaf fans thought Schenn was the best thing since sliced bread) and I suspect this might generate some controversy as well because of the conclusions made about Zetterberg's weak defensive ability.  I also want to do [...]
Keep your head up Kaspars.if Niklas Kronwall is on the ice.
Barret Jackman upon hearing that Detroit might be interested in signing him. Ned Kuflan of the Detroit News has an interesting proposition for fans of the Red Wings: if you can't get star defenseman Ryan Suter during the free agent frenzy, Barret Jackman'd do in a pinch.  Are Suter and Jackman comparable? Absolutely not - they have different roles on their respective...
NHL News

Delivered to your inbox

You'll also receive Yardbarker's daily Top 10, featuring the best sports stories from around the web. Customize your newsletter to get articles on your favorite sports and teams. And the best part? It's free!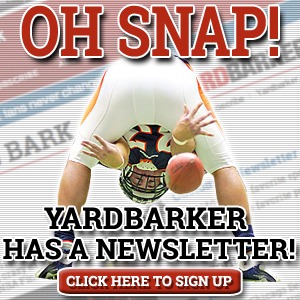 Latest Rumors
Best of Yardbarker

Today's Best Stuff

For Bloggers

Join the Yardbarker Network for more promotion, traffic, and money.

Company Info

Help

What is Yardbarker?

Yardbarker is the largest network of sports blogs and pro athlete blogs on the web. This site is the hub of the Yardbarker Network, where our editors and algorithms curate the best sports content from our network and beyond.