Found October 26, 2012 on Kukla's Korner:
from Bob Duff of the Windsor Star, With news arriving Friday that NHL commissioner Gary Bettman had announced the cancellation of all regular-season games through the end of November, members of the locked-out Detroit Red Wings made no effort to hide their distaste for the leader of their league. "To me, it seems like everything Gary Bettman does is in spite," Detroit defenceman Ian White said. "It seems like what he does is meant to send a message, or for leverage. It's always some sort of tactic with him. It doesn't surprise me." Wings centre Darren Helm views the move as a power play by the NHL leaders, a scare tactic if you will. "For them to cancel games right now into November, I don't quite understand why they're doing that," Helm said. It just sounds like it's a play on their part to get us a little worried, scared about what's happening.... continued
Original Story:
http://kuklaskorner.com/tmr/comments/...
THE BACKYARD
BEST OF MAXIM
RELATED ARTICLES
from Frank Seravalli of the Philadelphia Daily News,  How much do NHL owners appreciate the job Bettman has done? Look no further than his executive board-approved salary, which more than doubled from the last lockout in 2004 to a reported $7.98 million in the fiscal year 2011. Ed Snider has to love Bettman. According to Forbes Magazine, the Flyers spent $73 million in...
The NHL owners and players have until Thursday to strike a deal that would bring about a full 82-game regular season. As both sides are not scheduled to meet this week, the possibility of a shortened season is looking more and more like a reality. The NHLPA reached out to the owners on Tuesday in hopes of meeting on Wednesday, but the league denied the invitation...
NHL Commissioner Gary Bettman The Editor-in-Chief of The Hockey News, Jason Kay, tweeted in mid-October that there's "strong speculation" the league will add a second team in Toronto and one in Quebec City via expansion. While the league denied the report within hours of its publication, there is some evidence to suggest that either, or both, of those markets could get an...
"I really thought Gary Bettman would want to show the world that he had the ability to get a deal done without locking out the players,." "Based on him raising revenues to record heights since the last lockout, and based on the fact that the game has never been more exciting, I thought that it would have been a perfect way to leave his legacy with this port and...
from Larry Brooks of the NY Post, Here is how Charles Wang, the Islanders organization, Gary Bettman and the chronically battered fan base of what has become the NHL's Shipwreck Franchise know the club's move to Brooklyn three years hence is a win-win for all interested parties: Not even I can conjure a negative response to it. There are issues for the franchise...
It could well be a long, long winter for hockey fans. In the back-and-forth between the NHL and the Players' Association, neither side seems willing to budge, and at this point they can't even seem to agree whether or not to meet -- and when they do, the big issues have a way of going on the backburner. Earlier Friday a report emerged that the NHL and commissioner Gary Bettman...
The deadline for a full NHL season has come and gone, and with it has passed the opportunity for any games until at least December. The league will be cancelling all games scheduled for November, according to the Sports Business Journal, possibly signaling that they aren't expecting any significant talks with the union. NHL canceling all November games. NHL had said one week...
from Tim Sassone of the Chicago Daily-Herald, Jonathan Toews has been one of the most outspoken players, criticizing NHL Commissioner Gary Bettman and the owners about their tactics. Toews also is worried that the whole season could be missed. "I don't know, I wasn't there in '04-'05, and there's a lot of things you can look at that differentiate the two situations...
Photo by: anguscertified.com Last week provided the Wabash Cannonball experience for Nashvillians, especially Predator fans. The NHL and Gary Bettman put forth a "good faith" effort to come to terms with the NHLPA by offering a proposal that would see the revenue sharing split 50-50. By using a sliding scale for the salaries already in place, the league would be able to offer...
To The NHL: Where do I begin? During the course of the last seven years since the last lockout, you have seen record growth; growth that many American businesses would kill to have. You have watched your sport increase its fan base year in and year out, even in markets where it usually would not make sense (Phoenix, Carolina, etc.). Now here we are: a month into another lockout...
Red Wings News

Delivered to your inbox

You'll also receive Yardbarker's daily Top 10, featuring the best sports stories from around the web. Customize your newsletter to get articles on your favorite sports and teams. And the best part? It's free!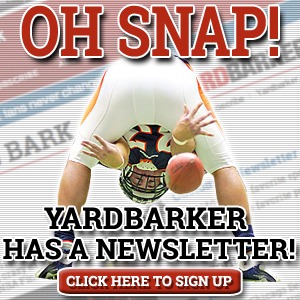 Latest Rumors
Best of Yardbarker

Today's Best Stuff

For Bloggers

Join the Yardbarker Network for more promotion, traffic, and money.

Company Info

Help

What is Yardbarker?

Yardbarker is the largest network of sports blogs and pro athlete blogs on the web. This site is the hub of the Yardbarker Network, where our editors and algorithms curate the best sports content from our network and beyond.