After reading the headline you've probably already made up your mind about the question I posed… "NO!" Case closed, end of the article, let's move on. Well as much as it pains to me to even consider the notion, I feel that due to the circumstances surrounding the Buffalo Sabres we must at least entertain it. I've made no secret in past posts that Thomas Vanek is my favorite player. Since joining Buffalo in 2005 all three of the Sabres jerseys I've owned have been TV's. There is certainly no shortage of Vanek fans in seasons like 06-07 or 08-09 when he scores 40-goals, but I've stuck by the Austrians side even in his off years. The years where people said he was lazy, or lost a step… I was there. Everyone continues to believe in their favorite player and defend them when thing aren't going according to plan, however after 3 years of subpar play, I was beginning to run out of excuses. For having all the talent in the world, there was just no reason he wasn't producing at a steadier pace. To my surprise (and relief) this season has been a magical renaissance of sorts. (Photo courtesy of TheHockeyWriters.com) After averaging only 28 goals over the past 3 seasons, Vanek has scored 8 goals & chipped in 11 assists in 8 games so far this season. Night in and night out he is producing and for an offensively gifted player, there is no better feeling than consistency. Even in the nights where no one else shows up, Thomas has been more than effective. After almost singlehandedly willing the Sabres to comeback and beat the Bruins with a 5-point performance Thursday night, TV has yet to slow down. He was named the NHL's third star for the month of January and received the honor of being this week's fist star. Accolades aside, he is also maturing in more than just his play on the ice. After seeing poor performances by many of his teammates on a regular basis this season, he has taken on a vocal leadership role inside the locker-room, which isn't something he has been known for up to this point in his career. Many felt that that was one of the key components that resulted in Jason Pominville being named team Captain last season as opposed to Vanek. The positives are endless for the guy this season, while the negatives seem to have disappeared as quickly as Tyler Myers' game. No one can deny he's having an MVP caliber start to the season so you might ask, "Why the heck would we trade him???" That is where things get a little more complicated. The first point on why this outlandish idea bars some consideration will require a quick refresher in Economics 101. In any business it is common sense to sell high. You get the most for something when it is performing at its optimal level. Why do ticket prices go up when your favorite team wins a championship? I know this one might be tough for us Buffalo fans, but the answer is because success dictates value. The buyer is willing to pay more for a top-level product and in sports it is no different. A professional athlete having a career year is going to demand much more on the free agent market or trade block than they would in a regular year. With TV off to a blazing start, his selling point is perhaps higher than it's ever been. As is evident by my Myers joke, things can change rather quickly in one's playing career so it's important to not take this type of season lightly. The second point relates to a team's potential contractual obligation to Vanek. Unlike guys in the beginning or middle of an absurd monster deal (Ilya Kovalchuk cough cough,) Vanek is only signed through next season, at a reasonable $6.4 mil per. That means if his play drops off, the team that trades for him is off the hook after the 2013-2014 season. No renegotiation required to get a deal done, just trade for him & let him play for a season and half before you decide if you want to extend him. This point again increases the value of what you'd receive back in a trade… Cha-ching. Lastly, his age/durability is not an issue. Having just turned 29, Vanek is still in the prime of his career. While he isn't as young as some of the other stars around the league, he'll only be 30 when he becomes a free agent. Vanek has also never missed more than 11-games in a season, which often factors into the risk/reward column when determining the value of a player. All of these facts become null and void in one instance and one instance only… the team is winning. Regardless of all the intangibles that surround professional sports, at the end of the day the only thing that really matters is winning. You make a move because it'll help you win more games. Now of course sports are a business and money is always the bottom line, BUT what helps you make more money??? If you said winning, well then give yourself a big gold star or a pat on the back! Unfortunately for the Sabres this season, winning hasn't been a consistent result. After starting off 2-0, the team has fallen to 3-5-1 and is in 11th place in the East. You may say it's too early to panic, to which I'd say go read my post from last week(shameless plug I know). Then I'd say we're 9 games in, which is over 1/5 of a 48 game season. Of course there is still time to right the ship, but nothing about this team screams championship contender. Sure all it takes to make a run at the cup is getting to the postseason as anything can happen, but you also need to be smart about preparing for the future. If the Sabres were winning games and looking like they could make a run at this thing, then this post never gets written. Should the Sabres throw away this season because things haven't gone the way they'd hoped? Of course not. Should they be smart about considering opportunities that'll help them improve overall and avoid starts like this in the future? You betcha. (Photo courtesy of BuffaloHockeyBeat.com) Just to clarify, I'm in no way suggesting the Sabres trade away Vanek for scraps. If you're going to trade your franchise player, you better get a good return and I understand that. If the team can bring back talent up the middle, draft picks for the future and sew up any other weaknesses they feel are becoming consistent issues than I think it makes sense to see what is out there. Do I want to see Vanek scoring 40 or 50-goals for another team? Absolutely not. Would I regret writing this if he is traded and helps someone else win the Stanley Cup? Most likely. Do I think the Sabres will move him before the deadline? Probably not. The point I wanted to make is simply this, regardless of how absurd the thought of moving a star player is, NO ONE is untouchable. If Wayne Gretzky can get moved so too can Thomas Vanek. At the end of the day the greater good of a franchise is more important than any one player. Having said that, you have a right to think that trading a guy like Vanek is unacceptable. Trading away a player with top-tier talent isn't an easy notion for any fan to come to terms with. However, while there is no doubt in my mind number 26 makes this team better, what good is being better if you still aren't good enough? Feel free to let me know what you think on Twitter at: @BradleyGelber The post Would You Trade Thomas Vanek? appeared first on Queen City Sports.
Original Story:
http://queencitysports.net/opinions/w...
MORE FROM YARDBARKER
NHL News

Delivered to your inbox

You'll also receive Yardbarker's daily Top 10, featuring the best sports stories from around the web. Customize your newsletter to get articles on your favorite sports and teams. And the best part? It's free!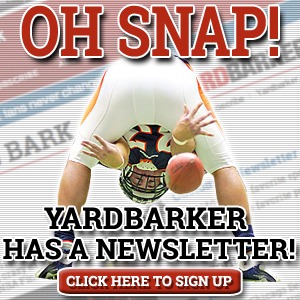 Latest Rumors
Best of Yardbarker

Today's Best Stuff

For Bloggers

Join the Yardbarker Network for more promotion, traffic, and money.

Company Info

Help

What is Yardbarker?

Yardbarker is the largest network of sports blogs and pro athlete blogs on the web. This site is the hub of the Yardbarker Network, where our editors and algorithms curate the best sports content from our network and beyond.