Jake Virtanen makes a costly error in the neutral zone that leads to Nicholas Baptiste putting the Sabres up 2-0.
Vancouver Canucks forward Jake Virtanen was in full flight and had his stick flying all over the place like a baton but manages to settle it down and get a shot off on Toronto Maple Leafs goalie Frederik Andersen.
Vancouver Canucks' Jake Virtanen knows that creating turnovers will be his road back into the lineup, Travis Greene sees bright spots in the young forward's game.
The Vancouver Canucks get a massive goal from youngster Jake Virtanen, Flames Tkachuk makes a power move vs. the Predators, a pair of hat tricks come from an unsuspecting and suspecting source, a penalty shot gets converted spectacularly, and more in a second edition of Plays of the Night for Oct, 24 2017. 00:00 Canucks' Virtanen scores game-winner against Wild 00:54 Flames' Tkachuk...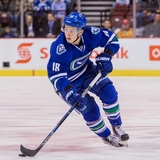 I was watching this dirty hit by Vancouver Canucks forward, Jake Virtanen on Carolina Hurricanes forward, Joakim Nordstrom, there was no call on the play.  Actually, I am wondering why this hit didn't at least get a hearing. Virtanen slams Nordstrom's head into the boards. According to NBC Sports, "Vancouver forward Jake Virtanen isn't scheduled to have a disciplinary hearing after...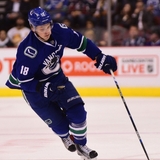 NEW YORK (AP) The NHL has suspended Vancouver Canucks forward Jake Virtanen two games without pay for what the league called a ''vicious'' blindside check on San Jose Sharks defenseman Roman Polak. Virtanen will forego more than $9,600 in pay because of the hit that occurred in the second period of San Jose's 4-1 win on Tuesday night. Polak had just passed the puck out of his end...
Team Canada's World Junior Championship came to a disappointing conclusion with a quarterfinal loss to Team Finland Saturday, and upset Canadians have already found a scapegoat in Vancouver Canucks rookie Jake Virtanen. The 19-year-old winger did not have a strong tournament, tallying one point through Canada's five games. His three penalties in Saturday's loss became a point of...
It's Thursday night and the Canucks just got paid, so what are rookies Jake Virtanen and Ben Hutton going to do? Head to Virtanen's parents' house for dinner of course. "We finished (practice) early today so I will go back home and have dinner with my family," Virtanen told the Vancouver Sun. "Ben wanted to come. I am going to show him Abbotsford, [British Columbia]. He's pretty...
Young Jake Virtanen is doing anything he can to make the Canucks' roster this season, and apparently that includes scoring a goal off his face. Yes, the poor 19-year-old showed his mettle in a game against the Edmonton Oilers Thursday night when a shot deflected off his face and past Edmonton goalie Yannick Weber for a goal. Virtanen needed some stitches due to the play, but he was...
MORE STORIES >>
Canucks News

Delivered to your inbox

You'll also receive Yardbarker's daily Top 10, featuring the best sports stories from around the web. Customize your newsletter to get articles on your favorite sports and teams. And the best part? It's free!