Check this out, as Hurricanes' Josh Jooris challenges Roman Polak, after the Maple Leafs big dman took out teammate Marcus Kruger along the boards.
Coyotes forward Josh Jooris offers pre-game insight into Saturday's home game vs. St. Louis.
From the morning skate, Coyotes forward Josh Jooris discusses playing against the New York Rangers, the team he started the season with, on Thursday.
From Pittsburgh, Coyotes center Josh Jooris answers questions a few hours before making his debut with Arizona on Monday vs. the Penguins.
As Dave pointed out earlier in the week this offseason has been eerily quiet, especially considering the rumors early in the offseason that big changes were coming to the roster. Instead we've seen the Rangers make small, savvy moves like the recent acquisition of Josh Jooris. While it's entirely possible that there's still a trade […] The post Second buyout window offers opportunity...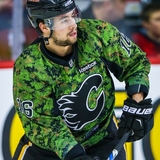 The Rangers have signed UFA forward Josh Jooris (terms undisclosed), who was with the Calgary Flames the past two years. Over 119 games with Calgary, Jooris put up 16-21-37 as a bottom-six forward. The 26-year-old, right-handed forward will likely serve as a depth forward. It's worth noting that Jooris hasn't spent significant time in the AHL […] The post Rangers sign forward Josh...
After seeing their team lose all three games on its recent road trip, Calgary Flames teammates - and roommates - Johnny Gaudreau and Josh Jooris likely can't wait to return to the comforts of home.The soft-spoken pair recently allowed the team's website a closer look "at their crib," complete with plenty of playful banter and light-hearted ribbing along the way.Gaudreau and Jooris...
Calgary Flames center Josh Jooris signed a one-year deal on Friday.The sides avoided an arbitration hearing on Tuesday by coming to terms on a contract worth $975,000, according to CBC's Tim Wharnsby.Jooris collected 12 goals and as many assists while playing in 60 games during his rookie season in 2014-15. The 25-year-old Ontario native is the second member of the Flames to sign...
  Josh Jooris scored 1:08 into overtime to lead the Calgary Flames to a wild 4-3 win over the Edmonton Oilers on Wednesday night. Jooris, who missed the previous three games because of an upper-body injury, took a pass from Jiri Hudler and put a shot into the top corner behind goalie Ben Scrivens. Joe Colborne scored his second and third goals of the season - all against the Oilers...
Calgary Flames rookie Josh Jooris took the ice in his first NHL game and wasted no time having an impact. He scored a real nice goal on Sergei Bobrovsky and his family loved it. .@JJooris19 with the puck from his first @NHL goal pic.twitter.com/eNta4wc5gk — Calgary Flames (@NHLFlames) October 18, 2014 [@myregularface] [@myregularface] The post Flames' Josh Jooris Scores First NHL...
MORE STORIES >>
Hurricanes News

Delivered to your inbox

You'll also receive Yardbarker's daily Top 10, featuring the best sports stories from around the web. Customize your newsletter to get articles on your favorite sports and teams. And the best part? It's free!