Watch as Marc Staal redirects a seam pass to bring the New York Rangers within one goal of tying the Toronto Maple Leafs.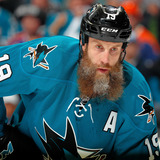 At the opening of training camp, there seemed to be no doubt in the San Jose Sharks dressing room that Joe Thornton would be ready to hit the ice again one the season gets underway. But the 38-year-old big man, who underwent knee surgery this off-season, still has to prove that he has enough left in the tank to compete with the league's up-and-coming youngsters. And he isn't the...
After a rough 1-3 start to the season, the New York Rangers have bounced back with two straight victories, in which they outscored opponents 6-1. However, despite the apparent return to form of Henrik Lundqvist and the improved play of the defense, the first six games have compounded a dilemma that has been bothering upper management for months: Should the Rangers resign Marc Staal...
Marc Staal has been a trending topic for #NYRTwitterati for at least a week now. Last Monday, I added my third piece of evidence as to why Staal should not be re-signed. Based largely on Staal's poor WOWY (with you and without you) statistics, I concluded the following: Staal's performance heavily relies on the quality of his teammates. continue reading...
Marc Staal has brothers, this is not new to you by now. Most of them as you will surely know are in Carolina and the longer Rangers defenseman Marc Staal goes without a new contract there will be the same old assumptions that he will end up in Carolina with his brethren. Recently, media reports […] The post A second Staal in New York? appeared first on Blue Seat Blogs.
At first glance, Marc Staal looks like he had a pretty solid season last year. Staal and his defensive partner Anton Stralman created a formidable second pair that played a key role in the Rangers march to the Stanley Cup Final. Staal posted a CF% relative to his teammates during 5 on 5 of 3.29%, continue reading...
Marc Staal is one year away from unrestricted free agency and the Rangers may have already missed their best opportunity to solve the dilemma. According to Larry Brooks, Staal may be seeking a multi year deal worth $5.5M per, which is entirely too much for the Rangers-bred defenseman. If Staal really is seeking the same six year, $30M contract that the Rangers gave Dan Girardi, he...
Happy Almost-Three-Day-Weekend folks. A lot has gone on in Rangerland over the past few days, so let's get to the musings. The Rangers have $14.6 million in cap space to fill six forward spots and one defense spot. If you allocate about $12 million to Derick Brassard ($4 million), Mats Zuccarello ($4.5 million) , Chris […] The post Musings: What's next? What is the ideal situation...
Can Staal get back to his dominant old self? With Marc Staal returning to the line-up tonight, speculation will (re) begin as to whether the timing of his return is right or whether Staal will ever be able to return to his previous best. In addition to the obvious chase for a playoff spot and the continued (prolonged) acclimatisation to the new coaching staff, the Rangers will need...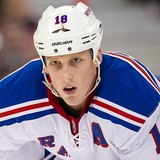 Can Staal get back to his dominant old self? It's hard to count on a player that hasn't played a full season since 2010. It's hard to rely on a player that has been told he'll never truly be 100% again. It's also hard to know where to begin with a player who has seen Ryan McDonagh and Dan Girardi (by necessity) pass him on the depth chart. Marc Staal is a luxury. It's this fact that...
MORE STORIES >>
Rangers News

Delivered to your inbox

You'll also receive Yardbarker's daily Top 10, featuring the best sports stories from around the web. Customize your newsletter to get articles on your favorite sports and teams. And the best part? It's free!