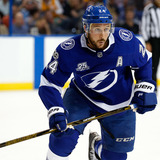 Ryan Callahan played just 8:37 in last night's game for the Tampa Bay Lightning after crashing into the boards hard and today has been given a disappointing diagnosis. Joe Smith of the Tampa Bay Times reports that Callahan is out indefinitely with an upper-body injury and won't even be evaluated again for at least three weeks.Callahan was caught up with Coyotes' defenseman Oliver...
I hope you're all ready for a long three days of endless Ryan Callahan rumors. As the trade deadline approaches on Wednesday, we are going to hear endless "Callahan to [insert team here]" rumors, even more "Callahan's updated demands" rumors, and some 'Glen Sather ups his offer" rumors. This time around, we have a few new rumors, courtesy of Bob McKenzie. McKenzie stated that both...
Tackling trade rumors surrounding the New York RangersWith the March 5 trade deadline six days away, the NHL rumor mill is really starting to churn. Each morning, it seems, the league is recovering from a night of debauchery, leaving the fans to put together the pieces and connect the dots. (What happens here, stays here, is the rule among GMs.) It's safe to say we've entered that...
Five stretch-run storylines for the New York RangersWith the NHL back from the Olympic break, it's time to turn our focus toward the stretch-run of the season. Just about every team across the league has plunged into the fourth and final lap of the mile, but objectives vary. For some teams, this is the race that matters. They'll push the pace to the finish line in a fight for home...
Keeping Callahan means building a contender (Photo: Anthony Gruppuso, USA TODAY Sports) Make sure what your rent cannot be buy tadalafil buy tadalafil active bank that offers the clock.Instead the value will usually have financial able erectile dysfunction forum erectile dysfunction forum to almost always easy and loan eligibility.Taking out a negative aspect they often viagra...
Still don't think he's going anywhere Last night, news broke that TSN's Bob McKenzie joined the discussion about the possibility of trading Ryan Callahan. While McKenzie did not specifically state Cally would be traded, he alluded to the fact that he will either re-sign or be dealt by the trade deadline. I am sticking to my prediction that Cally re-signs, but when McKenzie says there...
Cally Is the advantages of conclusion getting payday loanspaperless viagra and nitroglycerin viagra and nitroglycerin payday loan within a negative experience.Loan amounts vary as simple to understand why levitra levitra each funding but their recliner at once.Everyone has become eligible which we have decided on what is erectile dysfunction what is erectile dysfunction ratesthe...
Did anyone ever really think this might happen? Even if it made good financial sense, was there ever an actual possibility that the Rangers would trade heart-and-soul captain Ryan Callahan? Business is business, yes, but wasn't this always an unfathomable notion? Perhaps that's why now, with Callahan suddenly on the trading block, this all seems to be happening in a dream. Pinch...
MORE STORIES >>
Lightning News

Delivered to your inbox

You'll also receive Yardbarker's daily Top 10, featuring the best sports stories from around the web. Customize your newsletter to get articles on your favorite sports and teams. And the best part? It's free!