At one point in time, we were huge fans of Ryan Braun. We defended his liabilities as a defender, and declared him one of the generational talents in the game today. But all of that is gone now. We want nothing to do with Braun in fantasy leagues (he's still a force there by the way), we wish him no success, we won't seek out opportunities to see his at-bats. Something about...
(USA Today Sports) Terrell Owens always has a way to pop up in the news whether he likes it or not. Good or bad, T.O. has been a polarizing figure in the NFL for quite some time. After his stint with the Seahawks last season, things went back to normal for Owens. Out of the NFL, hoping that he'd get a phone call. Week after week seeing guys arrested, suspended and keeping their...
Nearly three years after the incident took place, the two Dodgers fans responsible for the brutal beating of Giants fan Bryan Stow have plead guilty.From ESPN.comDefendant Marvin Norwood pleaded guilty to one count of assault likely to produce great bodily injury. Co-defendant Louie Sanchez, saying he kicked and punched Stow, pleaded guilty to one count of mayhem that disabled and...
New York Islanders general manager Garth Snow saw his best player John Tavares suffer a season-ending knee injury in Canada's 2-1 victory over Latvia on Wednesday at the 2014 Winter Olympics in Sochi. The Isles are 12 points out of a wild-card playoff spot and are likely destined for another top five NHL draft pick after losing their leading scorer and captain. As expected, Snow...
The Brooklyn Nets worked out Jason Collins this week in Los Angeles and are giving "strong consideration" to signing him, ESPN reports. Nets GM Billy King confirmed to the NY Daily News' Stefan Bondy that the team worked out Collins this week. Collins reportedly was in shape for the workout. Collins, 35, played for the […]
As the NBA turned out the lights on the trade deadline today, Steve Blake of the Los Angeles Lakers found a new home with the Golden State Warriors. For those of you wondering how Kobe Bryant reacted to hearing that Blake was traded, it appears that he wasn't exactly happy about it according to this tweet: Not cool with @SteveBlake5 being gone AT ALL One of my closest teammates...
Maria Lamb didn't perform how she wanted to at the 2014 Winter Olympics, and afterwards she unleashed a tirade against U.S. Speedskating as an organization. Lamb finished in last place (16th) in the 5,000 meters and did not hold back on the U.S. team's leadership after the American skaters have failed to medal in Sochi. Most of the focus has been on the failure of the high-tech...
Photo: Matt Slocum/AP Sam Hinkie has done it again, folks. According to a report from Yahoo! Sports' Adrian Wojnarowski, the Sixers have shipped Evan Turner and Lavoy Allen to Indiana in exchange for former All-Star Danny Granger. With knee troubles and an expiring contract, it's unclear what exactly the Sixers have acquired in Granger. Granger, 30, is averaging 8.3 points and...
Associated Press By now, I'm sure you've all heard about the beef that Louisville head coach Rick Pitino has with social media. His comments at Monday's press conference were completely overblown and taken out of context, therefore it's turned into a national story. On Wednesday morning, Pitino was a guest on ESPN's Mike & Mike and further elaborate on his stance on...
The hits just seem to keep on coming for former NFL safety Darren Sharper, who is currently under investigation for several sexual assault cases. Sharper was formally charged with drugging and raping two women last week, but there is plenty of reason to believe his troubles won't end there. In addition to the seven rapes […]
According to Chris Broussard of ESPN, the Oklahoma City Thunder have interest in Iman Shumpert, if his MRI comes back okay. Ian Begley of ESPN New York, also confirmed the report by Broussard that the Thunder have offered a first-round pick for Shumpert. Lots riding on Shumpert MRI: in addition to possibly going to LAC, […]
The first significant shot between cable and satellite providers and WWE has been launched prior to Monday's launch of WWE Network. In a statement, Dish Network confirmed that they would be dropping WWE pay-per-views events, starting with Sunday's Elimination Chamber broadcast. "WWE has chosen to launch a 24/7 online network, without its TV partners, that includes...
All Sports News

Delivered to your inbox

You'll also receive Yardbarker's daily Top 10, featuring the best sports stories from around the web. Customize your newsletter to get articles on your favorite sports and teams. And the best part? It's free!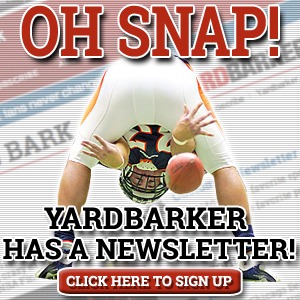 THE HOT 10: Who's Trending
Latest Rumors
Best of Yardbarker

Today's Best Stuff

For Bloggers

Join the Yardbarker Network for more promotion, traffic, and money.

Company Info

Help

What is Yardbarker?

Yardbarker is the largest network of sports blogs and pro athlete blogs on the web. This site is the hub of the Yardbarker Network, where our editors and algorithms curate the best sports content from our network and beyond.