Found November 08, 2012 on Wrestling-Edge.com:
- It should be noted that a lot of the advances for WWE's current UK tour have been the lowest since anyone can remember. The Wrestling Observer reports that there are seven arenas that are considered "sister" arenas booked for this week and not one is sold out. Some are only about half-way sold out. Some tickets prices are being slashed for the rest of the tour.- The WWE Classics "Five-Star Match of the Week" for this week was chosen by Wade Barrett. He picked Bret Hart vs. British Bulldog from SummerSlam 92. Barrett commented:"[The Bulldog] was from just down the road from me, near Wigan. I'm from Preston, very close. He was my idol as a kid, so this was a great moment and great to have a pay-per-view like SummerSlam in the U.K. I hope we get that again one day."- WWE Champion CM Punk told fans on Twitter to stop talking about Linda McMahon's failed Senate bid as it relates to the WWE PG era. Punk tweeted:"Enough about the PG era and Linda. Nothing to do with one another. Stop liv...
Original Story:
http://www.wrestling-edge.com/wwe-new...
THE BACKYARD
BEST OF MAXIM
RELATED ARTICLES
Wade Barrett cut a promo for the UK crowd after RAW went off the air, which you can watch below…
- WWE will launch their online pre-sale for WrestleMania 29 tickets this morning at 10am EST. Pre-sale codes that you can use include LINES, IZODVIP and ACCESS. - New promotional material released for the WrestleMania 29 tickets still features John Cena, The Rock and Brock Lesnar as the top billed stars. - Speaking of WrestleMania 29 tickets going on sale, Wade Barrett wrote the...
- Below is footage of Wade Barrett speaking to the crowd after last night's RAW in England: - To hype tonight's Super SmackDown on SyFy, WWE's website is doing an angle where Big Show attacked Sheamus in a pub last night after RAW. William Regal, who was out having a pint with Sheamus, tried to break the fight up. Big Plans Revealed for the World Title + Busty New Layla Candids!
– Following Wade Barrett discussing his desire for WWE to bring SummerSlam back to the UK, it has now been reported that WWE officials have been meeting with representatives from several major stadiums in the UK about running a stadium event. WWE recently met with representatives from a stadium in London as well as Manchester's Old Trafford soccer stadium. On Friday, WWE officials...
- In the following video, Cody Rhodes shows Wade Barrett a thing or two about how to play WWE '13.- Two matches were taped Tuesday in Birmingham, England for WWE Saturday Morning Slam.* Jey Uso and Jimmy Uso vs. Justin Gabriel and Tyson Kidd* Ted DiBiase vs. Jinder MahalThe commentators were Josh Mathews and R-Truth.- The official WWE website has a poll asking who poses a bigger...
This week's show begins with the opening theme and crowd shots from Birmingham, England as Michael Cole welcomes us to the show with The Miz on color. This week, Sheamus faces Wade Barrett.-Big Show's music hits and he comes down as we check out the footage from the pub fight. Show joins commentary. Wade Barrett's music hits as he makes his way to the ring for his match. Cole...
- WWE Superstars Wade Barrett and William Regal spoke to DigitalSpy.com to promote the current WWE European tour. Here are some highlights: Is it harder to get the big chances and big title bouts as an Englishman? William: "I don't think it's any harder than for anyone else once you get yourself over there. Getting over there is the hard thing. If you've got the...
- Wade Barrett was asked on Twitter why he wraps his knuckles. He replied: "I wrap my fists, but my knuckles are always bare. Wrapping my fists compacts the metacarpal bones in my hand, which leads to a harder punching surface and a reduced risk of injury." - The local wrestler who Jack Swagger defeated before Tuesday's WWE TV tapings in Birmingham was Dutch wrestler...
Wade Barrett & William Regal were recently interviewed by DigitalSpy.com, here are the highlights… Is it harder to get the big chances and big title bouts as an Englishman? Regal: "I don't think it's any harder than for anyone else once you get yourself over there. Getting over there is the hard thing. If you've got the talent it'll shine through. I went over there...
Michael Cole interviews Sheamus to start the show. Cole shows a video from a pub last night where Big Show attacked Regal and Sheamus. Sheamus says show went too far. Show appears on the tron and tells Sheamus he has no reason to fight him. Wade Barrett comes out and tells Sheamus he's surprised he wants to fight anyone when they have a match booked for main event. Sheamus wants...
Soccer News

Delivered to your inbox

You'll also receive Yardbarker's daily Top 10, featuring the best sports stories from around the web. Customize your newsletter to get articles on your favorite sports and teams. And the best part? It's free!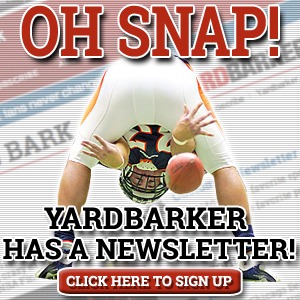 Latest Rumors
Best of Yardbarker

Today's Best Stuff

For Bloggers

Join the Yardbarker Network for more promotion, traffic, and money.

Company Info

Help

What is Yardbarker?

Yardbarker is the largest network of sports blogs and pro athlete blogs on the web. This site is the hub of the Yardbarker Network, where our editors and algorithms curate the best sports content from our network and beyond.