Found July 25, 2012 on O-Posts:
Taken from The Telegraph
Sitting down to write this article on Ledley King and his decision to retire I realise that it won't be easy. Not just for me, but for anyone else who decides to write a tribute to him. It's going to be hard to put into words but I'll give it a go, Guv'nor, but, I fear I'll come short of expressing how brilliant, how inspirational and how respected this man actually was.
Ledley's announcement that he had retired today wasn't a shock or at all surprising, but it still leaves an empty feeling inside for every Tottenham fan. Knowing that this man could have been one of the best English defenders of all time, and certainly one of the best in the world at the time if his career hadn't so cruelly been plagued and cut short by chronic knee problems. 
But sadly, this feeling is only shared by Tottenham fans who have watched him week-in week-out and football journalists who recognised the talent he had. Football fans outside the Lane saw him as good but no-where near the class of others. Sad and wrong.
Coming through the youth ranks at Tottenham, it was George Graham who handed him his debut, surprisingly, as a midfielder. 
This decision would later become a masterstroke as Ledley's calmness and ability to bring the ball out from the back and use it intelligently was a main feature of his game. 
Moving back into his natural position once adjusted to the rigours of the Premiership he started showing his class and why he was to become Tottenham's defensive lynchpin.
Ledley King, looked a natural footballer let alone a defender. He wasn't a Terry Butcher all-action hero, a must-get-my-head-in-the-way John Terry player. He came from the Paolo Maldini and Franz Beckenbauer school of thought where to be a great defender meant you were tactically aware and positionally brilliant: timing was everything. 
That's not to say that he couldn't do the last-ditch defending thing, though. 
His tackle on Arjen Robben in a Tottenham - Chelsea match at White Hart Lane, 2006 was truly remarkable - starting a good 15 yards off the pacy winger, who was in a one-on-one situation, Ledley made up the ground and executed a beautifully timed tackle. 
The tackle was a testament to his athleticism and ability as a defender. And it hasn't gone unnoticed among fellow pros through-out his career. Jamie Redknapp once said, "He is like a magnet for the ball, a thoroughbred of a defender, the best centre-half in the country." 
While Thierry Henry famously said, "He's the best defender I've ever played against....the only player who doesn't foul and sometimes still gets the ball off my feet easily." High praise from arguably the greatest player to grace the Premiership. 
It was this that earned him respect, as well. Ledley made 268 appearances for the club in a career that spanned 12 years. He scored 10 goals and received eight yellow cards. He was never sent off. This tells you all you need to know about the man.
As football's name has been dragged kicking and screaming through the gutter by certain players over the years, Ledley, has remained the one constant. Unassuming, quiet and shy in front of the camera he has endeared himself to many people due to his humbleness and private life. 
Bar one drunken incident his name has stayed clear of tabloid kiss and tells, and shameful football stories. Players young and old, pundits and journalists all took to twitter today to lavish praise on him all with one or two noticeable themes, "..great defender, top man..."
In an age where loyalty is often scoffed at; laughed at; and the idea beaten into submission by money-fuelled mercenaries, Ledley is the epitome of a one-club man, and despite his only trophy being the Carling Cup in 2008, Mr Ledley Brenton King has gone but he won't be forgotten. Not by the supporters; not by the club. 
The club have employed him in an ambassadorial role helping around the local community and as for the fans, well, he's a hero. 
The best central-defender of our generation. The best we've seen at the Lane. The King. 
Written by William Hold
Follow me on Twitter @liam17oi
Please like O-Posts on Facebook
Follow the site on Twitter
A site that displays various opinions, insights, reports, etc from a host of talented writers, covering various clubs and leagues.
Original Story:
http://feedproxy.google.com/~r/O-post...
THE BACKYARD
BEST OF MAXIM
RELATED ARTICLES
Ledley King – Tottenham fans know what they'll be missing - originally posted on Soccerlens.comThe news has been a long time coming, to be honest, but it still brings a lump to the throat. At 31 years of age Ledley King and Tottenham had little choice but to call it a day, continuing to play would have meant putting the Tottenham man's long-term health into unnecessary jeopardy...
Soccer News

Delivered to your inbox

You'll also receive Yardbarker's daily Top 10, featuring the best sports stories from around the web. Customize your newsletter to get articles on your favorite sports and teams. And the best part? It's free!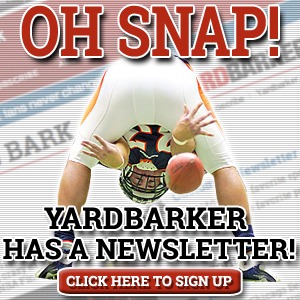 Latest Rumors
Best of Yardbarker

Today's Best Stuff

For Bloggers

Join the Yardbarker Network for more promotion, traffic, and money.

Company Info

Help

What is Yardbarker?

Yardbarker is the largest network of sports blogs and pro athlete blogs on the web. This site is the hub of the Yardbarker Network, where our editors and algorithms curate the best sports content from our network and beyond.