Found September 09, 2012 on O-Posts:
  At some point during this season, I hope to take my 7 year old brother, Charlie, to his first Wolves match. He loves the game and, like me, is never happier than when he's kicking a football around, be it in the school playground, the back garden or the inside of our house! So, as he closes in on his first trip to the Golden Palace, it got me reminiscing about how, at a similar age, a lifelong commitment was made as my love affair with Wolves began. It was no smooth passage, given I was unable to resist an early glory-hunting infatuation with Manchester United, not to mention having West Bromwich Albion embedded deeply into my genes, my great grandfather having played professionally for our most hated rivals! At my brother's age, I had been obsessed with football, and as a youngster who knew no better, latched on to the team that were winning the most at that time which, of course, were Man United. I would proudly go around telling my mates and members of my family that I was the clubs No. 1 fan, whilst reeling off the names of the latest winning team. My favourite player was the goalkeeping legend Peter Schmeichel, and was particularly fond of the purple shirt he used to adorn during that 96/97 season. When I finally got my own for my 8th birthday, I was the happiest boy alive! My very first two main memories of Wolves, though, were both against the Albion. My Dad, who has now sadly passed on, had been an ardent Wolves fan since birth, and I remember, as a 7 year old, playing on the old Super Nintendo console, half listening to the radio as Iwan Roberts banged in his three goals at the Hawthorns on the way to a 4-2 win (hard to believe this was actually the last time we won there!). But whilst my Dad was naturally delighted with a victory against the old enemy, I took no notice, more interested in playing the newest game on the SNES with my Mom. In the mid 90′s, a lot of Championship games (or Division One as it was then called) were screened live on ITV. With Wolves being a relative big club in that division, they were on air quite a few times that season. I can just about recall snippets of a late '96 televised Molineux game against a poor, struggling Manchester City (how times change?!), which was won 3-0, Roberts again on the goal trail. It was the return fixture against the Baggies that resonates more clearly, however. Again live on ITV, me and Dad watched on as, after two minutes, the late, great Dean Richards lost his marker to power home one of the most comprehensive headed goals you're ever likely to see. Dad completely lost his nervous inhibitions, shouting at the top of his voice and, in the midst of excitement, I couldn't help but join in as my Mom, no doubt, looked on in bemusement! Wolves vs West Brom- 1996/97 But, for me, it was still Man United. Aside from the aforementioned goalkeeping strip, I was also the proud owner of three or four United videos and magazines, as well as other memorabilia that my Dad had gotten for me (almost certainly reluctantly!), including a home match programme signed by Schmeichel, which delighted me no end! I was also wearing out the 'Glory, Glory Man United' and 'Red Tribe' tapes also purchased from earlier in the season! Later in the month, Wolves, meanwhile, faced Crystal Palace at home. In those days, we got access to the football scores and results mainly via the old Teletext on BBC1. As Dad moved through the Division One latests, we saw that Palace had taken an early lead, but he was defiant: 'It's still early, and we're at home. We won't lose at home!'. I was barely interested, imploring him to click down a page to number 304, which informed us of the Premiership latest scores, to see how United were getting on. As it was, the Londoners cruised to a 3-0 win at Molineux, and as I came home from a kick-about with mates at the local park, I was oblivious to my Dad's disappointment, because United had won again. Little did I know how Palace's next visit to Molineux, just three months later, was going to shape the rest of my life. A month or so later, it was the same routine again, my Dad muttering about Wolves, whilst I was agitated to see the latest United score on Teletext. To my absolute horror, I looked on to see that they were 2-0 down, away at Sunderland's old Roker Park. A consolation goal arrived late on, but the game ended in defeat, and I was stunned. As I went back into the garden to play with my mate, who was also of the misguided Reds persuasion, I couldn't bare to tell him of the loss, so lied that United had come back to win 4-2. He cheered loudly, while I continued to kick a football around, still utterly disbelieving at the result. I think it was the first time I'd seen them lose. In April '97, my Dad managed to get a hold of two tickets for Wolves' upcoming home game with Norwich. I'd love to say I jumped with joy, as I did many times in the following years, at the prospect of a trip to see a football game live, but I'd be lying. In fact, I simply can't remember how I reacted. I probably wasn't even fully aware I was going! To tell the truth, considering it was my first ever visit to Molineux, I can't remember too much of the match itself either. Upon edging through the turnstiles, and climbing up the stairs, I can recall my jaw dropping, wide-eyed reaction at seeing the pitch for the first time. I can vaguely remember our first goal, scored by Geoff Thomas, and Dad lifting me high on his shoulders. I can also recite Norwich pulling a goal back, and then Dad shouting 'Come on Stowelly!', in reference to our long standing keeper Mike Stowell, when the Canaries were awarded a penalty soon afterwards. Anyway, Wolves rallied to win the game, Roberts netting a late winner (he was to score in this fixture many more times in the following years, unfortunately against us!) My second game was the following home match of the season, against rock-bottom Southend. Again, I remember very little, only that the legendary Bully (Steve Bull to the non Wolves fans) scored and we were 4-1 up by half time! Other than that, it was a day out I would have undoubtedly enjoyed, but I certainly hadn't caught the bug, not by a long stretch. My loyalties still lay at Old Trafford. It was around this time that United had faced Porto in the quarter final of the Champions League. The Reds romped home 4-0, and in the following days, immediately after coming home from school, I was straight into the garden trying to recreate the action, saying the exact words the commentator for the game had spoken for each goal. As United cruised to another title, Wolves had been very much on course to join them in the Premiership, only to lose their way in the final few fixtures (not for the first time either!) and surrender their automatic promotion place to Barnsley. Finishing 3rd meant Wolves would have to face 6th placed Crystal Palace in the play-offs. As an 8 year old, I was unfamiliar with the play-off concept. Following Palace's 3-1 win in the first leg, I was convinced that it was all over, we had lost, we were out etc. etc. But Dad had managed to get tickets for the second leg the following Wednesday night, and I was soon informed that we were still in the contest, but needed to win by two clear goals to go through. It was a warm spring night as me and Dad made our way to the ground via a bus near packed in old, gold shirts. It was my third visit to Molineux, and as we sampled up the atmosphere the nearer we got to the stadium, for the first time I started to experience the feelings that now come to me so naturally – the pre-match nerves. For some reason, I had a strange obsession, a fear, of seeing opposition supporters. I have no idea why, but seeing plenty of away fans plastered in red and blue Palace shirts just served to heighten the tension before the game started. I think we sat in the John Ireland (now Steve Bull) upper stand, and the atmosphere inside the ground was similarly electric. I remember seeing a huge Wolves shirt being passed along the stand behind the goal, as well as thousands and thousands of gold and black balloons flying into the air when the players eventually came out of the tunnel, accompanied by the now familiar sound of the fanfare. Anyway, Wolves made the perfect start, midfielder Mark Atkins scoring from close range after a pinpoint through ball from left-back Geoff Thomas. The roar from the crowd was deafening and still, 15 years later, it remains the loudest celebration I've ever heard at Molineux. Buoyed on by a raucous support, it was expected that we would go on to turn the tie around by getting the next goal, but this talented Palace side had other ideas. They were better as the game grew on, and deflated over 25,000 people with an equalizer in the second half, a fine strike by David Hopkin. We huffed and puffed, but the second goal just wouldn't come. I remember our striker Don Goodman going down in the box twice, both of which were, according to the fans by us, nailed on penalties. But it wasn't to be. With just a few minutes left, we grabbed a lifeline, a close range header from central defender Ady Williams, though I clearly remember the anti-climactic reaction to the goal. I think the majority of our fans had realised it was too little, too late. As it turned out, it wasn't enough. Palace won 4-3 on aggregate and were through to the Wembley final, whilst Wolves were once again consigned to the First Division. Amidst the applause for their beaten heroes, I couldn't help but notice the tears on the faces of many sat near to us. Even my dad looked choked. It was a very sombre occasion, and I wanted to cry right there and then, but somehow managed to stifle the tears as I joined in with the applause. Wolves vs Crystal Palace- 1996/97 Play-offs I realised, for the first time, that this was going to be my club. In reality, it was just a game of football, but I was devastated by the result. In the space of three days, I'd gone from a kid barely clued up, and certainly only-half interested, to a fully paid up member of the Wolves family. I went to bed that night and cried my eyes out. I was gutted for days on end which, in itself, it quite rare at an age where you can easily forget about things and latch onto something else pretty quickly. It may have ended in a painful, soul destroying defeat, and the disappointment I felt may have lasted for the majority of that summer, but in another sense, I could barely wait for the following season. Manchester United, and that shocking goalkeeping shirt, had been consigned to the unwanted memory bank. My never ending love affair with Wolverhampton Wanderers had begun.   Written by Nick Wall Follow me on Twitter @NickWolf89 Please like O-Posts on Facebook Follow O-Posts on Twitter @OPosts
Original Story:
http://feedproxy.google.com/~r/O-post...
THE BACKYARD
BEST OF MAXIM
Wanderers News

Delivered to your inbox

You'll also receive Yardbarker's daily Top 10, featuring the best sports stories from around the web. Customize your newsletter to get articles on your favorite sports and teams. And the best part? It's free!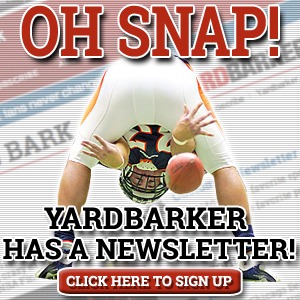 Latest Rumors
Best of Yardbarker

Today's Best Stuff

For Bloggers

Join the Yardbarker Network for more promotion, traffic, and money.

Company Info

Help

What is Yardbarker?

Yardbarker is the largest network of sports blogs and pro athlete blogs on the web. This site is the hub of the Yardbarker Network, where our editors and algorithms curate the best sports content from our network and beyond.