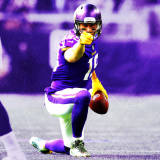 There are two ways an NFL receiver can draw comparisons to Randy Moss: by making Joe Buck totally disgusted, live on air, or by putting up ungodly, rarely seen receiving numbers. Luckily for Adam Thielen (and Joe Buck), the Vikings wideout is doing the latter.In a battle of surprise NFC heavyweights, Thielen burned the Rams' secondary for a 65-yard touchdown on the way to helping...
UPDATE!!! Marshall is ok. (USA Today)   Last night Chad Marshall tweeted that he was ok. He further said thatThank you everyone for the messages and well wishes. Really means a lot. Scans went well and I'm doing alright.— Chad Marshall (@ChadMarshall14) October 1, 2015 "> his tests had gone well. For most of the day today there were no further updates. Just 2 hours ago the Sounders...
SEATTLE (AP) Seattle Sounders defender Chad Marshall has been released from a hospital a day after suffering a neck sprain in practice. The Sounders announced Marshall's diagnosis on Thursday. Marshall was injured during practice on Wednesday after colliding with a teammate and hitting his head on the ground during a drill. Marshall was attended to by team medical personnel before...
Via Associated Press
Seattle Sounder FC defender Chad Marshall was knocked unconscious with a head injury today. The 31 year old defender was taken away in an ambulance to the hospital.   "You're always going to be a little more conservative," Schmid said. "So we just dealt with it in a very conservative manner, and we'll know more later." Marshall went down during practice in a collision with another...
TUKWILA, Wash. (AP) Seattle Sounders defender Chad Marshall was taken from practice on a stretcher Wednesday after suffering an injury to his head and neck area. Marshall was taken to a hospital in an ambulance as a precaution. Seattle coach Sigi Schmid said Marshall fell and hit his head after colliding with a teammate during a drill. Marshall was attended to by the team's training...
The stars shined as top teams prevailed and Chivas USA continued its surprising winning streak in an action packed weekend in MLS. It was a goal galore in week 18. At least a goal was scored in every game played, resulting in 31 goals in nine matches. Although the potent attacks stole the limelight, multiple defenders and goalkeepers delivered top individual performances. Continue...
The 2014 Major League Soccer season is in full flow and teams are starting to show their weaknesses. The frailties can be blamed mostly on the coach, but the players deserve a share of the criticism. Before the season kicked off, some coaches were content with their squad rotation despite not having the necessary depth needed to be an elite team. They decided not to trade for extra...
The Seattle Sounders' busy offseason continues with the team acquiring defender Chad Marshall from the Columbus Crew in exchange for a 2015 third-round pick and allocation money. The trade was announced on Thursday morning. Marshall has spent the past 10 seasons with Columbus and was a two-time MLS defender of the year in 2008 and 2009. He also earned MLS Best XI honors those seasons...
Chad Marshall and Dominic Oduro scored in the second half to lead the Columbus Crew to a 2-1 comeback victory over the Montreal Impact on Saturday. The Crew (10-14-5) ended a four-game unbeaten run for Montreal (13-7-6), which lost at home for only the second time this season. Columbus went 2-0-1 against Montreal this season. Marco Di Vaio, the MLS scoring leader with 18 goals...
Columbus Crew defender Chad Marshall has undergone successful arthroscopic surgery on his right ankle, the Major League Soccer club has announced. The procedure, performed by Crew medical staff in Columbus, removed a bone that was causing problems. Marshall will begin rehab immediately and is expected to be sidelined for the next six to ten weeks. Marshall started in all 24 matches...
MORE STORIES >>
Soccer News

Delivered to your inbox

You'll also receive Yardbarker's daily Top 10, featuring the best sports stories from around the web. Customize your newsletter to get articles on your favorite sports and teams. And the best part? It's free!