From FIFA.com: USA women's legend Christie Rampone saw her stellar career with the Stars and Stripes lauded in a special ceremony yesterday after official retiring from international football, honouring her 20 years on from her debut for the national team. The post Rampone honoured after officially ending USA career appeared first on TheSoccerDaily.com.
The post A Tribute to Christie Rampone appeared first on TheSoccerDaily.com.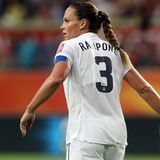 Christie Rampone, the last remaining member of the U.S. women's 1999 World Cup-winning team, has finally, officially retired from international soccer. She outlasted her closest 1999 Cup-winning teammate by five years.Rampone, 41, retires as the second-most capped player in not just U.S. Soccer history, but in international soccer, period. She has 311 caps, which is second only to...
The U.S. Women's Soccer star and her husband plan to open two Jersey Mike's franchises in Toms River in January. TOMS RIVER -- U.S. Women's Soccer star Christie Rampone has a new challenge - as the co-owner of two Jersey Mike's Subs shops in Ocean County. Rampone, a Jersey Mike's spokeswoman since 2012, and her husband, Chris, plan to open two...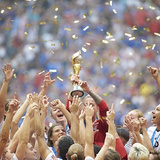 By Shaun Ranft In a way, I suppose Japan did go quietly into the night on Sunday. Though to their credit, they never truly quit. It's news no longer, but the United States women's national team took care of business in efficient fashion Sunday night, winning 5–2 against Japan to not only avenge their loss from four years ago but also become the first nation in women's soccer to...
NEW YORK -- Let's take a vote. With the 2015 Women's World Cup set to kick off on June 6, was it good timing or bad timing that U.S. law enforcement rode into Switzerland and hauled off some of FIFA's top officials? I vote the way the U.S. women's national team seems to have voted: Who cares? "The reaction is that there is no reaction," said veteran U.S. center back Christie Rampone...
SAN JOSE, Calif. -- With her third goal in three consecutive games, Julie Johnston has clearly shown she's a breakout player for the U.S. heading into the 2015 Women's World Cup. With her uncanny ability to be in exactly the right place, and to win space on the ground and in the air, Johnston is becoming one of the more dominant players this World Cup season. Which was illustrated...
Every time Christie Rampone shakes a hand, signs a ball, t-shirt, scarf or jersey and gets up to pose with one little girl, flashing a toothpaste commercial-grade smile, another shuffles up to her. And then another and another. It never seems to end. The line snakes around the field. More than a hundred yards of little girls and their families wait for a meet and greet after a Sky...
MORE STORIES >>
Soccer News

Delivered to your inbox

You'll also receive Yardbarker's daily Top 10, featuring the best sports stories from around the web. Customize your newsletter to get articles on your favorite sports and teams. And the best part? It's free!