Found December 05, 2012 on Tennis Panorama :
  (December 5, 2012) NEW YORK, NY – The "World of Tennis Presented by BNP Paribas" enters its third season this year debuting on Tennis Channel. The 30-minute seven episode program includes "Holding Court," an interview segment hosted by Justin Gimelstob. "It's an opportunity to go deep," said  show host and former touring pro turned tennis broadcaster Gimelstob of his "Holding Court" segment. "It's not a post-match 'How did you play, what do you need to do to win your next match.' It's an opportunity to learn about people and I love people, I love telling the stories. I love the connection. I love being able to help people know more about the sport of tennis and the people that they look up to. I'm truly a lover of the sport a proponent and believer in tennis. The best way to grow the sport is to get people folks that are connected. To be able to do that is a long form interview. So I think that's been something missing from our sport. Hopefully this could be something that could be the start of something very, very significant. "Hopefully my relationships with the players in the sport make them more comfortable and more comfortable means they are more willing to open up." The show's producer Jennie Silverstein talked about what would surprise viewers most about what goes on "behind-the-scenes" at "World of Tennis." "I think it might be how genuine what you see on the air is," said the veteran tennis producer. "If you were to be hanging around while we were filming, you might not know when we actually started rolling the cameras. So many of these conversations you see on air continue once the camera stops. "Some of the issues we get into with the Tennis.com team are things I think they could debate for hours if you gave them the chance. The "Holding Court" segments tend to be more conversations than a Q&A, so it's almost like you just happened upon Justin and the guest in a coffee shop, not a formal interview set. I think that feeling of comfort is one of the strong suits of the show." "I think viewers will enjoy this new season. Our roundtable discussions with the Tennis.com editorial staff is always enjoyable because these guys know the sport so well. It's like a guilty pleasure to eavesdrop on their debates. To have Jimmy Connors sit down for a long form interview with Justin for "Holding Court" was a great thrill because he doesn't do a ton of interviews. There's a long way to go during the season, but I look forward to the World Tennis Day preview in our final episode because that's such a great initiative for the sport and I think we'll be able to uniquely look ahead to what's in store on March 4 with not only the BNP Paribas Showdown events in New York and Hong Kong but also the grassroots activities around the world." So what does it take to produce this type of program? "From start to finish, it takes a few weeks to do each episode, but the amount of day-to-day work varies during those weeks," Silverstein elaborated. "Like anything, it starts with planning. We work to line up guests for Holding Court and topics for the Tennis.com staff to discuss. There are considerable logistics for the "Holding Court" interviews, including getting personnel to the interview locations, hiring crews, etc. So that's time consuming. It's easier with the Tennis.com group because they are here in New York, but we still have to coordinate schedules and a crew. The interviews take a day to shoot. Then the shows take a few days to edit, and that's probably the trickiest part. You have to balance managing the time allotted for a particular segment against the content that is available. Once we have that formatted, we go through add other imagery and graphics to really complete the package. "Producing live tennis and producing this show are very different," said Silverstein who has produced at all of the "Grand Slams, " Masters Series tournaments and many other tennis events.  "World of Tennis has a specific length, so everything we do has to fit within that parameter. A tennis match has it's own pace and no set time limit. We can set an agenda for World of Tennis, and plan what stories we want to tell. A live match is more reactionary to how the match unfolds. So they both have unique challenges. I enjoy being able to be involved in both sides of it because they are so different. Regardless of that format, tennis is intriguing because of how many individual stories there are in the sport. Whether it's World of Tennis or a match, the story telling is something I enjoy." Gimelstob is excited about the upcoming season with interviews with Hall of Famers Jimmy Connors and Boris Becker, current pros Serena Williams, Andy Murray, Juan Martin Del Potro and tennis enthusiast, skier Lindsay Vonn. "It's a really nice mix of the most well-known people in the sport from the past, the present and the future," said Gimelstob. The show will air every other Wednesday  beginning December 5, 2012 at 7:00 p.m. EST, until February 27 with a re-broadcast on Tennis Channel. Karen Pestaina for Tennis Panorama News
Original Story:
http://www.tennispanorama.com/archive...
THE BACKYARD
BEST OF MAXIM
Tennis News

Delivered to your inbox

You'll also receive Yardbarker's daily Top 10, featuring the best sports stories from around the web. Customize your newsletter to get articles on your favorite sports and teams. And the best part? It's free!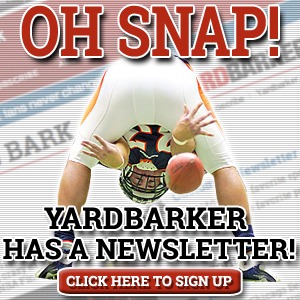 Latest Rumors
Best of Yardbarker

Today's Best Stuff

For Bloggers

Join the Yardbarker Network for more promotion, traffic, and money.

Company Info

Help

What is Yardbarker?

Yardbarker is the largest network of sports blogs and pro athlete blogs on the web. This site is the hub of the Yardbarker Network, where our editors and algorithms curate the best sports content from our network and beyond.