Found November 10, 2012 on Fox Sports:
Roger Federer lost to Juan Martin del Potro for the second time in three weeks when he went down to the Argentine 7-6 (3), 4-6, 6-3 in his last round-robin match here at the ATP World Tour finals in a result that ensures del Potro will join Federer, Novak Djokovic and Andy Murray in Sunday's semifinals. No champion enjoys losing but Federer was determined not to get upset by this one or by the fact that, unlike Murray and Djokovic, he will be playing three consecutive days while they have had a day off. "No, no problems," he said when asked about his physical condition. "I'm not worried. It's important to move on right now. Obviously I'm excited to be in the semis and hopefully play a good match." Having admitted that it was his inability to make much impression of the Argentine's huge serve that caused his downfall, Federer went on to talk about the mental aspects of playing in a situation where winning is not paramount but the result could have a bearing on who you play in the semifinal. "Yeah, I mean, it does cross my mind," Federer admitted. " I don't think it really affects you. But, of course, we're human. We sort of know the scenarios but I try not to know too much about it going in. It's true sometimes your mind plays tricks on you. You're sitting on change of ends, thinking about all sorts of crazy stuff. That's any match, not just in round-robin matches here at the World Tour Finals. I guess if I could have lost one match this season, this was the one." Then Federer revealed that he was sad for David Ferrer that he lost because that eliminated the Spaniard who had played so well in winning the ATP Masters 1000 title in Paris last week. "I wanted to give him a chance and give myself the best possible preparation for the semis, too. Not that I prefer David over Juan Martin no, not at all. I just think David's had a stellar season. I'm more disappointed for him than I am about losing today to be quite honest." You could say that Federer can afford to be kind to a player he will not have to play again this year but, taking Winston Churchill's quote to a different level, Federer managed to be magnanimous in defeat about a future opponent whereas Britain's wartime Prime Minister suggested, "In defeat defiance; in victory magnanimity." The Swiss manages to be magnanimous in both. When Federer was asked about Murray, a player he has taken the odd jab at in the past, he surprised the British media by launching into an extensive accolade. Having admitted that "he was just better than me" in the Olympic final, Roger added, "He set himself a goal and his drive was so strong at the end that it carried him through. I tried to mix things up but I couldn't. He just played great tennis. Andy did great. I always hoped he would have a reaction like this (winning the Olympics and the US Open), to be quite honest, even though it cost me a gold medal. "I was a bit disappointed at his reaction after those Australian Open finals. When I beat him there he went on a bad spell through Rotterdam, Indian Well and Miami. Instead of taking positives out of a great tournament, because he played great tennis, he took the negatives out of it. I don't think he did that mistake again after losing to me at Wimbledon this year. That's the sign of a champion. Now he's up there and he will be for a very long time." Wow! This is the man Federer may find himself facing across the net in the next two days. No wonder he just won the ATP Sportsmanship Award again.
Original Story:
http://msn.foxsports.com/tennis/story...
THE BACKYARD
BEST OF MAXIM
RELATED ARTICLES
( November 10, 2012) Juan Martin Del Potro claimed the final spot in the semis finals of the ATP World Tour finals on Saturday by stopping Roger Federer 7-6 (3), 4-6, 6-3 in their last round-robin match. Del Potro will face Novak Djokovic in the semifinals Sunday during the day, while Federer plays Andy Murray in the evening session. It was the Argentine's second straight win over...
A 14th straight victory over the world No. 5, David Ferrer, was enough to ensure that Roger Federer, the defending champion in these ATP World Tour Finals, will reach the knockout semifinal stage on Sunday. But that was not the only thing on Federer's mind after his 6-4, 7-6 (5) victory Thursday. Like most other people gathering in what is known as the Tennis Family Room here...
To the apparent and surprising glee of the crowd of 17,800 at the O2 Arena, Roger Federer turned his semifinal against Andy Murray on Sunday inside out after trailing 2-4 in the first set and swept into yet another final at the ATP World Tour Finals -- a tournament he already has won a record six times -- with a 7-6 (5), 6-2 win over the Scot. The Scot. Yes, unbelievably, that may...
Even when Roger Federer had the lead, Novak Djokovic had the answers. The top-ranked Serb recovered from early breaks in both sets and beat Federer 7-6 (6), 7-5 on Monday in the championship match at the ATP World Tour Finals. Federer broke Djokovic's serve to take a quick 2-0 lead in the first set, and then again to open to the second set, but the world's No. 1 player...
The ATP World Tour will finish up its 2012 season fittingly on Monday, with the No. 1 and No. 2 players in the world going at it in the championship match of the ATP World Tour Finals. Novak Djokovic and Roger Federer will play for one last time in 2012, and there seems to be a lot at stake. Although Djokovic will finish the year as the No. 1 player in the world no matter the result...
(November 11, 2012) It's appropriate that the top two players in the world will meet in the final of the ATP World Tour Finals on Monday night in the O2 Arena in London. No. 1 Novak Djokovic was down a set and a break before rallying to stop Juan Martin Del Potro 4-6, 6-3, 6-2 in a day session semifinal on Sunday. No. 2 Roger Federer took out Andy Murray 7-6 (5), 6-2 in the evening...
After 6 hard-fought days of tennis in London, England, the field of 8 who started the 2012 ATP Tour Finals is now down to 4: Novak Djokovic, Roger Federer, Andy Murray, and Juan Martin del Potro. Djokovic, who won Group A with a record of 3-0. He took care of both Tomas Berdych and Jo-Wilfried Tsonga in straight sets, while he outlasted Murray in a tough three-set match. These two...
Tennis News

Delivered to your inbox

You'll also receive Yardbarker's daily Top 10, featuring the best sports stories from around the web. Customize your newsletter to get articles on your favorite sports and teams. And the best part? It's free!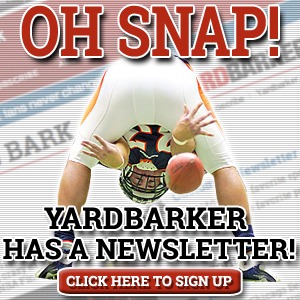 Latest Rumors
The Backyard

Today's Best Stuff

For Bloggers

Join the Yardbarker Network for more promotion, traffic, and money.

Company Info

Help

What is Yardbarker?

Yardbarker is the largest network of sports blogs and pro athlete blogs on the web. This site is the hub of the Yardbarker Network, where our editors and algorithms curate the best sports content from our network and beyond.