Found June 28, 2012 on Fox Sports:
We are prone to overstatement. Everything is bigger than the biggest, better than the best, faster than the fastest. It sells. But it also blurs reality, and confuses things when the oh-my-God stuff really does happen. On Thursday, it really did happen. Rafael Nadal lost in the second round of Wimbledon. Who did he lose to? That's what someone asked me a few minutes after it was over, a few minutes after I had watched every single point of that match for hours. The answer: Um, uh. Can't remember. Some guy with the same number of letters in his name as Nadal. Some guy turned out to be Lukas Rosol, a 26-year-old from the Czech Republic who had never done anything before. He has lost more matches in his career than he has won. And he beat Nadal 6-7 (11-9), 6-4, 6-4, 2-6, 6-4. It was the biggest upset in the history of tennis. That is not hyperbole. "(It) is not a tragedy,'' Nadal said. "Is only a tennis match. At the end, that's life. There is much ...
Original Story:
http://msn.foxsports.com/tennis/story...
THE BACKYARD
BEST OF MAXIM
RELATED ARTICLES
What's going on at Wimbledon this year?! Everything is absolutely unpredictable not only in WTA, but in ATP as well! Who could ever imagined that Rafael Nadal could be beaten in a second round by Lukas Rosol?! It is really shocking... Rafael Nadal, Wimbledon 2012 Let's see what else is waiting for us in the course of this and next week... And we are happy to present...
It was Lukas Rosol and not Rafael Nadal who looked like a two-time Wimbledon champion used to pummeling opponents into submission on tennis' biggest stage. It was Rosol, and not Nadal, who sprinted to and from his chair during changeovers like he had a never-ending supply of energy, pumped his fist and shouted to his entourage in the player's box. And it was the 100th-ranked...
WIMBLEDON – Who could have predicted that the Wimbledon Centre Court match of the day was going to be a little known player (ranked No. 100) from the Czech Republic against World No. 2 Rafael Nadal?   Lukas Rosol not only sensationally, but confidently and competently dispatched Nadal 6-7(9), 6-4, 6-4, 2-6, 6-4.   From the start, Rosol was serving big and heavy, actually making...
By Romi Cvitkovic Spanish tennis player and world No. 2 Rafael Nadal has equaled his worse ever defeat at the Wimbledon Championships as he lost to world No. 100, Lukas Rosol of the Czech Republic, in the second round of the Wimbledon Championships, 6-7(11), 6-4, 6-4, 2-6, 6-4. From the first game of the match, it was clear that Rosol would not be intimidated by two-time Wimbledon...
If you're Rafael Nadal, and you just lost in the second round at Wimbledon to some guy that even big tennis fans have never heard of, is it potentially time to do some re-evaluate some parts of your life? Even though he just won the French Open, he's clearly the second-best player in the world now after Novak Djokovic. Is his illicit relationship with Shakira (clearly outlined...
By Maud Watson Absolute Stunner Day 4 at Wimbledon saw one of the biggest upsets in Grand Slam history, as Czech Lukas Rosol not only became the lowest ranked player to defeat Nadal at a major, but handed the Spaniard his earliest loss in a Slam since 2005. Nadal didn't play his A game, but it's safe to say that his opponent was the main reason for that. Rosol served brilliantly...
With Rafael Nadal's shocking loss Thursday at Wimbledon, the door might just be cracked open for Roger Federer to make one last run, as he seeks a record-tying seventh Wimbledon title. Nadal fell in five sets in Wimbledon's second round—tying his earliest exit in a Grand Slam tournament in his career—to the No. 100-ranked player in the world, Lukas Rosol, the lowest ranked...
Lukas Rosol didn't even come close to pulling off another upset at Wimbledon. Rosol followed up his win over Rafael Nadal with a much less impressive performance on Saturday, losing in straight sets to Philipp Kohlschreiber of Germany in the third round. The 100th-ranked Rosol stunned the Centre Court crowd by eliminating Nadal in five sets on Thursday, but came out flat against...
For The Associated Press The Centre Court roof at Wimbledon closed Friday just as the sky was clearing up, and three matches were then played indoors without any rain falling outside. A day earlier, the roof was shut in dry weather as well, causing a 45-minute suspension after the fourth set of Rafael Nadal's stunning second-round loss to ensure the match could be completed...
On July 4, Novak Djokovic will celebrate the one-year anniversary of becoming the World No. 1 tennis player. Djokovic entered The Championships in 2011 as the No. 2 and left as the No. 1, as well as the winner of the tournament. With the win he became the first player to overtake Roger Federer and Rafael Nadal as the world's top tennis player since 2004 and the first other than...
Well, the seemingly unthinkable has finally happened. One of the "Big 4″ lost in the second round at a Slam. It was Rafael Nadal, World #2, competing against World #100 Lukas Rosol. Rosol has a good serve, big groundstrokes, and not much else. He had never been consitently accurate before in any match he played. And certainly not at the level he showed against Rafa. Rafa played...
Tennis News

Delivered to your inbox

You'll also receive Yardbarker's daily Top 10, featuring the best sports stories from around the web. Customize your newsletter to get articles on your favorite sports and teams. And the best part? It's free!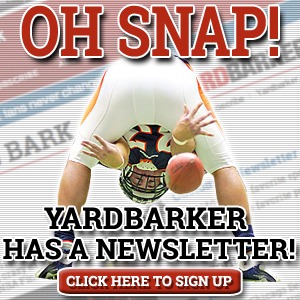 Latest Rumors
Best of Yardbarker

Today's Best Stuff

For Bloggers

Join the Yardbarker Network for more promotion, traffic, and money.

Company Info

Help

What is Yardbarker?

Yardbarker is the largest network of sports blogs and pro athlete blogs on the web. This site is the hub of the Yardbarker Network, where our editors and algorithms curate the best sports content from our network and beyond.