Found January 28, 2012 on Fox Sports:
The cream rises and, in men's tennis at the moment, it just stays there. When Novak Djokovic and Rafael Nadal walk out onto the court at Rod Laver Arena to play the Australian Open men's final on Sunday, they will be doing what comes naturally. Over the past five-plus years, encompassing 21 Grand Slams, fourteen finals have been contested between members of the most exclusive club in sports -- the world's top four male tennis players. Only Robin Soderling, currently off the tour because of illness, has managed to gate-crash the party more than once by reaching consecutive French Open finals. Juan Martin del Potro -- the only outsider to win a title, at the US Open in 2009 -- Andy Roddick, Tomas Berdych, Jo-Wilfried Tsonga and Fernando Gonzalez are the others who have briefly supplanted Nadal, Djokovic, Roger Federer and Andy Murray. Djokovic, the current world No. 1, will be appearing in his fifth final out of the past six Grand Slam events; Nadal in his seventh out of the past eight. Given the strength of the opposition, this represents a consistency of fitness, focus and desire few athletes in the world could match. But, despite the rigors of their semifinal duels -- Nadal against Federer in four long sets and Djokovic over Murray in a five-setter that lasted nearly five hours -- they will be ready to go again, ready to offer another clash of baseline battlers that will keep a worldwide audience on the edge of its seats. But the physicality is only part of it. Last year, Djokovic astounded the tennis fraternity by beating Nadal in six consecutive finals at Grand Slam and ATP Masters Series level. The victories over the proud Spaniard at Wimbledon and the US Open were bad enough, but it was the two clay-court defeats the Serb inflicted on Nadal in Madrid and Rome that really got into Rafa's head. He had thought he was the King of Clay and discovered he wasn't, despite winning at Roland Garros a couple of weeks later. And so the big question is whether the psychological scars have healed. "That is something we are about to see on Sunday," Djokovic replied when asked about the mental aspect of the final after his win over Murray. "Yet again, I'm repeating that physically I need to be fit. I know that I maybe have a mental edge because I've won six of the finals we played in 2011 and I've had lots of success against him. On the other hand, it's a new year. It's a new challenge. It's a different situation. He has a day advantage over me for recovery, so my main priority over the next day and a half is to be ready to play five sets. If I can do that, then I believe I can win." The statistics do not stack up well for Nadal. It is not just that he lost six times to Djokovic last year but, prior to beating him in the 2010 US Open final, he also had lost three straight times in 2009, suffering losses at Cincinnati, Paris Indoors and in the round-robin stage of the ATP World Finals. Nadal still leads their head-to-head record by 16-13, but most of the Spaniard's victories came early in the Serb's career. He may be only a year younger than Rafa at 24, but Djokovic matured later and has done a very good job of catching up. So why does Djokovic have more success against Nadal than, say, Federer? First, he defends just about as well as the Spanish left-hander and that automatically throws some pressure back onto his opponent. Second, his forehand carries that bit more topspin than Federer but is just as good, which means he can penetrate with less chance of errors. We saw how many times Federer's forehand thudded into the top of the tape in Thursday's semifinal. That was because he felt he needed to hit it hard and flat. "If I don't go for it, Rafa's going to whack it back," said Federer, revealing his mind-set. "I know I'm going to make mistakes doing it." As a result, Federer loses rhythm on the shot and his whole game becomes affected. Djokovic does not have that problem. Nadal, despite a strange scare with his knee on the eve of his first-round match, insists he is fit and feeling fine. "I am happy about how I am doing," he said. "For moments, I am playing a little bit like before but when I am able to play inside (the baseline), to play aggressive, I think things are working fantastic. I don't know if it's going to be enough against Novak. But what can I say? I am happy about my tournament." One more win, which is a definite possibility, and the man from Mallorca will be ecstatic.
Original Story:
http://msn.foxsports.com/tennis/story...
THE BACKYARD
BEST OF MAXIM
RELATED ARTICLES
MELBOURNE PARK, Australia - Defending Champion World No. 1 Novak Djokovic rallied from a set down to defeat No. 2 Rafael Nadal 5-7, 6-4, 6-2, 6-7( 5), 7-5 to win his third Australian Open title. The match lasted five hours and 53 minutes, the longest Grand Slam final in the Open Era in addition to the longest match in Australian Open history. The win earns Djokovic his...
One hopes, for his sake, Roger Federer does not have nightmares about squandered forehands, for it was this shot -- his great, majestic forehand -- which cost him any chance of beating his great Grand Slam nemesis Rafael Nadal in the semifinal of the Australian Open here at Melbourne Park. Nadal, who has not lost to Federer in a Slam since the Wimbledon final of 2007, prevailed...
Andy Murray walked off Rod Laver Arena with his head held high in the early hours of Saturday morning here at Melbourne Park but it is Novak Djokovic who will face Rafael Nadal in Sunday's final -- a third consecutive clash for this pair in a Grand Slam final. After 4 hours and 50 minutes of the most extraordinary tennis -- some of it ordinary, much of it brilliant and all of...
This lady is like a cornerback jumping a route, waiting till the last second to snatch a T-Shirt from the young girl it was intended for.   What a great move by the crazy lady fan!
MELBOURNE, Australia - Rafael Nadal outlasted Roger Federer 6-7 (5), 6-2, 7-6 (5), 6-4 in an Australian Open semifinal...
Tennis.com: The good news for Rafael Nadal is that Novak Djokovic's semifinal win over Andy Murray was more exhausting match than his own four-set win the previous day over Roger Federer, and it raised questions about Djokovic's fitness—if not his heart.
((HT: TennisAustralia/EuroSport/youtube))For those of us who follow tennis regularly, and admittedly the HQ only does it around the time of the majors, Novak Djokovic is the man- currently.And after a five-hour roll in the semis against Andy Murray, Joker had to go 5:53 in the final against Rafa Nadal- just to finish...And, no that was not a misprint...For those of you on the east...
by Maud Watson High Stakes Have your ear plugs handy, folks, because this year's Australian Open women's final is going to be a loud one as Azarenka takes on Sharapova.  While the noise level of this match is going to be a turn off for many fans, we have to give credit where credit is due.  Sharapova dug deep when it counted, weathering the barrage of Kvitova's strokes...
Tennis News

Delivered to your inbox

You'll also receive Yardbarker's daily Top 10, featuring the best sports stories from around the web. Customize your newsletter to get articles on your favorite sports and teams. And the best part? It's free!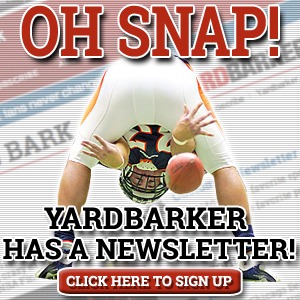 Latest Rumors
The Backyard

Today's Best Stuff

For Bloggers

Join the Yardbarker Network for more promotion, traffic, and money.

Company Info

Help

What is Yardbarker?

Yardbarker is the largest network of sports blogs and pro athlete blogs on the web. This site is the hub of the Yardbarker Network, where our editors and algorithms curate the best sports content from our network and beyond.