Found March 27, 2012 on Tennis Panorama :
Andy Roddick from the ATP World Tour
KEY BISCAYNE, Florida -Andy Roddick repeated what he did four years ago at the Sony Ericsson Open– he upset Roger Federer under the lights on Monday 7-6 (4), 1-6, 6-4 to make the round of 16.
"There's no there is no script in sports, you know," Roddick said.  "I think that's what makes it the best entertainment in the world.  There is no script.  You don't know what's gonna happen.  It's not planned.
"Nights like tonight are why you play the matches.  You don't know what's gonna happen.
"It would be a little presumptuous to go from people retiring me to all of a sudden talking about winning a Masters event.  You know, let's take it for what it's worth.  It probably wasn't as bad as it seemed two weeks ago, and it's probably not all the way turned around because of one match."
"I had my chances," said Federer.  "I thought Andy did well to get the first, and then to put me in the situation I guess in the third.  You know, could have been up a break early in the third, but he did well also to fight off those break points.  Served really well.
"I think he had a good overhead.  You know, he played aggressive and clutch served when he had to.  It was his credit.  For me, it was obviously a tough loss.  The one service game where I got broken he really goes for it and it all works out.
"So credit to him to hang in there and give himself that chance in the beginning of the third."
Roddick victory breaks Federer's streak of 77 consecutive wins against players ranked outside of the top twenty.
"I feel like I lost against a former No. 1," Federer said.  "That's how it felt, not that I lost against a guy ranked 30 in the world.  That ranking is not real, so it was a tough second round.  I knew that in the start, and particularly here in Miami where I lost against him in the past.  So I was aware of that, and I didn't underestimate Andy at all."
That game I played the break in the third set was one of the best return games I ever played, Roddick said glowingly. "I think I hit four forehand winners.
"Gosh, even when I was serving it out, you know, the 4-All game I think or to go up 5‑3 and then to close it out, I was in a little bit of a hole each time and I played good points.
"You know, I was down 15-30 in that last game.  You know, I'm pretty sure I made two out of three first serves, and, you know, he had a great pass.  The next one, it was a 20‑ball rally.
"I was down 15‑30 and I was thinking, Come on.  Give me a break here.  I played well tonight and I served really well there at the end."
Roddick will face Juan Monaco in the fourth round on Tuesday afternoon.
Roger Federer speaking to French Media
Roger Federer from the ATP World Tour
Tennis Panorama videos by Lucia Hoffman
Lucia Hoffman is covering the Sony Ericsson Open for Tennis Panorama.
Original Story:
http://www.tennispanorama.com/archive...
THE BACKYARD
BEST OF MAXIM
RELATED ARTICLES
Twenty hours is not enough time for recovery -- not if you are a 29-year-old athlete with major mileage on your body. It's not excuse, just a fact, and Andy Roddick wasn't pretending otherwise after losing 7-5, 6-0 to Juan Monaco of Argentina the day after he stunned Roger Federer in the Sony Ericsson Open. "There's no way around it," he said with no sign of...
Andy Roddick beat Roger Federer for only the third time in their 24 meetings Monday, dominating with his serve to win 7-6 (4), 1-6, 6-4 in the third round at the Sony Ericsson Open. Roddick broke serve only once but held every service game in the first and last sets. After falling behind 15-30 in the final game, he closed out the victory with an ace and two service winners. '...
It's the match that all Andy Roddick fans both dread and look forward to. Roddick was 2-21 in official matches in his career against Roger Federer. Federer is probably the reason that Roddick only has 1 Slam. Without Fed, Roddick probably has at least 4 and as many as 6 or 7. It's a match that all Roddick fans want to see Roddick win but know that the overwhelming likelihood...
On Monday night Andy  Roddick stunned Roger Federer in three sets to advance to the round of 16 at the Sony Ericsson Open. Here are the post-match media interviews courtesy of the Sony Ericsson Open and ASAPSports. A. RODDICK/R. Federer 7 6, 1 6, 6 4 An interview with: ANDY RODDICK THE MODERATOR:  Questions, please. Q.  You said something good was coming, you felt.  Not a bad...
It was a superb win, Andy Roddick's felling of Roger Federer at the Sony Ericsson Open on Monday night -- a hard-fought battle that saw the American scrapper beating the odds to finally get another win against the tennis great. After losing to Federer 21 times in the 23 official matches they've played, Roddick prevailed 7-6 (4), 1-6, 6-4 in the same event where he'd gotten...
The Federer-Roddick rivalry is no longer a myth. It truly exists and was on full display this evening at the Sony Ericsson Open as Roger Federer and Andy Roddick battled for a spot in the fourth round. Gone are the days of these two players meeting each other in Grand Slam finals, but the electrifying atmosphere still livened up the stadium as Roddick prevailed over Federer,...
Andy Roddick fell to Juan Monaco 7-5, 6-0, the day after upsetting Roger Federer. Q.  Yeah, after the big excitement last night.  You said it yourself, you couldn't get that excited because you had this match to play today. ANDY RODDICK:  Yeah, I mean, there's no real way around it.  When you have to make a quick recovery, it will expose you if you're not in shape. Most...
Usually when you see a picture such as the one above, with Roger Federer and Andy Roddick walking off the court, your instinct might be to assume that Roger extended his ridiculous winning streak to 22-2 over Andy without much of an afterthought.   But, in a surprising (and exciting) twist in the 3rd round of the Sony Ericsson Open, Roddick did what he was unable to do for most...
Tennis News

Delivered to your inbox

You'll also receive Yardbarker's daily Top 10, featuring the best sports stories from around the web. Customize your newsletter to get articles on your favorite sports and teams. And the best part? It's free!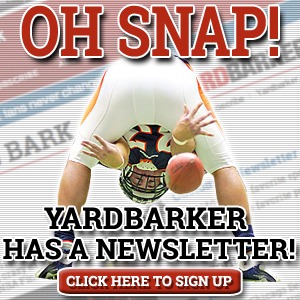 Latest Rumors
Best of Yardbarker

Today's Best Stuff

For Bloggers

Join the Yardbarker Network for more promotion, traffic, and money.

Company Info

Help

What is Yardbarker?

Yardbarker is the largest network of sports blogs and pro athlete blogs on the web. This site is the hub of the Yardbarker Network, where our editors and algorithms curate the best sports content from our network and beyond.