Found July 03, 2012 on The Sports Headquarters:
Novak Djokovic vs Florian Mayer
Mayer has had quite a poor year coming into this tournament, actually. His 2012 of 9-15 before this tournament will stay below .500 unless he actually wins the title here. Mayer is a decent player and has been hanging around the top 50-100 for most of 8 years now-aside from some time missed to injury. He reached the quarters here at Wimbledon back in 2004 and had not even reached the fourth round of a major since then (until this tournament). He has a unique game that creates awkward situations for most of his opponents.
Djokovic, of course, is not a player that is fazed by awkward situations. He just plays relentless defense from the baseline and manages to turn everything into an attacking situation. He loves running all over the court and I don't think that Mayer forcing him to do that will bother him at all. This is a great showing for the German but he is about to run into a nearly immovable object in tennis at the moment. Djokovic is not quite at the level he was at last year but it's still more than high enough to handle just about any opponent.
Prediction: Djokovic in 3
Roger Federer vs Mikhail Youzhny
Federer could not face a better opponent for him. He has beaten Youzhny all 13 times the pair have met. Then again, the last time that Federer faced an opponent with a similar record against him in a Grand Slam quarterfinal, Robin Soderling pulled off an incredible upset in the 2010 French Open. Youzhny has played well this entire tournament and finally got the monkey of never reaching a Wimbledon quarterfinal off his back. Of course, now he has the fact that he's never beaten Federer to deal with. In fact, in their 13 matches the Russian has only won 3 sets.
However, the main storyline in this match will be Federer's health. He showed a bit of a back injury against Malisse and left the court for treatment, the first time I (or anyone else, it seems) can recall Federer ever taking a medical timeout. He played well enough when he returned and was definitely aided by some poor decision-making by Malisse, but he got through and got a day off to rest up. Still, back issues don't usually go away in the day and you have to wonder if Federer will be further damaging any injury by playing.
Due to the unknown nature of Federer's health, I'm not going to make a prediction. He should win in 4 if he is healthy and plays well, but he could lose this if his back causes him more than just minor problems. Youzhny certainly will have to come out strong early and try to get a lead before Federer's back loosens up and whatever medication he takes fully kicks in.
Andy Murray vs David Ferrer
When the tournament started, this rematch of the French Open quarterfinal match did not look like it had much potential. In fact, most (myself included) probably did not expect Ferrer to even get this far. Ferrer has never done well on grass in his career, even though his game should be able to translate fairly well to this surface. He plays a very Nadal-like defense but just lacks the offensive weapons that Rafa has. Ferrer, though, has been nothing short of impressive this entire tournament. He played well against Roddick and just flustered Juan Martin Del Potro in what was one of the most impressive victory's of Ferrer's career.
Murray has also been impressive this tournament, though he's had some strange moments. Still, Murray has looked just as mentally strong this tournament as I have ever seen him. Then again, he always seems that way in the early rounds at Wimbledon. It's when he meets players like Nadal and Federer in the late rounds that Murray seems to have trouble. Still, this Ferrer match will be a challenge. Ferrer's level of play on grass is honestly reminiscent of Nadal's from a few years ago and, like Nadal, Ferrer will only get more comfortable on this surface as the grass hardens up. This match is honestly a toss-up for me, but what I am sure about is that it will be a tight, hard-fought match that could very easily go five sets.
Prediction: Ferrer in 5
Philipp Kohlschreier vs Jo-Wlifried Tsonga
When we think of career underachievers, Kohlschreiber doesn't usually make the list. But he should definitely be way up there. Kohlie is a very, very talented player, especially on grass. He has one of the most underrated serves on tour and plays some very big groundstrokes. His results, however, are often disappointing. He often loses matches that he really should win. He just can't bring his top form for more than one or two matches at a time. He was fortunate enough to get a relatively easy draw here, but he really has been playing well. His serve has been very good for most of the tournament and he seems to be peaking at the right time.
Tsonga has been nearly untouchable on grass this year. His serve has been massive all year really and Mardy Fish-one of the best returners on tour-is the only person to break him on grass this year. Tsonga's ground game has also been getting better and better recently. His forehand has always been huge but now his footwork is really helping him set up big shots from just about everywhere on the court. Kohlschreiber has been very good but he is about to run into a player who has a better power game in just about every aspect.
Prediction: Tsonga in 3
Original Story:
http://feedproxy.google.com/~r/TheSpo...
THE BACKYARD
BEST OF MAXIM
RELATED ARTICLES
  WIMBLEDON – Roger Federer is in a record 32nd major semifinal, trying to make his way to capturing a record-tying seventh Wimbledon title. The Swiss beat Russia's Mikhail Youzhny 6-1, 6-2, 6-2. Federer will meet No. 1 Novak Djokovic in Friday's semifinals as the Serb moved past Germany's Florian Mayer 6-4, 6-1, 6-4. It will be his 27th meeting against Djokovic but the...
Novak Djokovic and Rafael Nadal have been making the case that the three-headed rivalry that's producing the best tennis ever should become a two-man show. But Roger Federer, as much royalty to tennis at the Prince William and Kate Middleton sitting in a box at his quarterfinals match on Wednesday, has shown otherwise. Federer is 30 years old, an age that sends most other tennis...
Rafael Nadal has cancelled an exhibition match against Novak Djokovic because of knee trouble. He said doctors have told him to rest for 15 days because of tendinitis, so as to be ready for the London Olympics. He and Djokovic were scheduled to play on July 14 for charity at Santiago Bernabeu Stadium, the home to Real Madrid. ''I will now work on my rehab as well as taking...
Rafael Nadal has canceled an exhibition match against Novak Djokovic because of knee trouble. He said doctors have told him to rest for 15 days because of tendinitis, so as to be ready for the London Olympics. He and Djokovic were scheduled to play on July 14 for charity at Santiago Bernabeu, home of Real Madrid. ''I will now work on my rehab as well as taking some short...
Viktor Troicki got worked pretty easily by Novak Djokovic at Wimbledon on Monday, but he did provide one extremely entertaining moment. Troicki was down 1-0 in the third set and up 40-30 when a fan yelled some advice. "Serve it to the backhand, Viktor," the fan screamed. Troicki was taken aback by the fan's advice, stopped, and pretended to hand his racket to the fan as if...
Roger Federer vs Novak Djokovic What a difference a round makes. If these two had met in the quarterfinals, we would all be looking at Djokovic as a prohibitive favorite. And maybe we still should be. But Federer looked dominant in beating Mikhail Youzhny today. Youzhny looked like someone who knew he was in a match that he couldn't win and it really showed in his play. He looked...
A fan gives Viktor Troicki advice on his serve against Novak Djokovic. Go to his backhand. He does and...Breaking Bad starts next week. Why not click the Google +1 & the retweet buttons? ... Full story at Bob's Blitz ~ http://www.bobsblitz.com
Tennis Canada announced Wednesday the official player acceptance lists for the 2012 Rogers Cup presented by National Bank in Montreal and Toronto. This year, 59 of the Top 60 players in the world will be descending upon Canada, including both current world No. 1s Maria Sharapova and defending Rogers Cup champion Novak Djokovic. The Top 35 men of the ATP World Tour will play at Rexall...
Tennis News

Delivered to your inbox

You'll also receive Yardbarker's daily Top 10, featuring the best sports stories from around the web. Customize your newsletter to get articles on your favorite sports and teams. And the best part? It's free!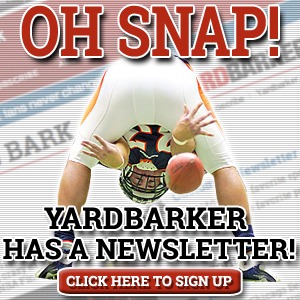 Latest Rumors
Best of Yardbarker

Today's Best Stuff

For Bloggers

Join the Yardbarker Network for more promotion, traffic, and money.

Company Info

Help

What is Yardbarker?

Yardbarker is the largest network of sports blogs and pro athlete blogs on the web. This site is the hub of the Yardbarker Network, where our editors and algorithms curate the best sports content from our network and beyond.