Found September 14, 2012 on Wrestlechat.net:
D Lo Brown joined the VOC Wrestling Nation Radio Program on Wednesday evening on 1360 WNJC Philadelphia, also heard worldwide athttp://vocnation.com. He talked about his upcoming appearance in the Philadelphia area for George's Cards and Collectibles, and also discussed the following: On the current TNA Product: "I think we're doing a masterful job right now (combining) compelling storylines mixed with high quality wrestling. We're giving the fans what they've been asking for. We're not just doing re-tread, re-branded, same-old same-old. It's taken some time for people to get used to what we're doing and they're expecting great things from us in the future. On the similarity between Aces and Eights and the Original NWO angle: Most good angles are always done over and over again. There is nothing truly that's original in wrestling. I kinda dig the Aces and Eights thing because it's very Sons of Anarchy. It's interesting, and the company keeps finding new ways to get the guys in the building; you never know what's going to happen next. On fans buying into the characters: Nine weeks ago Aces and Eights didn't exist. Now, people watch every week to see what they're going to do. People want to see who is behind the masks, but they also care about the collective group. It's pretty compelling TV if you ask me. On the importance of being LIVE to make Aces and Eights effective: It doesn't work if we do it on a Tuesday night and someone in the Impact Zone tweets it out to a mark sheet or something. The fact is that it's live and its Must See TV, and you have to watch to see what's going to happen. The element of surprise is what I believe makes Aces and Eights a viable commodity going forward. On how the talent feels about the LIVE taping schedule: The talent knows what LIVE TV means. It's a step forward and a positive thing. It may be more of a grind, but it's making guys work harder and more intense when the red light goes on. If you give Impact four or five weeks of watching us, you won't go anywhere else. On gut check: The gut check is two fold: It helps bring new viewers in, and it helps
give guys an opportunity that haven't gotten it yet. On Jerry Lawler's Heart Attack: I've always had a wonderful personal and working relationship with "Kingfish". There is not a tougher guy out there, and I believe that King will bounce back and be the king of old. From my family to his, I wish him the best. How old is too old to be an active performer: That's a difficult question; it's up to the individual. I never wanted to wrestle after 40, but there's guys like Too Cold Scorpio that can still go at 50, and Hogan can still go near 60. I am happily and lovingly retired. I DO NOT WANT TO BE OUT THERE. MY ROLE IS BACKSTAGE AND I DIG IT AND LOVE IT. Hear the entire interview at http://vocnation.com The VOC Wrestling Nation is a part of the VOC Nation Radio Network (http://vocnation.com) and can be heard on 1360 WNJC Philadelphia on Wednesday afternoons at 5PM ET. Podcasts of the live show can be downloaded from http://vocnation.com. Follow D LO Brown on Twitter @dlobrown75, and follow VOC Nation @vocnation. FOLLOW US on TWITTER at Twitter.com/WrestleChatNet and LIKE US on FACEBOOK using key word "WrestleChat".
Original Story:
http://wrestlechat.net/d-lo-brown-tal...
THE BACKYARD
BEST OF MAXIM
RELATED ARTICLES
- Eve Torres announced on Twitter Thursday that she is engaged to Rener Gracie, her boyfriend of several years. - Jerry Lawler posted the following Tout video thanking fans: - WWE posted an interview with Michael Cole yesterday afternoon. During the interview, Cole detailed the phone call he received from Jerry "The King" Lawler on Wednesday. "I had just gotten home to Texas...
– The first official Ryback shirt is available on WWEShop.com. – Devin Cutting reports that WWE has a house show set for Tyler, Texas on January 13th, 2013. – During Wednesday night's RAW replay on mun2, which will air Saturday night on Universal HD and most foreign markets, all matters pertaining to Jerry "The King" Lawler's health scare during Monday's live broadcast...
- TMZ reported yesterday that they spoke with Jerry Lawler's son Kevin and that Lawler was awake, responsive and while he was hooked up to tubes and not able to speak, he was writing stuff on a notepad and communicating with people.Arda Ocal reported last night that Lawler's girlfriend Lauryn did a phone interview with WMC-TV5 in Memphis and said that Lawler's chest is sore...
- WWE has posted a new update on the condition of Jerry "The King" Lawler on their Twitter. "As of Wednesday afternoon, @JerryLawler remains in a cardiac care unit in Montreal. His vital signs continue to be stable… He is awake, recognizes family members and is communicating with them. We continue to wish Jerry all the best for a full recovery." - WWE is featuring an article...
- WWE Legend Jerry Lawler began making phone calls to a number of friends last night, including Michael Cole and Vince McMahon. Now that Lawler is looking to make a recovery, most of the discussion among the WWE wrestlers has been about how lucky Lawler was and speculation on whether or not WWE will allow him to wrestle again. While there is no timetable yet for Lawler to return...
Lauryn McBride released to the Memphis media a photo of Lawler recovering in the hospital on Thursday following a heart attack suffered Monday during Raw. Lawler is shown with various medical devices connected to his body to aid his recovery and to continue monitoring his health.
WWE Legend Jerry Lawler began making phone calls to a number of friends last night, including Michael Cole and Vince McMahon. Now that Lawler is looking to make a recovery, most of the discussion among the WWE wrestlers has been about how lucky Lawler was and speculation on whether or not WWE will allow him to wrestle again. While there is no timetable yet for Lawler to return to...
Daniel Bryan appeared on 98.5 SportsHub in Boston this morning. Thanks to Josh (@ClubberinTime) for sending in this report from his appearance.Bryan started off by talking about Jerry Lawler's heart attack on RAW this past Monday, and being in the ring at the time. He says he was in the middle of a chin lock and noticed that the crowd was looking away from the ring. He thought...
Steven Muehlhausen of Fight Club Chicago spoke with former WWE Creative Writer Court Bauer this week about Jerry Lawler's medical emergency on Monday's Raw and whether WWE was right to continue with the show."You can always debate that, but on the flip side, if he had died obviously it's a whole new ballgame. They were in the process of trying to stabilize him and perform...
- A fan on Twitter asked Jim Ross if WWE will do anything to show support for Jerry Lawler on Monday's RAW. Ross replied: "Likely an update, well wishes, paycheck." - The match with Sin Cara vs. The Miz on Friday's SmackDown was heavily edited, as you probably could tell by watching the match. Fans in attendance noted to us that it was one of Cara's most-botched...
- Dustin Rhodes will be replacing Jerry Lawler for the big independent wrestling show on September 22nd from Dutchess Stadium in Fishkill, NY. Rhodes will team with former NY Yankees pitcher Joe Ausanio to take on Luke Robinson and Romeo Roselli.- CM Punk wrote on Twitter yesterday that his way was ruined by American Airlines. Apparently the WWE Champion had some flight troubles...
- WWE Legend The Honky Tonk Man wrote the following about filling in for Jerry Lawler on RAW commentary: "Who would want to see HTM do commentary just for one night only to fill in for The King and help #WWE out?" Roddy Piper doesn't agree that HTM would be a good fill-in and says he would take the job: "I would stand in for The King on commentary till he gets...
WWE News

Delivered to your inbox

You'll also receive Yardbarker's daily Top 10, featuring the best sports stories from around the web. Customize your newsletter to get articles on your favorite sports and teams. And the best part? It's free!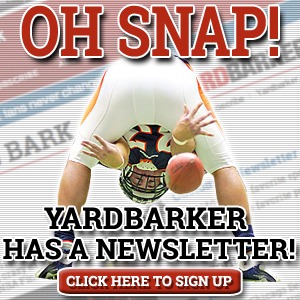 Latest Rumors
Best of Yardbarker

Today's Best Stuff

For Bloggers

Join the Yardbarker Network for more promotion, traffic, and money.

Company Info

Help

What is Yardbarker?

Yardbarker is the largest network of sports blogs and pro athlete blogs on the web. This site is the hub of the Yardbarker Network, where our editors and algorithms curate the best sports content from our network and beyond.