Found September 10, 2012 on Wrestlechat.net:
Credit – PWInsider
As Monday Night Raw went off the air, Michael Cole announced they had received word that Lawler's condition had "stabilized" and that they were told he was breathing on his own and that his heart was beating on its own.
Cole repeated that Cole was waiting to undergo a CT Scan on his head and chest and directed fans to the WWE website for additional updates.
One ringside fan emailed in to report that Lawler sounded as if he began snoring right before he collapsed. Prior to that, he communicated with a ringside employee, possibly to warn them something was wrong. EMTs were on the scene immediately, as were WWE medical personnel. They immediately ripped his shirt open and began administering medical assistance. A group of responders lifted Lawler to a stretcher, where he was rushed backstage and worked on before being transported via ambulance to a hospital.
As you can imagine, the entire roster was pretty shaken up by the situation.
FOLLOW US on TWITTER at Twitter.com/WrestleChatNet and LIKE US on FACEBOOK using key word "WrestleChat".
Original Story:
http://wrestlechat.net/fan-sitting-ri...
THE BACKYARD
BEST OF MAXIM
RELATED ARTICLES
Partial Source: The Wrestling Observer – Just to clarify some rumors of WWE's handling of Monday's RAW show after broadcaster and wrestler Jerry Lawler suffered a heart attack while commentating, according to a WWE employee backstage at the event, it was a very chaotic scene but he did not see any pray groups. Contrary to speculation, there was never any talk of halting the...
- WWE has posted the following update on Jerry "The King" Lawler's condition. As of this morning, Jerry "The King" Lawler is in a cardiac care unit and all his vital signs are stable. WWE will provide additional information as it becomes available. We continue to wish Jerry all the best for a full recovery. - Jim Ross also provided the following update on Jerry Lawler on...
- WWE has posted a new update on the condition of Jerry "The King" Lawler on their Twitter. "As of Wednesday afternoon, @JerryLawler remains in a cardiac care unit in Montreal. His vital signs continue to be stable… He is awake, recognizes family members and is communicating with them. We continue to wish Jerry all the best for a full recovery." - WWE is featuring an article...
The "Pat Patterson Appreciation Night" segment that was planned after RAW was scrapped out of respect for Jerry Lawler and his condition. At one point, there was discussion of cancelling the rest of the broadcast but they opted to continue on without a commentary team. Instead of the Pat Patterson segment, WWE officials rounded up all their talents and held a post-RAW meeting...
- A representative for WWE released the following statement to TMZ last night regarding Jerry Lawler: "Jerry 'The King' Lawler suffered a heart attack while commentating during Monday night's broadcast of 'Monday Night Raw' in Montreal. We are hopeful Jerry makes a full recovery and returns to WWE in the near future. Our thoughts are with Jerry and his family."
Michael Cole posted the following to Twitter today, his first since Raw on Monday: Thank you #wweuniverse for all the kind words. Humbling. But this isn't about me, it's about our friend jerry. #GetWellJerry #wweuniverse you will never believe this! I just got off the phone with #jerrylawler and he is alert and in great spirits! #jerrylawler sends his love to you all and thanks...
- Here are more comments from people on Twitter about Jerry Lawler:Velvet Sky: "Just did Piper's Pit with Jerry Lawler in Aruba on Friday and he seemed to be in great health so I know he will pull through this"AJ Lee: "Thinking of Lawler. I'm sure he'd appreciate all of your well wishes. Stay strong, King."William Regal: "My best wishes go out to Jerry Lawler and...
WWE broadcaster and wrestler Jerry "The King" Lawler appeared more responsive after collapsing ringside during Monday night's live episode of Raw. Lawler, who had participated in a tag team match alongside Randy Orton earlier in the show, collapsed at the announcer's table while commentating the tag team match featuring Daniel Bryan and Kane vs. Darren Young and Titus...
A strange situation occurred at Monday Night RAW tonight. All of the sudden things got strange during a match and it didn't take long for word to spread of a terrible incident. Jerry the King Lawler passed out at the broadcast booth and had to be helped to the back.
- WREG TV in Memphis, Tennessee reports that Jerry Lawler is currently sedated and on a respirator following surgery to place stents into his heart. They are planning to take Lawler off the ventilator as soon as possible. The ventilator is to provide breathing support to assist his body following the surgery. Lawler's girlfriend and his son, former WWE star Brian Lawler, have...
Smith Hart, brother of WWE Hall of Famer Bret Hart, says he was told by a friend backstage at Monday's Raw at Centre Bell in Montreal, Quebec, Canada that Jerry Lawler was "clinically dead" for twenty minutes being revived by a defibrillator. He wrote on Twitter, "According to my friend Jeremy Prophet who was backstage at RAW, Jerry was clinically dead for 20 min before...
WWE broadcaster and wrestler Jerry "The King" Lawler is believed to have suffered a heart attack or stroke when he collapsed ringside during Monday night's live episode of Raw.Alex Marvez reported Monday night on FoxSports.com following the show: "A source told FoxSports.com that it's believed Lawler suffered a stroke or heart attack, with the former being the most likely...
WWE News

Delivered to your inbox

You'll also receive Yardbarker's daily Top 10, featuring the best sports stories from around the web. Customize your newsletter to get articles on your favorite sports and teams. And the best part? It's free!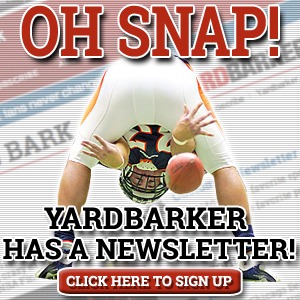 Latest Rumors
The Backyard

Today's Best Stuff

For Bloggers

Join the Yardbarker Network for more promotion, traffic, and money.

Company Info

Help

What is Yardbarker?

Yardbarker is the largest network of sports blogs and pro athlete blogs on the web. This site is the hub of the Yardbarker Network, where our editors and algorithms curate the best sports content from our network and beyond.